McDonald's Aero McFlurry is making a comeback - but not for long!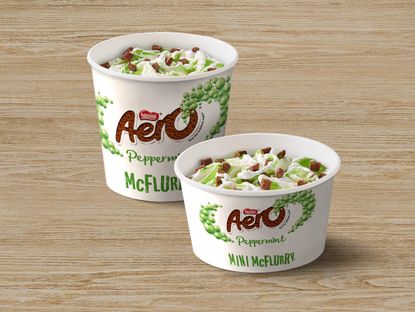 McFlurry fanatics and mint chocolate fans will be over-the-moon that McDonald's are bringing back the beloved Aero McFlurry
McFlurry fans were disappointed when the chocolate and mint ice-cream went missing for a whole four years, but the Aero McFlurry is landing back in the fast food chain on Monday 1 May.
Though, you better be quick, the tasty treat is available for eight weeks only.
Yet to make a permanent return to McDonald's restaurants, the Aero McFlurry is sadly only available until 25 June.
The chocolate and mint blend is available in a regular size for £1.39, and a mini size for just £99p.
You can choose to have your ice-cream topped with chocolate chunks, and a chocolate or peppermint sauce depending on what takes your fancy.
The last time the flavour was available was back in 2015, so as you can imagine, fans are raving about the latest edition to the menu on social media.
One said: 'McDonalds are doing a mint aero mcflurry, never been more excited.'
Another added: 'McDonalds is bringing back aero mcflurrys🙌🏼.'
Another said: 'Aero mint McFlurry making a return?!?!😭 ERM YES💚💚💚💚.'
And, McDonald's have other exciting news – a strawberry lemonade is being added to the menu for summer, as well as a new millionaire's frappe.
One excited Twitter user said: 'Them frozen strawberry lemonades are coming back soon to McDonald's also with a new millionaire frappé and aero chocolate and mint McFlurry 😊you're welcome.'
Previously, fans expressed their disappointment when the McFlurry ice-cream (opens in new tab) disappeared from the menu.
One said: 'Mcdonalds need to stop playing and bring out a mint aero mcflurry asap.'
Another added: Not that I'm partially worried? but where oh where has the "Mint Aero" McFlurry got to! #McDonalds
Read more: 13-mind blowing McDonald's hacks that will change your life (opens in new tab)
The launch of the new summer range signals the end of McDonald's Monopoly prize game, which sadly finishes on Tuesday.
But, it seems McDonalds fans are more excited that this minty Aero ice-cream treat returns.
Sibelle Mehmet is a Junior Digital Writer at Goodto.com. She joined the team in April 2019 and was her first job since completing a MA in Magazine Journalism at City, the University of London in the summer of 2019. Sibelle previously interned at a number of national titles including OK!, Heat, Closer, Mother & Baby, and The Times Newspaper magazine. She's written extensively about the latest celebrity, showbiz, and royal news.