Mum shares genius trick that could cut your shopping bill in half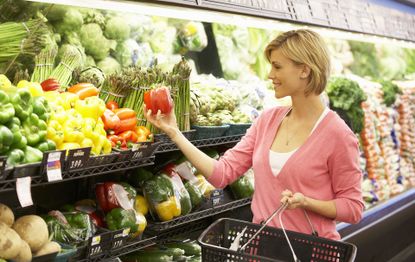 (Image credit: Monkey Business/REX/Shutterstock)
Savvy mum Stephanie Aspey took Facebook to reveal how she halves her weekly fruit and veg bill.
We're always excited to hear about new ways to make the weekly shop easier and cheaper, so it's no surprise that one mum's clever hack got people talking.
The mum-of-two posted her supermarket shopping tip in the closed Facebook group Extreme Couponing and Bargains UK.
Read more: Mum sparks controversy with sneaky hack to guarantee free shopping delivery (opens in new tab)
She wrote, 'Money saving tip... Buy three onions in a pack from Tesco - 85p. Choose three onions and place on scale - 36p.
'It's the same with other fruit and veg too. I always used to just grab the packs of fruit and veg and didn't realise how cheap they are if you use the scales.'
The post has had more than 2,800 reactions and inspired many group members to share their own experiences.
Several users agreed that it is cheaper to buy bananas individually rather than those that have been pre-packaged, with one writing, 'Two packs of five is £1.80. Ten bananas on the scale approx. £1.10'.
Others pointed out that avoiding pre-packaged food has knock-on benefits for the environment too. 'And it saves the environment from unwanted packaging as well as a bargain, bosh!' said one.
But other users said that buying loose fruit and veg wasn't always cheaper. While one man claimed that loose potatoes were up to 80 per cent cheaper than bagged potatoes in ASDA, another said it was cheaper to buy a pre-packed bag in Sainsbury's.
Several others said that peppers are cheaper when bought in packs.
'Works with most, although I've found peppers cheaper bagged,' said one woman. 'Peppers are a good example of when it's cheaper to buy them already bagged. They're more expensive loose for some reason,' said another member.
If you want to figure out which option is cheapest in a hurry, there's an easy way to find out – just look at the 'price per kilogram' on the shelf label.
Going for the lowest price per kilogram will always save you money.
It works if you do your shopping online too. And it's not just for veg – if you're buying milk or juice, for example, you can compare the price per litre.
As they say, every little helps!
Samantha is a freelance writer at Goodto who has been with team since 2019. Initially trained in psychology, she specialises in health and wellbeing and has additionally written for magazines such as Women's Health, Health & Wellbeing, Top Santé, Healthy, Refinery29, Cosmopolitan, Yahoo, CelebsNow, Good Housekeeping and Woman&Home.