Family with 13 kids reveal how they eat for as little as 66p per person for a meal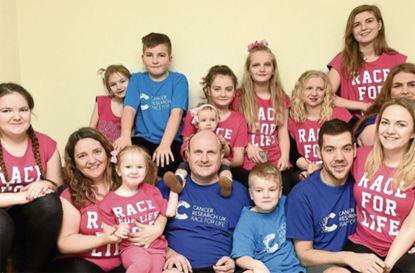 Parents Emma and Roy Hann have revealed how they feed their family of 15 for only 66p per person.
The money-savvy parents, who have 13 children ranging from the age of four to 27, revealed how they manage to feed their large family without making too much of a dent in their bank account.
By using cupboard staples and filling up on meat from online food retailer MuscleFood, the pair are able to feed their family of 15 for as low as 66p per person for a meal.
After ditching the traditional food shop around five years ago and stocking up on everything other than fresh produce from the online food shop, the Dundee-based couple said that they manage to save around £200 a month compared to what they used to spend on food shopping.
'As our family got bigger, naturally it became more expensive to feed everyone,' said cafe-owner Emma. 'But doing one big supermarket shop every week was actually driving the cost up even more, [as] you're tempted to throw in deals and special offers that you don't really want or need.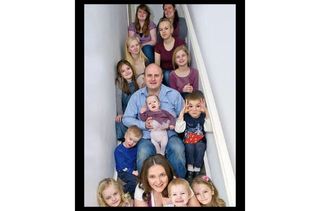 'Being able to get everything under one roof is obviously really convenient and works for a lot of families, but by shopping around and being a bit savvier about where we buy certain products from, we managed to save around £50 a week on food.'
For £55 the parents-of-13 manage to buy all of their meat, including chicken breasts, steak mince, sausages and diced beef, with another £33 going on vegetables and other essentials.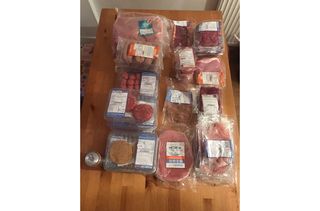 This £88 shop lasts a few days, giving the family 112 portions of food for their blossoming family.
'We like to mix meals up and keep things varied, but there are a few go-to meals the whole family enjoys which we eat most weeks, like spaghetti and meatballs, mac and cheese, and lasagne.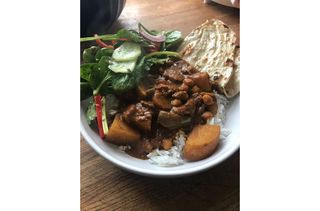 'We also try to do a roast at least fortnightly, but this can be quite expensive when you're cooking for all 13 kids, plus their partners.
Emma and Roy, who now spend around £200 a week on food, have 10 children who still live at home with them and the three eldest regularly pop home with their partners for family meals.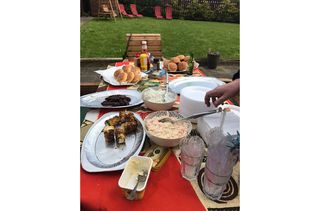 'What we tend to do now is get some of the older ones who've moved out to bring the mashed potatoes or Yorkshire puddings, so everyone chips in,' added Emma.
'I took over all the cooking duties about eight years ago,' added nurse practitioner Roy. 'I enjoyed it so much and at the time [and] we had three little ones all under the age of four.'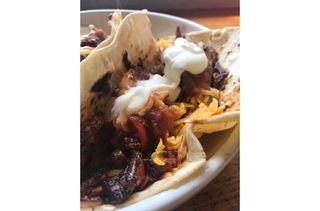 'We've always had a cupboard that's pretty much full of different herbs and spices, plus essentials like chopped tomatoes, kidney beans, and chickpeas,' he said of the family's cooking habits.
By buying big 3kg bags of pasta and rice from the wholesalers and a monthly bulk buy of about £150 worth of meat that gets frozen until needed, the parents manage to keep all of their kids well fed on varied meals.
'Musclefood's hampers are ideal for trying out different flavours and cuts of meat,' said Roy. 'Using an £85 hamper we managed to cook enough food for everyone for a week, and still had loads of extras left over.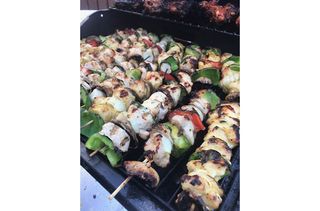 'We used the bacon for rolls at the weekend, and Emma and I were even able to enjoy a steak night, which is a bit of a luxury nowadays – and the steaks were great.
'All the burgers and sausages were perfect for a family barbecue, but we could have used them to make casseroles or something similar too and they'd have gone even further.'
Emma and Roy's top tips
A good way to make a meal that pleases the whole family is to make one main meal with lots of different sides for everybody to choose from.
Bulk buy all of your meat and then freeze it ready to make different meals.
Keep the cupboard stocked with herbs, spices and tinned essentials so that you can make even the most boring of meals exciting.
The Hann family's favourite MuscleFood meals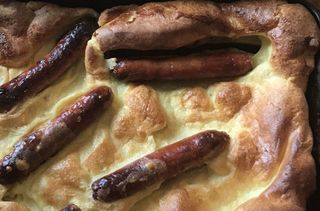 Rogan Josh (serves 12)
Swipe to scroll horizontally
| | | |
| --- | --- | --- |
| Musclefood diced beef | 3 | £5.85 |
| Potatoes | 8 | 50p |
| Carrots | 4 | 20p |
| Peppers | 2 | 50p |
| Paste | 1 jar | £1.25 |
| Greek yoghurt | 1/3 of a pot | 20p |
| Garlic/ginger | 3 cloves/small arm | 20p |
| Chickpea | 1 tin | 40p |
| Homemade chapatis | 400g flour/salt/water | 40p |
| Salad | Half bag spinach, one red onion, one pepper, 10 small tomatoes, dressing | £1.20 |
| Row 10 - Cell 0 | Total: | £10.70 |
| Row 11 - Cell 0 | Price per head: | 89p |
Cajun Pasta (serves 12)
Swipe to scroll horizontally
| | | |
| --- | --- | --- |
| Musclefood chicken breasts | 6 | £4.20 |
| Penne pasta | 500g | 80p |
| Chopped tomatoes | 3 tins | £1.00 |
| Garlic/herbs | 3 cloves and 2 tbsp of Dried Italian herds/ salt/ pepper | 30p |
| Cheese | 125g grated | 50p |
| Salad | Half bag spinach, one red onion, one pepper, 10small tomatoes, dressing | £1.20 |
| Row 6 - Cell 0 | Total: | £8.00 |
| Row 7 - Cell 0 | Price per head: | 66p |
Toad in the hole (serves 12)
Swipe to scroll horizontally
| | | |
| --- | --- | --- |
| Musclefood sausages | 24 | £3.90 |
| Homemade batter | 200g flour/ 4 eggs/2pints milk salt pepper | £1.00 |
| Mash potatoes | 7kg potatoes / little bit butter/milk/ salt/pepper seasoning | £2.80 |
| Carrots | 1kg | £1.00 |
| Gravy | 30g flour / 10 stock cubes/ dash of milk and butter and seasoning | 30p |
| Row 5 - Cell 0 | Total: | £8.90 |
| Row 6 - Cell 0 | Price per head: | 74p |
Parenting advice, hot topics, best buys and family finance tips delivered straight to your inbox.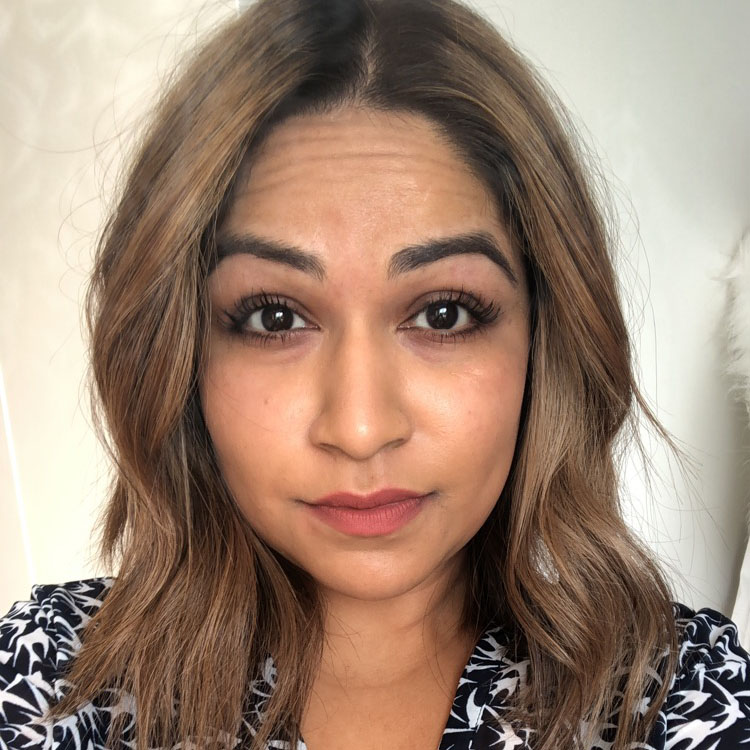 Aleesha Badkar is a lifestyle writer who specialises in health, beauty - and the royals. After completing her MA in Magazine Journalism at the City, the University of London in 2017, she interned at Women's Health, Stylist, and Harper's Bazaar, creating features and news pieces on health, beauty, and fitness, wellbeing, and food. She loves to practice what she preaches in her everyday life with copious amounts of herbal tea, Pilates, and hyaluronic acid.