The reason why Prue Leith was forced to pull out of Bake Off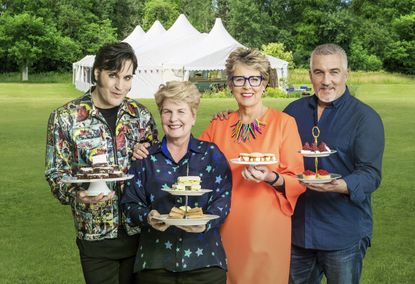 Bake Off judge Prue Leith was forced to pull out of last night's episode and Paul Hollywood revealed the reason why...
If you watched last night's episode, you'll know that Prue was there to judge the first part of the show, but then mysteriously disappeared for the second segment.
Her absence left fans guessing where she'd gone, with one writing on Twitter: 'Where has @PrueLeith gone?! 🤷 ♀️ #GBBO2018'.
But the answer was given to viewers by her fellow judge, Paul Hollywood, who revealed the reason why Prue was missing from the last part of the show.
He explained: 'She's a bit under the weather today so I'll be flying solo.'
Prue's absence was also explained on the GBBO's official Twitter account: 'Prue couldn't join the team for the showstopper challenge because she was under the weather, but she'll be back next week. Over to you, Mr Hollywood… #GBBO'.
The situation is similar to what happened last week with Terry (opens in new tab), as he was feeling unwell and was unable to join fellow contestants to compete.
The producers of the show changed the rules to allow the contestant to come back the following week, and no one left Bake Off during that episode as a result.
However, this week saw a double elimination after Terry's comeback, and he was one of the two contestants to go, alongside Karen.
He left viewers in tears as he opened up his wife's death (opens in new tab) during his exit interview, revealing that the show has been a huge help for him in coping with his grief.
He said: 'I said I wouldn't get upset. It's funny when you're on your own... my wife and I were very happy and that was a massive loss.
'There wasn't anything to fill the gap for a very long time so it's given me a focus. I've met some lovely people I'm sure we'll keep in touch for a very long time.
'It's been a big help and something I'll remember for a long time. I won't stop baking. I'm very much looking forward to more projects carried out in a bigger time frame.'
Responding to his emotional departure, one viewer wrote on Twitter: 'Think I just heard the nations heart shatter into pieces simultaneously hearing Terry talk about loosing his wife on #GBBO.'
Another added: 'Genuinely in tears over Terry's little post elimination interview. "Filled the void" oh Terry, oh my darling, please be okay ❤️😢 #GBBO.'