Bake Off is 'helping' contestant Terry Hartill cope with secret tragedy
The show is helping him cope...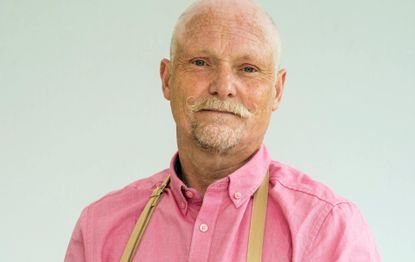 According to Terry Hartill's family, going on the Great British Bake Off has helped him grieve the loss of his wife.
If you've been tuning in to this year's Great British Bake Off, (opens in new tab) one of the contestants in particular might have won you over already – after just four weeks into the competition.
Viewers were sent into a state of worry last week when it was revealed Terry Hartill would not be taking part (opens in new tab) in dessert week as he was too ill. His absence meant that this week two contestants are at risk of leaving the competition.
People took to Twitter to send him well-wishes and many more said they were looking forward to seeing him back in the tent, twirly moustache and all.
So, when Terry's fans learned he has been dealing with a secret heartache, they rallied behind him even more.
Terry sadly lost his wife Joanna to cancer last year and his family say the competition is helping him to cope with his loss and move forward.
According to The Mirror, Terry's mother-in-law Marion Banner said that her late-daughter was a huge fan of Terry's baking and would want him to do well in the competition.
She told the newspaper: 'I really hope he wins and my daughter would want that too. She would love that he's in the show. She would be very, very proud of him.'
Joanna is the mother of Terry's two daughters and was a sport-loving, hockey-playing wife before her 10-month battle with cancer. She died in April last year aged just 52.
Speaking about Terry and Joanna's relationship, Marion said: 'They had been such a happy couple and married for so long and when we lost her. Terry was heartbroken. But the show is something nice for him to do and it's helping him cope with his grief.'
She continued: 'He's always been into his baking, he's very creative, and was always making cakes for birthdays, Christmas and all occasions. Jo never liked baking, that was his job, but she loved eating his cakes. He'll be cooking his heart out for her.'
The Great British Bake Off returns tonight (25 September) on Channel 4 at 8pm