Slimming World removes low-fat soft cheese from the Healthy Extras list
And they've cut the daily syns allowance…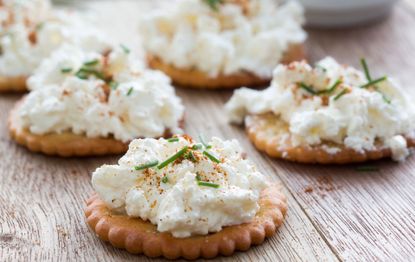 Slimming World has decided to cut low-fat soft cheese from the Healthy Extras list despite outrage when they cut Muller fat-free yoghurts.
Slimming World recipes (opens in new tab) are incredibly popular and the diet is often described as one of the easiest to follow because you can still enjoy the odd treat or two and there are lots of tasty alternative products to satisfy your cravings.
People were outraged back in September when Slimming World announced that they were removing Muller fat-free yogurts (opens in new tab) from the Syn-free list. (opens in new tab)
Slimming World dieters have relied on the low-calorie yoghurt whenever they are craving a sweet, delicious treat that won't send their diet off-track.
So it's likely Slimming World members will be equally unimpressed when they learn other items have been scrapped.
Yes, this time it's low-fat soft cheese that has been cut from the Healthy Extra list as well as sweetened dairy-free milk.
Healthy Extra items are split into two categories: 'a' foods which are dairy and high in calcium and 'b' foods which are high in fibre or contain important nutrients for a balanced diet. Slimming World members are allowed one item from each list everyday.
The changes are effective from Christmas and they don't stop there. If losing Muller yoghurts was enough to evoke comments like: 'Slimming World can jog on if they think I'm synning Muller lights!', we're not sure how people are going to react to the news that the daily syn allowance has also been cut.
Traditionally Slimming World dieters were able to include in 15 syns a day. However, Slimming World have now confirmed it will be cutting the daily syn allowance for the Extra Easy SP plan from 15 to 10!
Read More: 'I wanted to see my kids grow up' Mum sheds 5 stone after fearing she'd die young like her father
It's also worth noting that Free Foods (items that can be enjoyed without weighing, counting or measuring) that were previously labelled as Protein-rich like baked beans, broad beans, mung beans and all other varieties of peas (expect split peas) will be losing this mark.
Although there are lots of cuts, dieters can have an increased portion of whole cow's milk up to 200ml per day from 175ml. Plus, dieters can now enjoy two Healthy Extra items instead of just one.
Commenting on the latest changes, a Slimming World spokesperson said: 'Our Nutrition team routinely reviews our healthy eating plan in line with latest guidance, and we've made a number of updates to Food Optimising for 2019.
'We're excited about these changes and hope members will be too. As well as making our plan even more flexible and sustainable, they also ensure that we're giving the most up-to-date health advice.'
So what do you think about the changes? Are you as 'excited' as Slimming World? Head over to our Facebook page to join the conversation and share your the item on the syn-free list you couldn't live without…
Jessica currently works as a Senior Food Writer at Future. She writes food and drink-related news stories and features, curates product pages, tests, and reviews equipment, and also develops recipes that she styles on food shoots. An enthusiastic, self-taught cook Jess adores eating out and sharing great food and drink with friends and family. She has completed the Level 1 Associate course at the Academy of Cheese and is continually building on her knowledge of beers, wines, and spirits.