Woman warns against slow cooker food mistake that gave her food poisoning
One woman found out the hard way that following the recipe doesn't always eliminate the risk of food poisoning.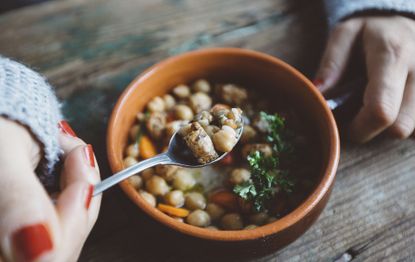 (Image credit: REX/Shutterstock)
GoodTo newsletter
Sign up to the GoodTo Newsletter. You can unsubscribe at any time. For more information about how to do this, and how we hold your data, please see our privacy policy
Thank you for signing up to . You will receive a verification email shortly.
There was a problem. Please refresh the page and try again.
One woman found out the hard way that following the recipe doesn't always eliminate the risk of food poisoning.
You probably wouldn't think that a vegan stew simmered in a slow cooker all day could give you food poisoning. But you'd be wrong, according to Anne Sullivan.
Anne made a white bean stew in her best slow cooker (opens in new tab), taking care to follow the recipe to the letter. She pre-soaked the beans as directed, then left them to simmer in her slow cooker for seven hours. Although she thought it was odd that the beans hadn't increased in size, she still took a bowl to work to have for lunch.
The beans were undercooked and turned out to be chewy and tough. In the afternoon, she started to feel faint, dizzy and sick, and was even sent home from work. But she didn't connect her symptoms to the stew until the next day.
Anne dished up another serving of the stew for lunch with her boyfriend the following day. When she told him about feeling ill the day before, he suddenly had a hunch that the beans might be to blame and looked it up online. 'Sure enough, we were poisoning ourselves all over again,' she told Yahoo.
They immediately stopped eating the stew, but it was too late and they both ended up with symptoms of food poisoning again.
The problem is a little known toxin called phytohaemagglutinin, which occurs naturally in beans. Cooking them helps to kill the toxins, but undercooked beans can cause symptoms of gastroenteritis like sickness, diarrhoea and dizziness.
Canned beans are usually fine, since they're pre-cooked. But if you're not using canned beans, after you've pre-soaked them for at least five hours, you need to drain, rinse and boil them for at least ten minutes before adding them to a recipe. Skipping the boiling stage was Anne's crucial mistake.
'I'm very careful now,' she insists. 'If I do add them to my slow cooker, I make sure they're fully cooked first.'
Samantha is a freelance writer at Goodto who has been with team since 2019. Initially trained in psychology, she specialises in health and wellbeing and has additionally written for magazines such as Women's Health, Health & Wellbeing, Top Santé, Healthy, Refinery29, Cosmopolitan, Yahoo, CelebsNow, Good Housekeeping and Woman&Home.