You can make scones in a slow cooker using just 3-ingredients!
The perfect accompaniment to a cup of tea, especially when slathered in jam and clotted cream.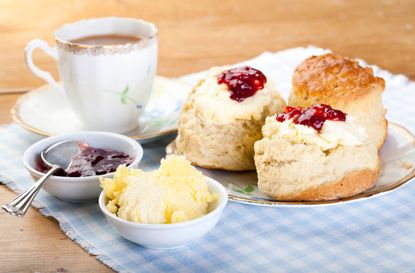 GoodTo newsletter
Sign up to the GoodTo Newsletter. You can unsubscribe at any time. For more information about how to do this, and how we hold your data, please see our privacy policy
Thank you for signing up to . You will receive a verification email shortly.
There was a problem. Please refresh the page and try again.
Once you have one of the best slow cookers (opens in new tab) you can make almost anything - including these 3-ingredient scones!
The perfect accompaniment to a cup of tea, especially when slathered in jam and clotted cream.
The humble scone is a staple on any afternoon tea (opens in new tab) menu. Plain or studded with dried fruit; they're a British institution. These moreish little fancies have even divide counties; arguing their origin and even how one should eat them.
Every pastry chef and home cook alike has a go-to recipe in their repertoire, but however simple yours might be; they just got a whole lot simpler…
A recipe was shared on Facebook page: Slow Cooker Recipe & Tips boasting that you can make light and fluffy scones with just 3 ingredients: cream, lemonade and self raising flour.
https://www.facebook.com/SlowCookerRecipeTips/photos/pcb.531489577563500/531489497563508/?type=3&theater
The recipe is definitely a simplified version of a classic scone (opens in new tab), where flour, baking powder and sugar is rubbed with cubes of cold butter and then blended into a dough by adding eggs and milk (or buttermilk).
It seems like people are eager to give these easy-peasy scones a go, although some followers are questioning the cooking method. One follower wrote: "Hmm sorry but it seems pointless when they take literally 15-18mins to cook in the oven!"
A response to this was soon added, saying: "But it doesn't heat up the house in the summer and takes less power than an electric oven!!"
Others championed this long and unusual way of baking, by saying it was fantastic, and that slow cookers are great if your oven is on the blink, or you simply don't have one.
If you fancy giving these a shot, try the posted recipe below:
How to make lemonade scones
Soooo fluffy and light, it's amazing.
You will need:
1 cup (250ml) pouring cream
1 cup (250ml) lemonade
3 cups (450g) self raising flour
Method:
Mix all ingredients together gently until combined. Turn out onto a floured surface and roll out. (The recipe doesn't state to what thickness, but we would recommend ¾ inch)
Cut out scones. (You can use a round or square cutter here, or get creative with different biscuit cutter shapes)
Place in slow cooker bowl, lined with baking paper and brush with milk.
Cook on high for 90 mins with tea towel under the lid. (We assume this is to prevent steam and condensation)