33 deliciously easy afternoon tea ideas and recipes
Afternoon tea ideas and recipes you can recreate in the comfort of your own home - all easy to make and budget-friendly too...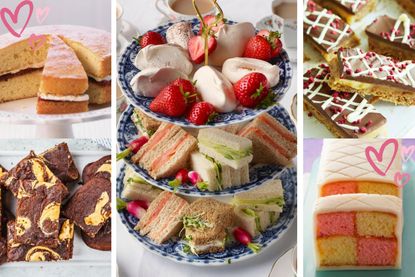 (Image credit: Future / Getty)
We've got plenty of inspiring afternoon tea ideas for you to select from including cupcakes, classic scones, and sandwiches too.
According to afternoontea.co.uk; "Afternoon Tea is a tea-related ritual, introduced in Britain in the early 1840s. It evolved as a mini meal to stem the hunger and anticipation of an evening meal at 8pm." Traditional afternoon tea is composed of sandwiches (usually finger sandwiches) scones served with clotted cream and jam and a selection of sweet pastries and cakes to finish. All of which is served with a pot or two of tea.
Our selection of afternoon tea recipes is ideal for parties, and special occasions, or if you're looking to make your own afternoon tea hampers as a gift for family and friends ranging from easy recipes for beginners to intricate bakes for those that have more time. Think lemon drizzle cake, cherry Bakewells, banana bread, and delicate strawberry macarons.
"No afternoon tea is complete without homemade cakes and pastries, sandwiches and not forgetting classic scones," says Deputy Food Editor, Rose Fooks. "Indulging in afternoon tea is great for special occasions. Make everything the day before you plan on serving it so you can focus on decorating and laying the table with vintage crockery for example."
Best budget-friendly afternoon tea ideas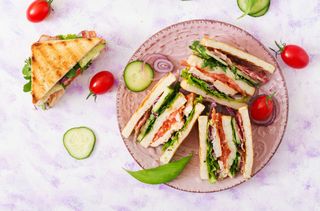 1. Sandwiches
Try dainty sandwich recipes for afternoon tea, including smoked salmon and coronation chicken fillings. Sandwiches are a great choice of savoury food to serve for afternoon tea. They're cheap, quick, and easy to rustle up in bulk. By far one of our simplest afternoon tea ideas.
How to serve for afternoon tea: Cut your sandwiches into elegant, rectangular or triangle-shaped slices, garnished with fresh herbs.
Recipes to try: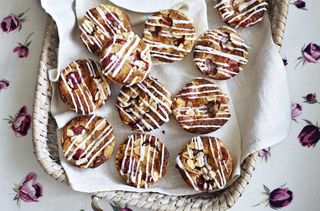 2. Tarts
Tarts are easy to make and make a great afternoon tea choice. Opt for classics such as Bakewell tarts, custard tarts, or mini raspberry and frangipane slices.
How to serve for afternoon tea: Don't forget a jug of cream, homemade custard, or fruit as an accompaniment.
Recipes to try: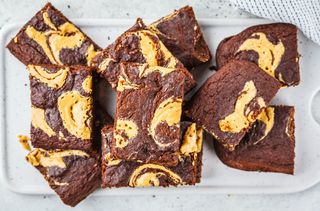 3. Brownies
Gooey and rich, brownies are an easy crowdpleaser - especially served warm with a generous spoonful of clotted cream. Make the day before so they're super rich in flavour and fudgy in texture too.
How to serve for afternoon tea: Just before your brownie traybake begins to cool, cut your brownies into squares or bite-sized pieces.
Recipes to try: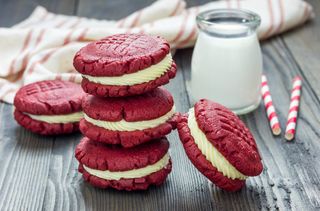 4. Whoopie pies
Whoopie pies are made with a soft, cookie-like dough and have been popular in America for many years now. They are perfect for afternoon tea as they can be eaten in just a couple of bites making them a great finger food option.
How to serve for afternoon tea: Experiment with different fillings and ask your guests to guess the flavours.
Recipes to try: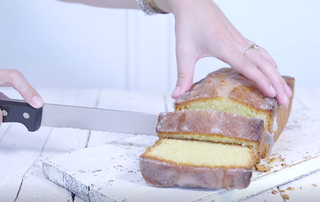 5. Lemon drizzle cake
A lemon drizzle cake makes the perfect option for afternoon tea as it's light and airy with a zesty flavour. Pair with herbal tea to really enhance the flavour of the lemon.
How to serve for afternoon tea: Cut your lemon drizzle into slices and pop onto a tiered cake stand or large plate so that everyone can serve themselves. There won't be any left.
Recipes to try: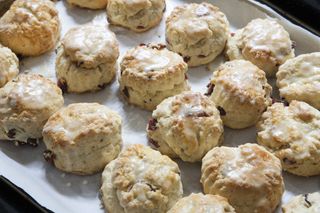 6. Fruit scones
No afternoon tea would be complete without scones. In our exclusive video, executive pastry chef at The Langham Hotel Andrew Gravett, shows you how to make the perfect fruit scones. "Make sure the butter is very cold, straight from the fridge", says Andrew, who also advises working the mixture thoroughly to ensure a greater build-up of gluten for the traditional scone shape. "If we don't work the scone enough, the texture and flavour will be nice but we won't have such a straight-sided scone, it'll be slightly fat on the bottom."
How to serve for afternoon tea: Scones will look impressive perched on a tiered cake stand. Or you could go for the more rustic approach and serve them in a basket. Little pots for the cream and jam and some teaspoons will make your table look fancy.
Recipes to try: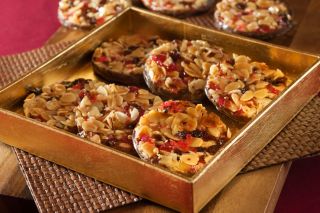 7. Florentines
Florentines are made with almonds and often covered in chocolate. Our traditional recipe makes 16 which is ideal if you're catering to a large number of people. These speedy sweet treats can be ready in just 20 minutes.
How to serve for afternoon tea: Pile florentines high in a basket or tin lined with white baking paper. You go one step further and turn your florentines into little presents and pop them in a gift box for each guest.
Recipes to try: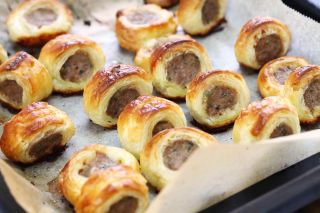 8. Sausage rolls
Whether you opt to serve them in one or slice them into minis, sausage rolls are a great savoury option. They make a filling replacement for sandwiches. By far one of our simplest afternoon tea ideas.
How to serve for afternoon tea: Cut into bite-sized pieces and present alongside the sandwiches as another delicious savoury option.
Recipes to try: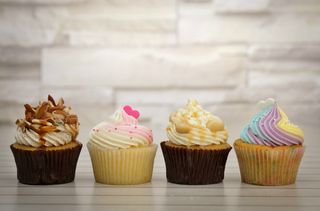 9. Cupcakes
Cupcakes mean individual cakes for your guests so everyone is guaranteed to have at least one cake and they'll be no squabbles. Try cupcake recipes with fondant figures or swirls of piped buttercream to keep it simple, yet impressive.
How to serve for afternoon tea: A tiered cupcake holder or cake stand will help you create a tower of cupcake.
Recipes to try: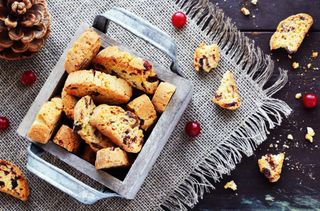 10. Biscotti
Biscotti, meaning biscuits in Italian, are perfect for dunking into tea once, twice or even three times without breaking into your cup. These brittle biscuits have a rich almond flavour and soften easily when dunked.
How to serve for afternoon tea: Serve biscotti with tea or coffee for dipping.
Recipes to try: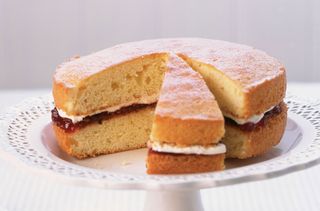 11. Victoria Sponge
Victoria sponge cake makes the perfect centrepiece, sandwiched together with fresh cream and jam.
How to serve for afternoon tea: A large glass cake stand sitting in the middle of your table would do this cake justice. Serve with a cake knife, small forks and napkins, for those messy eaters.
Recipes to try: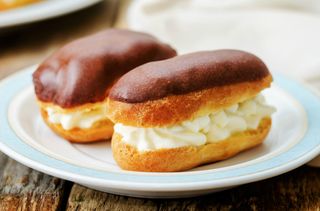 12. Éclairs
Chocolate éclairs have a soft, light pastry with a rich chocolate topping and creamy filling. Traditionally served at afternoon tea, eclairs are a delicate pastry to enjoy after the sandwiches.
How to serve for afternoon tea: You could play around with the sizes of your éclairs and make little bite-sized ones so they're easier to eat.
Recipes to try: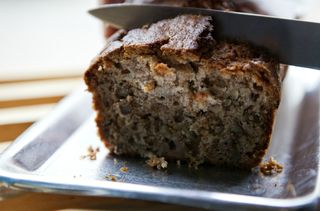 13. Banana bread
Another delicious afternoon tea idea is a banana cake or bread. Pick a banana cake recipe or a banana bread recipe as a great way to use up ripe bananas. Add chopped walnuts, pecans or even chocolate chips to give your banana loaf even more flavour.
How to serve for afternoon tea: Slice your banana bread or cake into pieces and serve on a tiered cake stand. You could also pop them into cupcake cases to make them look prettier.
Recipes to try: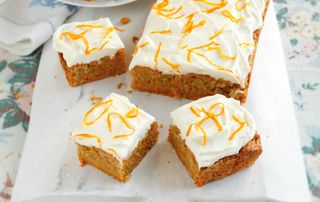 14. Carrot cake
Carrot cake has a thick, cream cheese frosting and a lightly spiced sponge. Make in advance as it keeps well in a cake tin or wrapped in tin foil and add the frosting just before serving. By far one of our simplest afternoon tea ideas.
How to serve for afternoon tea: Cut into slices or squares and place onto a tiered cake stand with a variety of other mini bakes.
Recipes to try: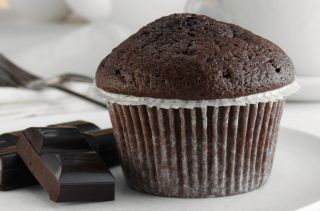 15. Muffins
Muffin recipes to bake at home, including raspberry and white chocolate muffins. Or experiment with a savoury muffin option, alongside sandwiches.
How to serve for afternoon tea: How cute would a basket of muffins look in the centre of the table?
Recipes to try: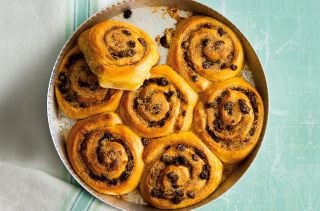 16. Chelsea buns
Our classic Chelsea buns recipe is so simple to make at home. They're a bit fiddly but well worth the effort. These currant-filled Chelsea buns make a lovely tea-time treat so perfect for afternoon tea.
How to serve for afternoon tea: Drizzle with some delicious royal icing and then stack on a round cake tower so they can be admired from all angles.
Recipes to try: