The Sweet Makers: Everything you need to know about BBC2's new show
Got a sweet tooth? You're going to love this...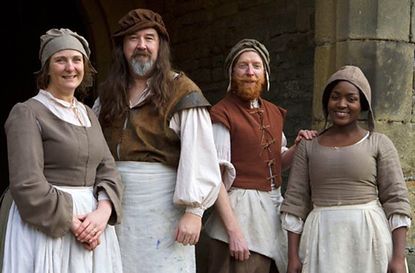 Are you a lover of all things sweet? If so, you're not going to want to miss the BBC's brand new show.
The Sweet Makers will transport four famous British confectioners back to historic England to uncover where our love of sugar first came from, while demonstrating original recipes from three eras.
With a grounding in historical fact, each episode will be guided by food historian Dr Annie Gray and social historian Emma Dabiri, and will star some of the UK's top talent when it comes to creating sweet treats.
Chocolatier Diana Short, sweet consultant Andy Baxendale, chocolatier Paul A Young and wedding cake designer Cynthia Stroud are in the confectioners line-up and will have to complete challenges along the way to discover the roots of their trades.
Over the series, they'll discover how our national sweet-tooth developed and how sugar became a status symbol of the British aristocracy. They'll also explore the darker side to the sweet stuff, uncovering the impact on our national health as well as sugar's role in developing the slave trade.
Kitted out in traditional dress and armed with strict recipes from each period, the confectioners will have to overcome challenges to produce authentic treats, including how to make food colouring from insects and how to make ice cream (opens in new tab) without a freezer!
Despite the differences between traditional methods and those used today, the experts were surprised by the similarities. Paul A Young says that a lot of the techniques are the very same ones he employs as a chocolatier: boiling sugar, hand tempering chocolate and hand moulding.
And despite all his modern technology, Paul says he 'learnt more than [he] could ever have anticipated' by going back to basics and learning from his predecessors through the ages.
So, what will they be making? We've got a sneak peek for you...
Episode 1 - The Sweet Makers: A Tudor Treat
The first episode of The Sweet Makers will explore some of Britain's first forays into sugar-craft, drawing on Tudor tales. The confectioners will spend four days creating treats from original recipes, ingredients and equipment that haven't been made (or tasted!) for hundreds of years. Their creations will then be presented at a final lavish banquet.
The recipes come complete with some interesting Tudor medical claims, including candied roses and roots, which were thought to cure gonorrhoea and act as an aphrodisiac respectively. There'll be sugar plates and goblets, model houses and intricate marzipan structures, too, just to make sure the banquet looks the part.
Episode 2 - The Sweet Makers: A Georgian Treat
Living the life of Georgian confectioners, the expert sweet-makers will learn how we came to create the dessert (opens in new tab) course, as well as uncovering Britain's first ethical revolt in response to the partially sugar-fuelled slave trade: The Sugar Boycott.
Recipes this week will include sky-high jellies made from boiled calves' feet, edible landscapes and an eye-wateringly expensive Parmesan ice cream.
Episode 3 - The Sweet Makers: A Victorian Treat
We are expecting afternoon tea (opens in new tab) treats, plenty of boiled sweets and a lot of chocolate. We'll keep you updated on the details just as soon as we know them.
When is The Sweet Makers on?
The Sweet Makers will premier on BBC2 on Wednesday 19th July at 8pm and run for three episodes.