We earn a commission for products purchased through some links in this article.
The menu for Prince William and Duchess Kate's wedding breakfast has been revealed after a copy of the listing went up for auction.
The menu, which has a 'small stain towards bottom, [but is] otherwise in near fine condition,' reveals that the guests dined on a starter of salmon, crab and langoustines, followed by a saddle of organic lamb with seasonal vegetables and a trio of desserts, including a classic sherry trifle.
The wines drunk with each course are also listed, ranging from a Laurent Perrier Rosé to L'hospitalet de gazin, a popular vintage from Bordeaux.
Image: Nate Sanders
The royal couple were married at Westminster Abbey on 29th April 2011, in front of approximately 1,900 guests, (and millions of viewers behind their TV screens, of course) and then headed to their luncheon reception at Buckingham Palace, where 600 guests were present. There was then a smaller, more intimate dinner of 300 guests towards the end of the day – the event which this menu is said to be from.
The guests followed the three-course meal with dancing, with popstar Ellie Goulding singing her version of Elton John's 'Your Song' for the pair's first dance.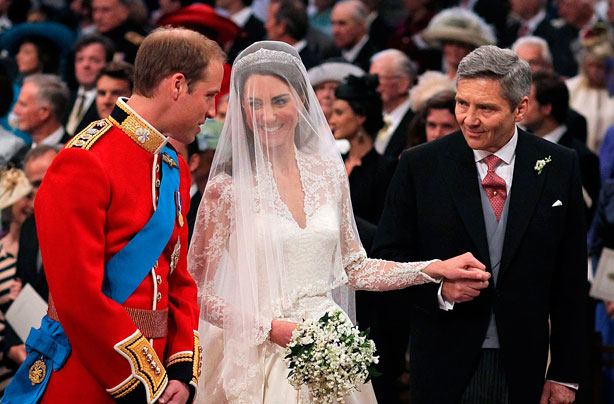 Kate and William prepare to say their vows at Westminster Abbey
In addition to their extravagant dining throughout the day, William and Kate also had two wedding cakes. The first was a traditional eight-tiered fruit cake created by cake designer Fiona Cairns, and was decorated with a staggering 900 sugarpaste flowers! The second was, rather more simply, created by McVitie's at the request of Prince William, who wanted a chocolate biscuit cake from a Royal Family recipe from his groom's cake.
The top of the menu features Prince Charles' heraldic badge of three white ostrich feathers emerging from a gold crown, followed by the words 'ICH DIEN' which translates as 'I SERVE'.
The minimum bid for the item is $1,000, although no bids have been made at present. We have to say, we'd be more inclined to cough up the asking price if it included a chef to cook us our own rendition of the feast as well…