The reason you've been pouring juice all wrong (and how to do it right!)
A new viral video has shown juice-lovers how to use cartons properly...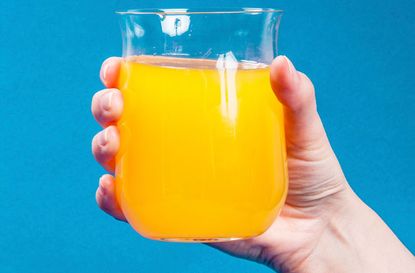 GoodTo newsletter
Sign up to the GoodTo Newsletter. You can unsubscribe at any time. For more information about how to do this, and how we hold your data, please see our privacy policy
Thank you for signing up to . You will receive a verification email shortly.
There was a problem. Please refresh the page and try again.
An instructional video has gone viral after proving that everyone has been pouring their juice all wrong.
The three-minute clip, from YouTube account Crazy Russian Hacker, explains that when using a Tetra-Pak style carton, the best way to pour your juice is actually upside-down.
He opens the video by demonstrating what usually happens when you pour yourself a glass of juice from the conventional spout-style packaging - the inevitable splash back, especially in small tumblers, which leaves your worksurfaces wet and sticky.
He then flips the carton the other way around, so the spout is at the top, facing away from the glass, bends back the top seal, and pours - and hey presto!
The trick to pouring the perfect glass of juice is to flip the carton
With the new method, there's no splash back, and a neat, tasty glass of juice.
'Boom, you see how smooth that was?' he says.
Find out how to pour your juice the right way round
http://www.youtube.com/watch?v=Q1-NWR3fcSw
You may think that Crazy Russian Hacker's life hack seems rather obvious, but the video has had over 2,700,000 views since it was posted to YouTube last year, and racked up almost 4,000 comments from amazed viewers around the world.
The film also shows that the same principle can apply to bottles where the spout is on one side, like motor oil, because 'bubble tension' will create the same bad pour.
Bottles with side spouts should also be poured in this way
According to the comments section, the trick also good for decanting cans of beer.
'You don't get that much foam,' Crazy Russian Hacker explains.
It's devilishly simple, but so effective! We may have to rethink our daily pouring habits...
What's your take – will you be giving this juice-pouring hack a try, or do you not have any problems with spilling it in the first place? Let us know your thoughts in the comment box below.