What is ghee? Everything you need to know about clarified butter
Ghee is everywhere at the moment, but what actually is it and how can you use it? Read our guide to get the lowdown on this South Asian staple ingredient.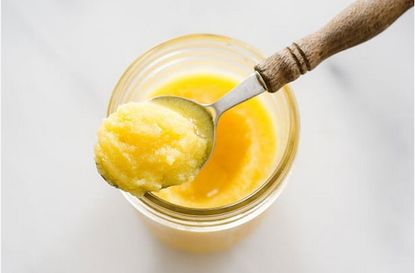 Ghee is an ingredient you'll find in lots of South Asian recipes, but what actually is it?
This clarified butter is used in a range of recipes, from rices and curries to breakfast and desserts. Celebs such as Miranda Kerr and the Hemsley sisters use Ghee in their cooking, and Kourtney Kardashian has also been reported to start each morning with a spoonful of ghee. This handy guide will teach you all you need to know about ghee and how to use it.
From a quick-fire guide on what it is, its health benefits, how to make it and how to cook with it, this is your one-stop guide to ghee...
What is ghee?
Ghee is a clarified butter, which means that it has been heated and purified to separate the milk solids and water. The result is a creamy looking solid that is similar to butter, but doesn't need to be refrigerated. Ghee can withstand really high temperatures and has a high smoke point, making it ideal for deep frying.
Is ghee good for you?
Ghee, and other healthy fats, have been in the spotlight recently, but how healthy actually is it? Ghee is almost pure fat, but some people think that because it's a natural product it's a better alternative to the kinds of trans fats found in some margarines and vegetable oil spread. Although there is no recent scientific evidence, it has been argued that ghee is better for you than regular butter too.
Ghee contains fat soluble vitamins, so can help you with your daily intake of vitamins A and K. Ghee is also free from lactose and casein, due to the clarification process, so is suitable for those with lactose allergies.
We are all being told to eat less sugar and more fat, as healthy fats help with cell membrane structure, allowing your body to absorb nutrients and your immune system to function at its best. Ghee, however, consists of mainly saturated fats, so be sure to limit your intake, as saturated fats have been linked to heart disease and diabetes.
When it comes to fats, the information out there is mixed, but the take home message is to include fats like ghee in your diet, in moderation, to make the most of the benefits but avoid the setbacks.
Nutritionist and Fitness Instructor Cassandra Barns, who highly recommends the ghee product Ghee Easy (£6 for a 245g jar of ghee, available from Sainsbury's) explains, 'Ghee is a great product to cook with. It is primarily a saturated fat and has a high smoke point, making it stable at high temperatures. In contrast, fats in vegetable oils can become damaged at high temperatures, such as when frying or roasting, making them harmful for our health.
Ghee recipes: What can I make with ghee
Ghee is commonly used in South Asian and Indian cuisine, and these delicious recipes all feature this star ingredient.
Butter chicken (opens in new tab)
This classic curry is such a crowd-pleaser, with tender chicken and a rich and flavourful sauce. It takes 50 minutes to make but is so easy. Pilau rice (opens in new tab)
Ghee is a key ingredient in a classic pilau rice. This simple side dish is so easy to make but wins on flavour. Hemsley + Hemsley huevos rancheros (opens in new tab)
The Hemsley sisters are big advocates of using ghee in your cooking. This Mexican inspired recipe makes for a brilliant brunch that's good for you as well as tasty.
Can I make my own ghee?
Making your own ghee is so easy. Follow these simple steps and you'll have a traditional ingredient to use in your next curry or pilau.
Melt butter in a saucepan over a low heat.

Skim off the whey with a spoon as it rises to the top.

The milk fats will sink to the bottom, keep heating until they turn brown.

Allow to cool, then strain through a cheese cloth and store in a jar at room temperature.