Summer holiday savings: How to save on food over the school holidays
Trying to budget over the summer holidays? Mummy blogger Anneliese shares her top tips when it comes to keeping the food bills down when everyone is home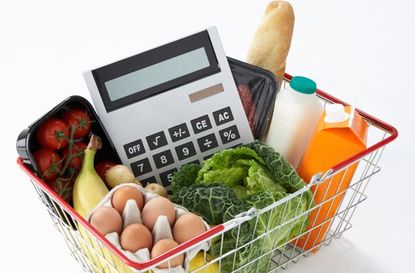 School's out for summer and all the children are excitedly reeling off a long list of things to do or places they want to visit and all the yummy treats they want to eat.
Meanwhile, parents around the country are nervously checking their bank statements. What, if any, money will there be left after they've accounted for extra childcare costs and perhaps a family holiday?
There's no doubt that the school holidays are expensive, but that doesn't mean they can't be fun! In my family, we try to keep our food budget as low as possible so that we have enough funds to pay for those all important days out; after all, those memories are priceless.
Here are just some of the ways to cut the cost of your food bill.
1. Make the most of the weather!
Most children love to eat outdoors and when the sun is shining, there is really no better place to be. So lay a blanket on the grass and have a picnic - and why not invite the teddies too?! My own children love slices of toasted pitta bread, carrot and cucumber sticks along with a dip, such as hummus or cream cheese. This makes a healthy but frugal lunch that will be much enjoyed in the great outdoors!
Picnics aren't just for your back garden or local park. It's also a good idea to take a picnic on a day out as most cafes are expensive and add to the price of your admission. We also refill our boys' old juice bottles (such as a Fruit Shoot) with squash, again and again. The boys are none the wiser and it saves us quite a bit of money!
Of course, another way to eat outside is to dust off your BBQ and put it to good use. Forget all the extra sides that usually don't get eaten and opt for simple burgers or sausages in bread rolls with a simple salad on the side.
2. Be prepared!
A meal plan is crucial! If you have planned the meals you will be making well in advance, it will be a lot harder to overspend; you will avoid extra trips to the supermarket and you'll be far less likely to impulse buy!
Once you have your meal plan in place, why not order the bulk of the food online. This way you can keep an eye on what you are spending as you go along. Also, this will avoid having to drag the kids around the supermarket as no doubt they will be asking for lots of extra treats!
If your children have their friends popping round for tea during the holidays, the chances are you will be given little or no warning! Have some simple food ready. Have some pizzas in the freezer or food with a good shelf life, such as a jar of hotdogs.
Get ahead, make a big batch of tomato pasta sauce and freeze it in handy portions. It will be ready for those busy days when you are too tired to spend ages cooking. Super cheap and so tasty!
Perhaps give your child a treat allowance each week. We now give our elder boy £1 per week during the holiday to buy his own treats. It's his responsibility to make them last out for the whole week. He puts his choices in his little treat box and is very good at rationing himself!
3. Shop wisely
It's always nice to have fresh fruit. However, frozen fruit is much cheaper and it's often on offer, so stock up! It is perfect for a refreshing homemade fruit smoothie or slush puppy.
If possible, shop towards the end of the day as that's when you can grab those bargains!
If you have to visit the supermarket, make sure you pay with cash. I always find it harder to overspend if I know I have to hand over money rather than my debit or credit card!
4. Make the most of what you've already got!
Don't throw away your leftovers. If you have extra pasta from your evening meal, why not make it into a pasta salad for lunch the next day? We often add sweetcorn, cucumber, tomatoes and salad cream to our leftover pasta and it's both filling and delicious!
If you still eat porridge in the summer months (not all days are hot!) and you make too much, do not despair! Simply stir through some fresh or frozen fruit and enjoy it as a dessert later in the day.
We use stale bread rolls as pizza bases and simply top them with a little tomato purée, a sprinkle of grated cheese, a few slices of tomato and pop them under the grill. These mini pizzas always go down well with all the family!
Visit your local hedgerows and go fruit picking. We are lucky to live near a field where there is always a plentiful supply of blackberries. We have been known to head out for blackberries in the pouring rain! Not only is it a fun family activity, but it's also free and you can turn the fruit into one of these delicious crumble recipes or add to yogurt.
If there are no hedgerows near you, why not pay a visit to a PYO farm? Then you will still get to enjoy a great day out, while you get to show the kids exactly where their food comes from.
5. Make your own takeaway
Takeaways are of course a treat, but with the added cost of all these fun days out, they can become a real luxury. Thankfully, it's far cheaper to make your own takeaways at home. A large simple pizza can be made from scratch for as little as £1 with this pizza dough recipe and what's more, young children will love to have a hand in making it.
If you prefer a spicy curry, then you can make your own with just some simple vegetables and a jar of readymade sauce; there's no harm in cheating just a little bit! Or pick from one of these homemade curry recipes.
6. There's always room for treats!
Just because you are on a budget, there's no need to deprive yourself of treats! Make your own penny saving ice cream with just a few bananas. Slice the bananas into circles, lay out on a tray and place into the freezer until solid. Next, place them into a food processor or blender and blitz until the frozen banana turns into a purée. Place the banana purée into a freezer-proof container and freeze until it has firmed up again. You can then serve it up as it is or jazz it up with added sprinkles or chocolate chips.
Shopbought smoothies are expensive, so whizz up your own. Pour pure fruit juice, some frozen fruit, a few spoonfuls of natural plain or Greek yogurt and blitz until smooth - so refreshing on a hot day.
Buy value chocolate to make this Rice Krispie cake with the kids. Each Rice Krispie cake will only cost a few pence!
Make your own ice lollies by pouring pure fruit juice into ice lolly moulds or, if you have any left, over a smoothie. You can freeze that too!
Happy summer holiday!
Author, writer and Mum of three, Anneliese Giggins has been creating recipes for Goodto.com for the past 9 years. She has also created food-related content for household names such as Daily Mail, Daily Express and Goodto.com. Her most successful to date was how to feed a family of 4 on £20 a week.