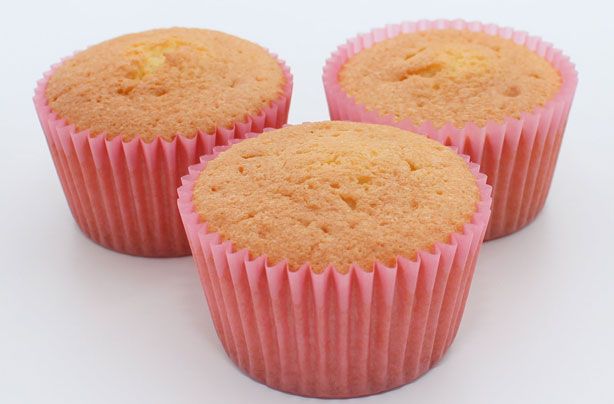 Ideal for children's birthday parties, make these cute fairy cupcake toppers in just seven simple steps.
Top your cupcakes with these impressive toppers. Each fairy is made using modelling paste in a variety of different colours. You could also use ready-to-roll fondant too. This recipe uses a handful of different cake decorating tools (opens in new tab) including a scallop tool, piping nozzle and small circle cutters.
How to make fairy cupcake toppers
Ingredients
120g red modelling paste
100g white modelling paste
100g fondant
20g yellow modelling paste
Various food colour
Dusky pink petal dust
Royal icing sugar
A length of dry spaghetti
Fairy cupcake toppers: Step 1
Make up a batch of our basic cupcakes (opens in new tab)
and allow to cool.
Whip up our classic vanilla buttercream with a dash of pink food colour and either pipe a swirl onto the cakes or spread a layer with a palette knife.

Fairy cupcake toppers: Step 2
Roll the red modelling paste out to 1/8 of an inch thick and cut 12x 58 circles. Place them on a drying sponge or greaseproof paper to dry.

Roll 15g of white modelling paste out and cut various sized circle for the dots of the toadstool. Don't worry if you don't have small circle cutters, just roll small ball of paste and push them flat with the tip of your finger.




Fairy cupcake toppers: Step 3
Mix 100g of white fondant and 70g of modelling paste together.

To make the heads, colour 50g of the modelling paste/fondant skin tone with a touch of tangerine food colour, roll into a sausage and cut into 13, 12 for the heads and one for the arms, which you can put to one side.

Roll each piece into a ball and add the smiles, using the scallop tool, and black non-pareils for the eyes. Make a slight indent for the nose with the edge of a piping nozzle.

Once the heads are dry to the touch, add a little colour to their cheeks using the petal dust.



Fairy cupcake toppers: Step 4
Roll 15g of white modelling paste out and cut 12 butterflies for the wings. You can use a piping nozzle to cut small holes from the wings to give them a lacy effect.






Fairy cupcake toppers: Step 5
For the body, take 120g of paste and divide into 3 and colour as you wish - Victoria used violet, pink and sky blue. Divide each coloured paste into 4 (remembering to keep the other paste covered so it doesn't go dry) and roll 4 small cones. Flatten the bottom of the cone by tapping on your table top a few times. Add and short piece of spaghetti to the centre of the cone to attach the head to.

With the leftover skin tone paste, roll small thin sausage shapes for the arms

Roll small thin sausages from leftover white modelling paste for the wand and cut 12x 5mm stars from the yellow modelling paste and stick the end of the wand.





Fairy cupcake toppers: Step 6
Brush a little water at the top of the cones and add the heads by pushing them onto the spaghetti. Stick the arms on either side of the body, the wings to the backs of the cones and the wands across the fairies, using a brushes of water.

Roll 15g of yellow modelling paste for the hair and cut 12 daisy shapes. Stick the centre of the flower to the tops of the heads with a brush of water, arranging the petals to the side so you can the faces.




Fairy cupcake toppers: Step 7
Mix a tablespoon of royal icing sugar with a few drops of water to make a thick paste. Add a touch to the bottom of each fairy and stick to the centre of each toadstool. Add one toadstool to each iced cupcake.
You might also like…
Chocolate cupcake recipe (opens in new tab)
Hummingbird Bakery's vanilla cupcakes recipe (opens in new tab)
Victoria Threader is 'the queen of cupcakes' and a contributing Recipe Writer at GoodTo. Not only can she bake delicious cupcakes, she can decorate them too - with each of Victoria's cupcakes topped with handmade edible toppers. Some of her most popular cupcakes include: rainbow cupcakes, hidden shape cupcakes and even giant cupcakes.