This vanilla cupcakes recipe is easy to follow and only takes an hour to bake.
If you're looking for a simple twist on our classic cupcake recipe, this one from Hummingbird Bakery is perfect. The vanilla flavour is achieved by using a couple of drops of vanilla extract in the cake batter and frosting but you can use a fresh vanilla pod or vanilla bean paste if you like.
Ingredients
120g plain flour
140g caster sugar
1 ½ tsp baking powder
Pinch of salt
40g unsalted butter, at room temperature
120ml whole milk
1 egg
¼tsp vanilla extract
For the frosting:
250g icing sugar, sifted
80g unsalted butter, at room temperature
25ml whole milk
a couple of drops of vanilla extract
You will also need:
hundreds and thousands or other edible sprinkles, to decorate
a 12-hole cupcake tray, lined with paper cases
Method
Heat the oven to 170C (150C fan, Gas 3) and line a cupcake tray with paper cases.
Put the flour, caster sugar, baking powder, salt and butter in a freestanding electric mixer with a paddle attachment (or use a handheld electric whisk) and beat on slow speed until you get a sandy consistency and everything is combined. Gradually pour in half the milk and beat until the milk is just incorporated.
Whisk the egg, vanilla extract and remaining milk together in a separate bowl for a few seconds, then pour into the flour mixture and continue beating until just incorporated (scrape any unmixed ingredients from the side of the bowl with a rubber spatula). Continue mixing for a couple more minutes until the mixture is smooth.
Spoon the mixture into the paper cases until two-thirds full and bake for 20 minutes, or until light golden and the sponge springs back when lightly pressed.
Leave the cupcakes to cool slightly in the tray before turning out onto a wire cooling rack to cool completely.
Meanwhile, to prepare the frosting, put the icing sugar and butter in the bowl of a stand mixer. Using the paddle attachment, mix together on a low speed until the ingredients are well combined.
Combine the milk and vanilla in a separate bowl or small jug. Add a couple tablespoons of the liquids at a time to the butter and sugar mixture and beat until incorporated. Continue until all the liquid has been added then increase the speed to high. Beat until the frosting is light and fluffy.
Once the cupcakes are cool, spread a teaspoon or two of frosting on top and sprinkle with hundreds and thousands.
Watch how to make vanilla cupcakes
Top tips for making this vanilla cupcakes recipe
These vanilla cupcakes are what first made Hummingbird Bakery famous according to Tarek Malouf and they remain a crowd-pleaser. Tarek says: 'The batter is runny, so don't worry, and don't overcook them. They should be light golden and spring back when touched.' Just make sure the oven is fully preheated before putting the cupcakes into the oven.
If you'd like some more tips and tricks when it comes to making this recipe, continue reading below.
Can I use a cupcake recipe for a full size cake?
If you'd prefer to make a three-layer 20cm showstopper, Tarek says: 'Double the quantities and bake in three greased and lined 20cm sandwich tins.' The sponge may take a little longer to bake but don't open the oven door for at least 20 minutes before checking.
How long do vanilla cupcakes stay fresh?
Vanilla cupcakes will taste best on the day they are baked. They can be stored at room temperature for 2-3 days in an airtight container or cake tin. They will dry out the longer you leave them.
Why are my vanilla cupcakes not rising?
Your cupcakes may not rise if the oven was at the wrong temperature. You also need to get the batter into the cases and into the oven as quickly as possible once everything is combined as the chemical raising agent is activated straight away and you don't want it to run out of steam before hitting the oven.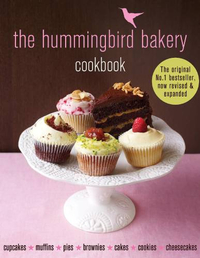 The Hummingbird Bakery Cookbook by Tarek Malouf and The Hummingbird Bakers (Ryland Peters & Small, £11.94) - View at Amazon
Discover more Hummingbird twists on classic recipes and exciting sweet treats in this best-selling cookbook. There are plenty more sweet options including chocolate cheesecake and blueberry muffins as well as savoury recipes like ham and mushroom muffins.
You might also like our rainbow cupcakes which are wonderful and colourful. Alternatively, if you prefer something more indulgent our chocolate cupcakes are a must-bake. These mini cupcakes are adorable and perfect as a little afternoon treat or lunchbox snack.
This recipe is from The Hummingbird Bakery Cookbook by Tarek Malouf and The Hummingbird Bakers. Photography by Peter Cassidy, Published by Ryland Peters & Small, Text © Tarek Malouf and The Hummingbird Bakers, Photography copyright Ryland Peters & Small.