Cake decorating tools
The best cake decorating tools you'll need to make professional looking cakes and cupcakes. All these tools are used by cupcake decorating queen Victoria Threader and she highly recommends every single one...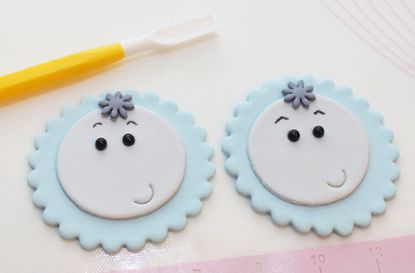 (Image credit: Future)
The best cake decorating tools you'll need to make professional looking cakes and cupcakes. All these tools are used by cupcake decorating queen Victoria Threader and she highly recommends every single one...
The best cake decorating tools you'll need to make professional looking cakes and cupcakes. All these tools are used by cupcake decorating queen Victoria Threader and she highly recommends every single one...
From piping bags and nozzles to water pens, from textured mats to soft brushes, click through to see all of our favourite cake decorationg tools...
Piping bag and nozzles
Turn your cupcakes into professional masterpieces with a piping bag and nozzle. You can buy a whole variety of nozzles for your piping bags online or in bakeware stores.
Star-shaped nozzles will create the ruffled look, a plain circle will give you a clean finish and you can make buttercream roses with different nozzles too.
Water pen
Stick fondant onto fondant or modelling paste onto modelling paste with the swipe of a water pen. These pens are really handy and easy to use, making sure you don't put too much water on your fondant or make it sticky.
Make your own loom band cupcakes
Moulds
Moulds are great for adding interesting shapes and patterns to your cupcakes or cakes. You can buy a whole variety of moulds including simple flowers all the way up to starfish and shell moulds like this one.
Sharp knife
Where would you be without your sharp knife? You can get clean cuts every time with a sharp knife, just make sure you clean it every time you use it so you don't mix coloured fondants together and to keep it sharp.
Cookie cutters
Cookie cutters aren't just for cookies you know! Use them to make the base of your cupcake toppers. You can use soft edged cookies or ruffled edges.
Drying sponge
A drying sponge is the perfect extra to have to make your fondant toppers dry that little bit quicker. It'll stop them from sticking on your mat and they'll dry evenly without any bumps or lumps.
Learn how to make these bride and groom cupcakes
Textured mats
Give your cake some texture with a textured mat. You can buy them in most bakeware stores or online. Just pop the textured mat over the top of your fondant and roll gently with the rolling pin.
Edible ink pens
Edible ink pens are a great way of making your designs stand out and give them that professional edge.
Make your own campervan cupcakes
Craft knife
A craft knife is sharp so please be careful when you use it. The thin traingluar blade will cut crisp clean edges every time.
Cocktail stick
Cocktail sticks are handy extras to have on the table when it comes to decorating your cake. Victoria Threader uses them here to make button holes but you can use them to make other effects too.
Watch how to make your own button cake decorations
Ribbon cutter
Get perfect straight lines every time and add the same width too. This easy to use tool is ideal if you're looking for a professional finish. Roll over your fondant or modelling paste and you've got perfect strips.
Scallop tool
Victoria Threader uses her scallop tool to shape smiles into the fondant like she has done with the elephants. The scallop tool can also be used to make eyebrows, ears or frowns too!
Learn how to make your own elephant cupcakes
Palette knife
Get an even spread of buttercream each time you decorate with a palette knife. This soft, rounded knife is ideal for spreading over frosting on a large or small cake, quick and as evenly as possible.
Rolling pin
Roll out fondant in one movement with a handy rolling pin. It's better to use a plastic rolling pin when it comes to rolling out fondant or modelling paste as it won't stick as much. You can now buy rolling pins with bands around the edges of each side to make sure you get an even thickness.
Balling tool
The balling tool is a must-have if you're planning on making roses. Gently roll over your sugarpaste to flatten and thin the paste.
Learn how to make your own rose cake decorations
Ruler
Measuring is key to making professional-looking decorations for your cakes. Have one on hand when it comes to cutting pieces of fondant the small size or length.
Plunger cutters
If you're looking for smaller circles, we recommend plunger cutters. You can buy them in packs with a whole variety of sizes.
Templates
You can make templates out of tracing paper, greaseproof paper or standard writing paper. Cut them out using scissors or a sharp knife and place over your fondant. Cut around the template and you've got yourself a perfect shape!
You could also use your template for different patterns - try a snowflake template and dust with icing sugar to create a pattern on your cake.
Soft brush
A soft brush will come in handy, especially if you're creating a 3D model like this little fellow. Victoria Threader uses her soft brush to add blushing cheeks to make this fondant topper look realistic.
Learn how make your own 3D boy cake decoration
Flower cutters
You can buy a whole variety of flower cutters in most bakeware shops or online these days to help make pretty flower decorations.
Cutting mat
A cutting mat is made with a plastic, silicone material so your fondant shouldn't stick to it. It also has ruler lines for measuring and cutting precisely.
Alphabet cutters
Tell someone how much you care with these simple alphabet cutters. They're really easy to use and will make sure you have crisp lettering each time you use them.
Victoria Threader used these alphabet cutters to make name blocks.
Food colouring paste
Colour white fondant with food colouring paste - it's much thicker than standard food colouring and doesn't leave your fondant sticky and moist.
Modelling paste
If you're planning on making a 3D cake toppers or something a little more advanced, we'd opt for modelling paste over fondant. It's much easier to work with and gives a professional finish every time.
Foamed balls
These foamed balls help make 3d domes by letting your fondant dry on top while you get on with making other bits and bobs for your cake.
Victoria Threader uses these foamed balls to make football cupcakes.
Where to next?
Cake decorations by Victoria Threader
Jessica Dady is Senior Content Editor at Goodto.com and has over 10 years of experience as a digital journalist, specialising in all things food, recipes, and SEO. From the best food hampers to cookbooks, from the best cake stands to baking sets, Jessica has a wealth of knowledge when it comes to must-have food products. A passionate baker, she spends much of her time creating celebration cakes for friends and family - particularly for her two lucky children.