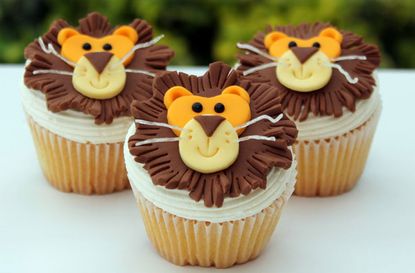 (Image credit: Future)
GoodTo newsletter
Sign up to the GoodTo Newsletter. You can unsubscribe at any time. For more information about how to do this, and how we hold your data, please see our privacy policy
Thank you for signing up to . You will receive a verification email shortly.
There was a problem. Please refresh the page and try again.
Complete your jungle-themed party (opens in new tab) with these impressive lion cupcakes made in just eight easy steps.
These cupcakes are made using just five ingredients; modeling paste, fondant, sugar pearls, and clear noodles for the lion's whiskers. If you can't find coloured fondant, you could opt to colour white fondant with food colouring instead.
How to make lion cupcakes
Ingredients
120g brown modeling paste for the mane
60g orange fondant for the head
30g cream fondant for the chin
Black sugar pearls for the eyes
Chinese clear noodles for the whiskers
Lion cupcakes: Step 1
Make up a batch of our basic cupcakes (opens in new tab) and allow to cool.

Whip up our classic vanilla buttercream and either pipe a swirl onto the cakes or spread a layer with a palette knife.






Lion cupcakes: Step 2
Roll the brown modelling paste out to ¼ inch thick and cut 12x wavy circles. Using the nail scissors, snip around the edges and leave to dry on a sponge or greaseproof paper. You can keep the off-cuts of fondant under a glass to stop them from going dry.






Lion cupcakes: Step 3
Roll the orange fondant out and cut 12x hearts. Stick the hearts onto the top of the mane with a brush of water.






Lion cupcakes: Step 4
Roll the cream coloured fondant and cut 12x 23mm circles and stick over the bottom of the hearts with a brush of water.






Lion cupcakes: Step 5
Stick the black sugar pearls onto the head with a dot of water.






Lion cupcakes: Step 6
Cut a small triangle from the off-cuts of brown modelling paste and stick on for the nose. Using a cocktail stick, mark down from the centre of the nose, then using the smile tool or small cookie cutter press into to the fondant at the bottom of the line for a smile.






Lion cupcakes: Step 7
Cut the Chinese noodle to size and push into the cheeks. For the ears cut 12x 10mm circles and indent with a balling tool. Cut the circles in half and stick them to the top of the head with a brush of water.






Lion cupcakes: Step 8
Ice the cupcakes by piping or spreading the buttercream onto the tops. Place the toppers onto the iced cupcakes.
You might also like…
Hummingbird Bakery's vanilla cupcakes recipe (opens in new tab)
Elephant cupcakes (opens in new tab)
Monkey cupcakes (opens in new tab)