Jungle party ideas
Let the kids run wild, literally, by throwing a jungle theme party! This theme is roaring good fun as kids can dress up as their favourite exotic animals and it's grrreat for fans of The Lion King and suitable for both boys and girls!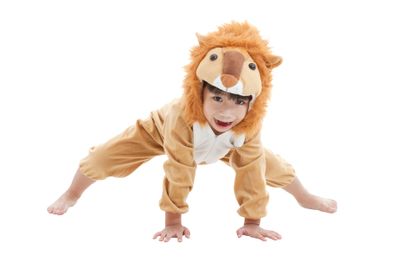 (Image credit: kdshutterman/Getty Images)
GoodTo newsletter
Sign up to the GoodTo Newsletter. You can unsubscribe at any time. For more information about how to do this, and how we hold your data, please see our privacy policy
Thank you for signing up to . You will receive a verification email shortly.
There was a problem. Please refresh the page and try again.
Let the kids run wild, literally, by throwing a jungle theme party! This theme is roaring good fun as kids can dress up as their favourite exotic animals, and we've got plenty of jungle party ideas for you to try out. It's a grrreat theme for fans of The Lion King and suitable for both boys and girls!
From creating your own jungle party invites (opens in new tab), amazing animal cakes and jungle party games, we've got everything you'll need to have a really wild jungle party.
A jungle theme is a great one for all children - kids love all the friendly faces they see at the zoo and would love to bring them home! This type of party includes lots of colourful invites, fun animal games, and some really tasty party food. It's guaranteed to be a noisy one with all those animals running wild!
Take a walk on the wild side and look through our jungle party article for all the advice you'll need to throw a jungle party for your little monkeys at home. And of course, no jungle party would be without some wild faces, with our easy step-by-step tutorial for lion face painting (opens in new tab) or leopard face painting (opens in new tab).
Jungle party ideas
Jungle party food Jungle party crafts Jungle party invites Fun jungle party decorations Jungle party games Jungle party costumes Jungle party bags
Jungle party food
From sandwiches and crisps, to chocolate and sweets and of course, the all-important birthday cake, there's generally not a lot of party food left at the end of the day! We've got loads of fun, tasty and easy-to-make recipes guaranteed to fill the tummies of all the cheeky monkeys at the party.
Party food (opens in new tab) can consist of almost anything you want in bite-size pieces, but generally you can keep it nice and simple with small, easy-to-make snacks and treats perfect for kids to pick at when they're hungry. And of course not forgetting the best part of any party, the cake!
Birthday cakes
If you fancy making your own wild birthday cake (opens in new tab), a host of cheeky animal cupcakes (opens in new tab) or even a giant cupcake (opens in new tab), we've got loads of ideas to help you out.
Depending on how much time, money and patience you have, you can make jungle creepy crawlies like chocolate spider cakes (opens in new tab) or banana butterfly cupcakes (opens in new tab). These cute little panda cupcakes (opens in new tab) will also go down a treat!
If you want to get the kids involved you can either use our 10 fairy cakes to make with the kids (opens in new tab) or follow our simple and easy-to-follow basic cupcakes recipe (opens in new tab) and decorate however you wish using our handy cake decorating tips (opens in new tab).
Savoury party food
Pizza (opens in new tab) - it's nearly always a winner with little ones but keep the toppings simple for any fussy eaters. Think cheese and ham, and plain tomato.
Rolls - turkey filled (opens in new tab) or multi-coloured (opens in new tab) - the options are endless and any bright vegetable fillings will suit this theme perfectly.
Annabel Karmel's chicken dippers (opens in new tab) - follow this simple recipe for a tasty snack kids will love, you could even name them something suitable jungle themed, like crunchy jungle bugs.
Sausage rolls (opens in new tab) - we've got a great recipe with a twist that kids won't be able to keep their hands off. Serve with lots of ketchup to keep the little people happy.
Potato wedges (opens in new tab) - these are great for kids and can be served without the spice for plain eaters.
Sweet party food
Marshmallow swizzle sticks (opens in new tab) - these are so simple to make and kids go wild for them. You could even make them as a fun party activity.
Monkey cupcakes (opens in new tab) - the iced decoration on these sweets are perfectly suited to the theme of the party
Milk strawberry sticks (opens in new tab) - a healthy and tasty treat - what's not to love? Plus, they'll need something to cool them down after all their running around.
Peppermint creams (opens in new tab) - these make fun additions to a party spread and little ones love them.
Lemon magic cake (opens in new tab) - with fresh fruit juice, these lemon squares will be a big hit at the party.
Jungle party crafts
Crafts (opens in new tab) are a really fun way of getting the kids to be creative at the party, plus they can take all their creations home with them at the end of the day, so the fun can continue. Here are some crafty jungle-themed activities to keep you going...
A play dough jungle For younger children this play dough jungle (opens in new tab) (pictured above) makes a great activity. Moulding, squashing and shaping their play dough into jungle scenes will keep little ones busy for ages. Just remember to lay down a plastic table cloth to protect surfaces!
Plant pot pets Create some little jungle critters (opens in new tab) from plant pots designed to look like animals, that can sit out on your jungle floor. You could try painting some with black and orange or black and white stripes for tiger and zebra pots!
Jungle scene This is a fun and easy craft to make. Supply the kids with lots of coloured card, especially lots of green and brown, and some Pritt Stick. By tearing the card help them to make their own jungle scene, including hanging vines, palm trees and flowers. Using animal-shaped templates of cookie cutters will help them cut out animal shapes to fit into their jungle. Some small, sticky, googley eyes will be a great touch, too.
Jungle party invites
Making your own party invitation is not only a great way to save money but it's something the kids will love helping you do to prepare for the party. Plus, they can get excited about seeing all of their friends. All you need is a little bit of creativity and patience, and there are loads of jungle themed invites you can make. Use our grrreat FREE jungle party invitations (opens in new tab) which you can print off and fill out at home, or have a go at making one of the ideas below...
Animal invitations
This is a really simple way to make some wild invites for your jungle party. You'll need some animal stencils, or find some animal shapes you can trace round, either from the computer or try your kids' books, even biscuit cutters will do! Choose any exotic animals you like - think lions, elephants, tigers, zebras, hippos...and then cut them out of coloured card. Now your kids can have fun colouring in the animals. Try adding shreds of brown and yellow paper to form the lion's mane, or some grey thread to the elephant's tail. Make sure you leave some blank space in the middle of your invite and then fill in the details of the party, or you could always write on the back if easier.
Map of Africa invitations
These are so easy to make. Simply write your invitation onto a map of Africa,(there are plenty you can print off online). Give the edges a bit of a tear and blotch with teabags, to make it look like an authentic explorer map and write your party details in the middle.
Tiger paw print invitations
Take some sheets of orange and black card. Cut out a rough circle from the orange card and then cut three small circles out of the black card. Using a black felt tip, draw a rough circle shape on the orange shape and then stick your three black circles around the top of it to form a paw print. Then you can write your party invite in the pad of the tigers paw. You could even add some fierce black claws with felt tip.
Jungle leaf invitations
Cut out a large leaf shape out of green card, cutting out some long stripsfrom the sides to make it really look like a jungle leaf. Get your kids to draw some little creepy crawlies like ants and flies creeping across the leaf, and write your message in the middle.
Passport invitations
These will get the kids really excited about the upcoming party, and you could tell the kids to bring their passports with them to enter the jungle. Take a piece of brown card, about the size that looks similar to a passport when folded in half. Using felt tip, write 'Safari Passport' on the front, and write your message inside. Using scissors, cut a bite shaped mark out of the top corner of the passport, so it looks like they're in for a wild and dangerous trip!
Jungle party decorations
Decorating your house, garden, or rented space for a jungle party is great fun, we've got all sorts of cheap and creative ideas for creating a truly wild jungle!
You can always buy jungle party decorations but a little imagination and some clever use of materials, balloons and decorations will really set the jungle scene. The good news is that jungle colours can be any colours really, as long as you include lots of green. An archway of green, red, orange, yellow, blue and brown balloons would be a great way for kids to enter the 'jungle', and how about attaching some strips of soft green and brown material that will hang down like vines, making them feel like they really are headed into the undergrowth.
You could present each child with a map and a passport so that they feel like real explorers. Or alternatively, you could give them animal masks, which you can pick up pretty cheaply from most fancy dress shops, so you can get them all monkeying around in the jungle.
Cover your chairs and walls in green material, and hang green streamers from the ceiling like crawling vines to make your party space look really wild and untamed. And if you don't mind a bit of extra mess, you could even scatter some leaves about that you've collected from your garden. Stick some googley eyes to the green cloth to make it seem as if there are lots of animals peeping out through the trees.
If you're feeling really ambitious you could make some cardboard animal shapes, and have them around the room and at the entrance. The kids can help you decorate them and make them look really colourful.
Jungle party games
You can be as inventive as you like with kids' party games - there are always the old classics like Musical Chairs and Pass the Parcel - but how about adding a jungle twist to some fun games? Here are a few jungle party games to get you started...
Pin the tail on the monkey A jungle variation on the old classic 'Pin the Tail on the Donkey'. Print off a picture of a monkey, or trace a monkey shape onto a large piece of brown card and cut out. Make a curly monkey tail for each player by cutting out of brown card and giving each tail a number. In turns, blindfold each child, spin them round 3 times and ask them to pin their tail on the monkey using a board pin (secure the board pin for them and give to them after they've been spun around to avoid any accidents!)
Tarzan says... Played in the same way as Simon Says, only you can make it more fun by using animal sounds and gestures!
Jungle safari Hide some animal shapes, or soft animal toys around the house and garden. Explain to the kids when they arrive that they're now on an African Safari and to keep their eyes peeled for wild animals. If they find an animal they get to keep it as a prize. Whoever finds the most animals wins. You could even give bonus prizes for if they find one of the Big 5.
Piñatas Kids love piñatas, they make a really exciting party game as the kids are showered in treats when they break through. You can get some great piñatas from party shops but there are also some really fun jungle-themed ones available online. Fill them with small toys, sweets and some plastic creepy crawlies to make it fit in with your jungle theme.
Jungle party costumes
The dressing up has got to be one of the best bits of a jungle party, as there are just so many different things kids can go as! Tigers, lions, elephants, monkeys... the list is endless. Here are some great jungle theme party costume ideas...
If you're good with the sewing machine you can pick up fluffy, animal print material very cheaply at local markets, on eBay and stores like John Lewis. If you're not so confident with a needle and thread, a little bit of creativity can go a long way. Stores like Poundland often stock dressing up materials, like animal masks, ears and tails, and a bit of face paint and colour co-ordinating clothing will complete the look!
Face painting
Who doesn't love having their face painted? (Even at our age!) How about turning your child into the king of the beasts, using our fearsome lion face paint (opens in new tab) guide, or our spotty leopard face paint (opens in new tab).
You could also transform them into our spooky jungle bat face paint (opens in new tab) or creepy crawly spider face paint (opens in new tab).
Jungle party bags
Party bags aren't essential, but they do make nice little treats for each child to take home at the end of the day, and they can be made on a budget. You can either buy jungle party bags such as the one pictured above from party stores for just over £1 or you can buy plain ones from most supermarkets. What you fill them with is up to you, but generally they include small toys, such as yo-yos, bouncy balls, hair accessories, badges, colouring books, bubbles and balloons (these may vary slightly depending on the age of the party guests). Some little plastic animals, animal masks and some mini binoculars would make a great jungle party bag.
You can also fill them with small sweets, chocolate bars, lollipops, sherbet sticks or chewy sweets, as well as a piece of the birthday cake. If, for whatever reason, you don't want to slice the main cake, or don't think there will be enough birthday cake to give each child a slice, you can always buy or make a more simple one or give each child a cupcake instead.