How to make chicken karaage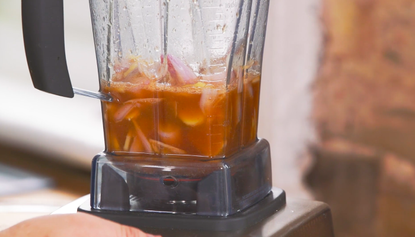 GoodTo newsletter
Sign up to the GoodTo Newsletter. You can unsubscribe at any time. For more information about how to do this, and how we hold your data, please see our privacy policy
Thank you for signing up to . You will receive a verification email shortly.
There was a problem. Please refresh the page and try again.
This chicken karaage recipe comes from MasterChef winner Tim Anderson. Made with a crisp, seasoned batter and succulent chicken thighs it makes the perfect sharing food that everyone will love. At Tim's restaurant, Nanban in London, they serve this tasty Japanese fried chicken simply with lime juice, to give a little added freshness without overpowering the flavour of the marinade itself. Tim's recipe serves four people, so scale up or down if you want more or less.
Ingredients
4 chicken thighs, boneless and skin on
oil, for deep-frying100ml sake
For the marinade:
3tbsp mirin
3tbsp vinegar
3tbsp lime juice
2tbsp sriracha or similar hot chilli sauce
2tbsp soy sauce
1tbsp sesame oil
10 cloves garlic
4 shallots or 2 banana shallots
15g ginger (peeled weight), thinly sliced
½ tsp salt
¼ tsp pepper
For the seasoned flour (optional):
250g cornflour
1 tsp pepper
1 tsp salt
1 tsp sesame seeds
½ tsp dashi powder
¼ tsp chilli powder
¼ tsp dried ginger
Step 1
For the marinade, whizz all the ingredients together in a food processor until no big chunks remain (it doesn't have to be perfectly smooth).
Step 2
Cut the chicken thighs into pieces no bigger than about 3cm at their thickest point – most thighs will yield 4 pieces, but you should get 5 or 6 out of bigger ones. The main thing to bear in mind is that they need to cook quickly, before the crust begins to burn. Basically, you should err on the side of small.
Step 3
Coat the chicken pieces in the marinade and leave in the fridge for at least an hour and up to 48 hours.
Step 4
For the seasoned flour, simply combine all ingredients until the seasonings are well distributed.
Step 5
Coat the chicken in the flour mix.
Step 6
To cook, heat at least 1l oil in a deep saucepan and heat to no higher than 170ºC. Remove the chicken from the marinade, letting any excess drip off, and dredge in the cornflour or seasoned flour, ensuring that all the nooks and crannies are well coated – this will help maximise crust and minimise burning.
Carefully drop the chicken into the oil in small batches, checking the temperature periodically to ensure it is between 160 and 170º, and fry for 6-8 minutes. If you have a meat thermometer, use it: the chicken is done when it reaches an internal temperature of 65ºC.
Step 7
. If you don't have a thermometer, use a knife to cut into the biggest piece of chicken at its thickest point. If it's pink, back into the oil it goes.
Step 8
If it's not pink, it's karaage time!