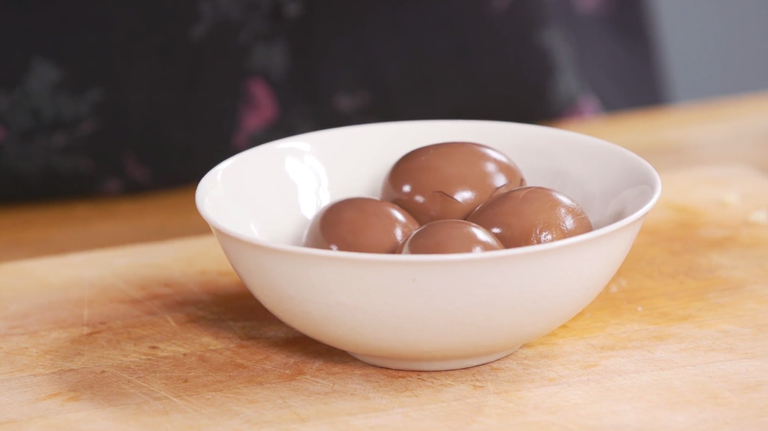 If you're wondering how to make scotch eggs (opens in new tab), you're in luck. We asked Tim Anderson, MasterChef winner and owner of Nanban, for his award-winning recipe. In The Scotch Egg Challenge 2018 Tim's Japanese (opens in new tab)-inspired version won first place thanks to its punchy flavours of spring onion, garlic and soy. As part of Tim showing you how to make his delicious scotch eggs at home he explains how to soy-marinate eggs for a really delicious flavour.
Ingredients:
For the eggs
4 eggs
200ml water
1 lapsang souchong tea bag
1 star anise
100ml soy sauce
1tbsp mirin
1tbsp rice vinegar
For the pork mixture
400g pork mince
2 spring onions, finely sliced
4 cloves garlic, minced
60g menma bamboo shoots, finely chopped
¼ Scotch bonnet chilli, deseeded and finely chopped
½ tsp salt
¼ tsp white pepper
For the coating
2 eggs
1 tbsp oil
100g strong white bread flour
150g panko
oil, for deep-frying
tonkatsu sauce, to serve
Step 1
Boil the eggs for six minutes and twenty seconds, then transfer to a bowl of cold water and leave to cool completely. Meanwhile, boil the water with the tea and star anise, then add the soy sauce, mirin, and rice vinegar and leave that to cool as well. Peel the eggs and transfer to the tea mixture. Marinate in the fridge for at least two hours and up to 24 hours.
Step 2
Combine the pork mince, spring onions, garlic, menma, Scotch bonnet, salt, and pepper in a deep bowl and mix until well-combined.
Step 3
Portion this mixture into 100g balls, then flatten each ball into a large disc.
Step 4
Wrap each disc around a tea-marinated egg.
Step 5
Beat the eggs with the oil, then dredge the pork-wrapped eggs in the flour, then the eggs, and then then panko.
Step 6
Ensure they are well coated.
Step 7
Heat the oil to 160ºC and fry for about 8 minutes, until the pork is cooked through but the egg is still soft.
Step 8
Serve with tonkatsu sauce.