Rudolph marshmallow decorations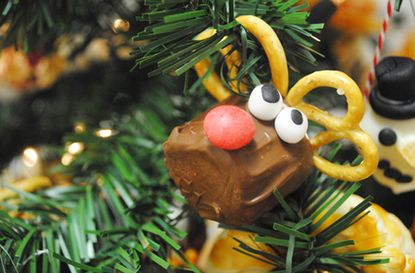 These cute and comical Rudolph marshmallow decorations are so easy to make. Each Rudolph is dipped in melted milk chocolate and topped with pretzel antlers and a red sweetie nose.
The kids are going to love making these delicious Christmas tree decorations. You can attach string to the pretzel antlers to hook them onto the tree.
Come and see more of our creative and edible Christmas tree decorations here!
Ingredients
Large marshmallows
Pretzels
Red Skittles or Smarties
Ready-to-roll white and black icing
100g milk chocolate
Step 1
Line a wooden or plastic board with greaseproof paper, you can secure it using cellotape. Melt your bar of chocolate in the microwave in short bursts, take out of the microwave and cool slightly by continuously stirring.

Next, dip each marshmallow into the chocolate covering the base and the edges of the marshmallow. Place on the greaseproof paper and pop in the fridge to set for 10 mins.


Step 2
Take the chocolate-covered marshmallows out of the fridge and flip upside down. Put a small drop of the melted chocolate onto the back of the marshmallow and press down the pretzels to make the antlers.

Flip them back over so the pretzels are on the greaseproof paper. Continue to do this with all your marshmallows and then pop back into the fridge to set for a further 10 mins.


Step 3
Meanwhile, make Rudolph's eyes using ready-to-roll icing. Roll out a pea-sized piece of white fondant and then roll out an even smaller piece of black fondant for the centre of the eye and press both together.


Step 4
Take the marshmallows out of the fridge and add the red sweetie nose with a dab of melted chocolate as glue. Add the eyes the same way.


Step 5
Pop them back into the fridge to let them set for a final 10 mins.

Step 6
Thread some ribbon or string around the pretzel antlers and place on the tree.

Jessica Dady is Senior Content Editor at Goodto.com and has over 10 years of experience as a digital journalist, specialising in all things food, recipes, and SEO. From the best food hampers to cookbooks, from the best cake stands to baking sets, Jessica has a wealth of knowledge when it comes to must-have food products. A passionate baker, she spends much of her time creating celebration cakes for friends and family - particularly for her two lucky children.