23 low calorie Starbucks drinks - healthiest options revealed
A roundup of low calorie Starbucks drinks that are much lighter, healthier options but don't shy away from flavour or taste...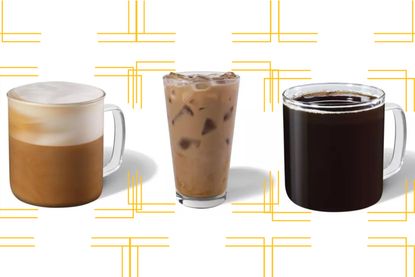 (Image credit: Future / Starbucks)
We've rounded up plenty of low calorie Starbucks drinks that are the much lighter, healthier options however they don't shy away from flavour or taste.
From an Espresso macchiato to a blonde iced vanilla latte with skimmed milk, our collection includes a variety of hot and cold Starbucks drinks all under 100 calories.
And of course, there are simple ways to cut the calories in your favourite Starbucks drinks too if you don't find the low calorie option to suit you.
Choose the 'skinny' option where possible as the barista will use skimmed milk instead of full-fat. Take your coffee black so you cut out the calories from milk or milk alternatives. Choose unsweetened almond milk if it's available over cow's milk as it's lower in calories than cow, soya, and oat milk. And of course, don't add sugar to your drinks as you can easily replace sugar with healthy sugar substitutes (opens in new tab) instead. We've got plenty more tips on how to make your regular Starbucks drink healthier below.
So if you're looking for a low calorie snack (opens in new tab) or drink that's a suitable treat on the 5:2 diet (opens in new tab), here are our favourite low calorie Starbucks drinks…
Low calorie Starbucks drinks
1. Starbucks Emperor's Clouds and Mist Tea
Size: Tall | Calories: 0
Starbucks Emperor's clouds and mist tea is a calorie-free drink. It's also lower in caffeine too at just 15mg of caffeine per cup. And it's not the only low calorie Starbucks drink that is calorie-free, all of Starbucks' herbal teas in their UK menu contain zero calories.
We love this beautifully named pure green tea and its sweet and toasty flavour. This Starbucks drink has an earthy, nutter flavour and is the perfect choice for early mornings as it's not overpowering with sweetness. Plus with zero calories, it's a guilt-free choice too.
2. Starbucks Jasmine Pearl Tea
Size: Tall | Calories: 0
Jasmine tea has a variety of health benefits as it's packed with antioxidants that have been linked to lower the risk of heart disease, cancer and it also has a calming aroma, which has been said to improve mood and reduce stress levels.
It's one of our favourite low calorie Starbucks drinks that is best for those looking for a zero-calorie drink that doesn't break the bank either.
3. Starbucks Nitro Cold Brew
Size: Tall | Calories: 1
Made from Starbucks cold brew coffee – coffee that combines citrus flavours with a little sweetness and is steeped for 20 hours – this innovative drink is infused with nitrogen via a tap that creates velvety crema yet next-to-nothing calories.
Nitro coffee is much creamier and thicker than regular coffee with a frothy, foam-like texture. The nitrogen used in this coffee gives it a hint of sweetness so often sweeteners or sugar are not needed making it a healthier option for those who crave something sweet.
4. Starbucks Filter Coffee
Size: Tall | Calories: 2
A true classic, nothing gets the day started like the caffeine hit from a filter coffee. Starbucks' filter coffee is made from its smooth Pike Place Roast and is brewed all day, every day, in Starbucks stores. Take it black without any milk or cream and you'll consume a mere two calories.
For more filter coffee, swap for grande size at just three calories or venti at just four calories per cup.
5. Starbucks Espresso Macchiato
Size: Doppio | Calories: 15
A less calorific version of a cappuccino, this European-style classic is made from Starbucks Signature Espresso Roast. Topped with steamed milk and foam to serve, this coffee has a strong flavour with a touch of sweetness.
Not to be confused with Latte Macchiato, which has a creamier taste and more calories. Starbucks says; "They may sound similar, but the Espresso Macchiato and the Latte Macchiato are near opposites when it comes to taste."
6. Starbucks Iced Green Tea and Lemonade
Size: Tall | Calories: 35
Made with Starbucks' Teavana green tea then mixed with non-fizzy lemonade and ice, this bright and tangy drink takes the edge off your thirst and only sets you back 35 calories.
Starbucks describes this drink as a "Green tea blended with mint, lemongrass, lemon verbena and lemonade, then given a good shake with ice. Lightly flavored and oh-so-refreshing."
7. Starbucks Hibiscus Iced Tea
Size: Tall | Calories: 35
A mix of freshly brewed hibiscus tea and lemonade are served over ice for a floral and refreshing summer cooler. This drink not only is a low calorie Starbucks drink but contains hibiscus tea, which is known for its health benefits including lowering blood pressure, soothing sore throats as well as preventing heart disease.
A tall cup of Starbucks Hibiscus iced tea has around 8.3g of sugar, that's an equivalent of just under 2 tsps so do keep this in mind if you're ordering seconds.
8. Starbucks Espresso Con Panna
Size: Doppio | Calories: 35
Who says you can't have whipped cream with your drink? This shot of caramel espresso will give you a punch of caffeine as well as a rich caramel flavour. Topped with a generous helping of cream, this low calorie Starbucks drink is just 80 calories a doppio cup size.
This drink is sugar-free so if you like to add sugar to your coffee, swap for Stevia instead, which Starbucks can provide for you - just ask at the counter.
9. Starbucks Cappuccino with skimmed milk
Size: Short | Calories: 49
Starbucks cappuccino is the best low calorie drink for those who enjoy classic coffee. We've swapped whole milk for skimmed milk, which cuts the calorie count down by around 36 calories. And we've chosen a short-sized drink over a tall one, which cuts the calorie count down by 44 calories per drink.
Starbucks says; "Dark, rich espresso lies in wait under a smoothed and stretched layer of thick milk foam. An alchemy of barista artistry and craft."
10. Starbucks Lemon Iced Tea
Size: Tall | Calories: 54
Another refreshing iced tea that's new to Starbucks for summer 2021, this ice-cold lemonade mixed with freshly brewed green tea and zingy citrus syrup is one of our favourite thirst-quenching low calorie Starbucks drinks.
It's a simple yet flavoursome beverage. The citrus lemon and the green tea pair perfectly together. There are also plenty of possible health benefits associated with green tea. For example, it improves metabolism, can help prevent type two diabetes, and is known to eliminate bad breath too.
11. Starbucks Peach Iced Tea
Size: Tall | Calories: 54
New to Starbucks for summer 2021, this peachy pick-me-up is a flavoursome iced tea made from a delightful combo of brewed green tea prepared fresh and peach syrup then served cold over ice.
As with most flavoured iced teas, Starbucks peach iced tea has 13g of sugar, which is around 3tsp of sugar per tall drink, so we wouldn't recommend drinking regularly if you're trying to watch your weight.
12. Starbucks Cool Lime Refresha®
Size: Tall | Calories: 61
This citrus lime drink is ideal for those warm summer days when you're in need of some serious hydration. At just 61 calories for a tall cup, it's a great option when you're dieting.
Starbucks says; "Cool Lime is a lively blend of lime and citrus, shaken with real lime slices. It's a delicious pick-me-up delivering zesty hydration."
13. Starbucks Flat White with skimmed milk
Size: Short | Calories: 63
Traditionally served in a short or small, the flat white is the best low calorie option for those who want to stick to their regular. A flat white is a great way to appreciate the richness of coffee but also the creaminess of the steamed milk.
You can easily swap the skimmed milk for other milk too like almond, soya, or oat however opting for skimmed milk is the lowest calorie option.
14. Starbucks Strawberry Açaí Refresha®
Size: Tall | Calories: 63
One of the newest low calorie Starbucks drinks on the list, this Strawberry Açaí Starbucks Refresha® is made with fresh strawberries, which are a great source of vitamin C.
Açaí is a berry that looks very similar to red grapes. Grown in South American rainforests, Açaí berries are comparable to other common berries such as blueberries and raspberries as they are very rich in antioxidants.
15. Starbucks Cold Brew Latte with Starbucks Original Nut Blend
Size: Tall | Calories: 67
Love your coffee but don't want a hot drink on a warm day? This cold brew provides a caffeine hit while tasting creamy and delicious, thanks to the latest Starbucks Original Nut Blend, which is a divine mix of rice, hazelnuts, and cashew nuts.
Starbucks says; "Cold brewing is a method of brewing that combines ground coffee and cool water and uses time instead of heat to extract the flavor. It is brewed in small batches and steeped for as long as 48 hours. The resulting Cold Brew coffee concentrate is used to make our new Cold Brew Iced Coffee beverage. Cold Brew is best served unsweetened."
16. Starbucks Matcha Green Tea Latte with almond milk
Size: Tall | Calories: 73
A light and luscious latte made with the superfood matcha; which has a variety of health benefits like heart health, improving metabolism, and antioxidant qualities too. This low calorie Starbucks drink combines matcha green tea with almond milk for a creamy drink that comes in at just 73 calories.
Choosing almond milk over cow's milk not only adds a rich nutty flavour to this tea but also saves you 29 calories. If you want to reduce the calories even further by opting for almond milk, swap for a short size instead to make this drink just 45 calories a cup.
17. Starbucks Nitro Latte
Size: Tall | Calories: 75
This irresistibly sippable nitro latte is also infused with nitrogen via a tap. Cold coffee is crowned with sweet vanilla cream for a smooth drinking experience that won't ruin the diet.
Starbucks says; "Served cold, straight from the tap, our Nitro Cold Brew is topped with a float of house-made vanilla sweet cream. The result is a subtly sweet cascade of velvety coffee that is more sippable than ever."
18. Starbucks Blonde Iced Vanilla Latte with skimmed milk
Size: Short | Calories: 75
Coming in at just under 100 calories when ordered with skimmed milk, this twist on an espresso classic combines Starbucks Blonde® Espresso coffee with milk, vanilla syrup, and ice to create a super-smooth latte with a smidgen of sweetness.
If you want to make this Starbucks classic even lower in calories, swap the skimmed milk for almond milk for a drink at just 58 calories. It'll alter the taste and make the overall drink more nutty and earthy in flavour.
19. Starbucks Latte Macchiato with skimmed milk
Size: Tall | Calories: 79
Starbucks Latte Macchiato is the best low calorie option for those who don't want to miss out on the roasted, bold flavour of the coffee. With a modern twist on classic coffee, this drink is made with steamed milk and rich espresso.
Starbucks says; "We have taken a modern turn on a Classic Coffee house beverage. This espresso classic has espresso shots slowly poured over lightly aerated milk for a bold and roasted new way to sip. Deliciously good with any of our dairy alternative options."
20. Starbucks Cold Foam Iced Cappuccino with skimmed milk
Size: Tall | Calories: 80
A refreshing twist on a favourite, this subtly sweetened espresso coffee is topped with cold milk foam. Just so you know, non-dairy alternatives can't be used for this beverage.
Starbucks cold foam iced cappuccino is usually served in a strawless lidded cup so you can enjoy the cold milk foam and the punch of coffee with each mouthful. This drink isn't very sweet so if you're a fan of sweetness, you may need a sugar alternative to give you that kick.
21. Espresso Frappuccino with almond milk
Size: Tall | Calories: 90
Yes, there is such a thing as a low calorie frappuccino. Served over ice, ask for this beautifully blended milky coffee to be made with almond milk to reduce the calorie content to just 90 calories.
The Frappuccino was first introduced to Starbucks in 1995 in Massachusetts and from there has developed into a variety of different flavours and combos. It's a trademarked drink from Starbucks, which consists of coffee, ice and various syrups and whipped cream.
22. Starbucks Iced Chai Tea Latte with skimmed milk
Size: Short | Calories: 103
This fantastically fragrant drink combines black tea infused with cardamom, cinnamon, black pepper, and star anise with skimmed milk and ice. Opting for skimmed milk as opposed to semi-skimmed milk saves you around 14 calories a drink.
If you want to make your drink bigger, choosing tall will bring the calorie total for this low calorie Starbucks drink at 160 calories instead.
23. Starbucks Pink Coconut Refresha®
Size: Tall | Calories: 104
If you're looking for a refreshing pick me up, a Starbucks Refresha® is certainly the ticket. New to the menu for 2021, this sweet pink coconut drink is infused with coconut milk and fresh strawberries, which count towards your five-a-day.
Starbucks says; "Our crisp, Pink Coconut Refresha® drink, combines sweet strawberry flavours with creamy coconut milk. A fruity and refreshing sip." This is one of our favourite low calorie Starbucks drinks.
How to cut calories in Starbucks drinks
There are plenty of ways to cut the calories in your favourite Starbucks beverage for example swapping for a smaller size, leaving the cream, or opting for a sugar-free syrup instead.
Choose a smaller size: Swap the grande or tall for a short or mini instead. This will automatically cut down the calories. Take a classic coffee Frappuccino with whole milk. A grande-sized coffee Frappuccino is 301 calories per drink. Choose a mini, and you're looking at just 157 calories per drink.
Avoid the toppings: Whether it's a caramel drizzle, dusting of chocolate, or crumbled cookie pieces, say no to the toppings and you'll be saving yourself a few calories.
Ditch the cream: Whipped cream or fresh cream in your coffee will automatically add a heap of calories. Yes, we know cream sometimes can make or break a drink but if you're looking to cut calories, this is a quick way of doing it.
Change the milk: Why not try your regular with skimmed milk instead. Or take it to the next level and opt for almond milk, coconut, soya - there are so many choices these days and most, if not all, are lower in calories and fat than whole milk or cream.
Swap the syrup: You don't have to miss out on any flavour when it comes to low calorie Starbucks drinks, just swap the syrup for a sugar-free alternative. Starbucks is so good that they have vanilla sugar-free syrup available. Just ask your Starbucks barista when ordering.
Freelance Lifestyle Writer
Debra Waters is an experienced online editor and lifestyle writer with a focus on health, wellbeing, beauty, food and parenting. She currently writes for Goodto and Woman&Home, and print publications Woman, Woman's Own and Woman's Weekly. Previously, Debra was digital food editor at delicious magazine and MSN. She's written for M&S Food, Great British Chefs, loveFOOD, What to Expect, Everyday Health and Time Out, and has had articles published in The Telegraph and The Big Issue.