25 low calorie snacks that are filling and under 100 calories
When you're looking for low calorie snacks in the supermarket, wouldn't it be handy to know which options won't ruin your diet? We've rounded up over 80 low calorie snacks that you'll actually want to eat!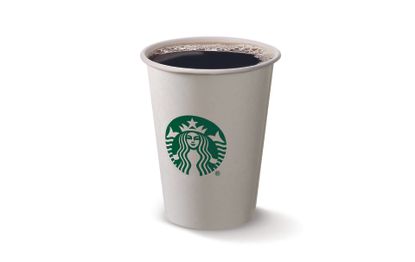 (Image credit: Armstrong Studios/Starbucks)
We tend to associate snacking between meals with naughty but nice treats, but there are plenty of healthy low calorie snacks that are tasty as well as filling.
Eat a nutritious low calorie snack that's sweet and you're less likely to reach for the biscuit tin. Or, if you prefer a low calorie snack that's high in protein, choose one that's unrefined so you'll feel fuller for longer. Great if you need something to eat before or after a workout.
'Contrary to popular belief, snacking isn't the bane of healthy living,' says Amy Rimes, a nutritionist at specialist fitness brand I Run Far. 'Everyone snacks, and it's a way of providing your body with essential nutrients that you're lacking before you have a bigger meal. Ignoring your body's hunger warnings results in overeating at mealtimes. Snacking well is vital to appease your body's needs.' In other words, snacking isn't off the menu (including healthy late night snacks). However, it's not the act of snacking but what you eat that's important.
'Pick foods that are low in fat and added sugar, but high in fiber and water,' says Amy. 'It's why you feel fuller after eating a banana than a chocolate bar. Ideally, you want a mix of fiber, protein, and non-saturated fats.'
'Many studies show that someone on a diet high in nutrients will consume fewer calories, so it's wise to look at the nutritional content of snacks rather than just the calories,' advises Andrea Burton, a nutritional therapist and technical advisor to Bio-Kult probiotic supplements.
Low calorie snacks
Sweet low calorie snacks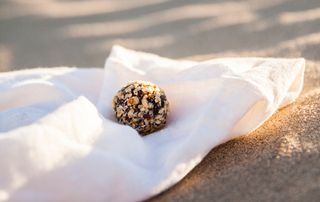 1. Energy balls
'Energy balls are packed full of protein and healthy monounsaturated fats from the nuts, helping to keep you feeling full for longer,' says Andrea. 'Opt for a recipe with added oats or flaxseeds for additional fiber and without added sweetener – just dried fruit, which is high in fiber (a high fiber diet can help with weight loss) and contains vitamins and minerals. However, although non-refined, it still contains sugar so have 1 or 2 energy balls as a snack (they are 59 calories per ball).'
Almond and cranberry energy balls recipe
10 Medjool pitted dates
1 cup (85g) rolled oats
¼ cup (40g) dried cranberries
¼ cup (35g) almonds
4tbsp almond butter
Place the dates in a food processor and blitz until smooth paste forms. Add the rolled oats, dried cranberries, almonds, and almond butter and pulse until combined. Using slightly wet hands, roll tablespoonfuls of the mixture into 20 balls. Place in the fridge for 1 hour to set. Store in an airtight container in the refrigerator for up to 2 weeks.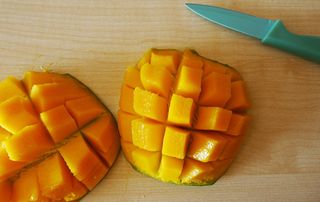 2. Frozen mango cubes
'A yogurt-sized container of these cubes is just 90 calories but also provides you with over 60% of your recommended daily allowance of vitamin C,' says Amy. For a refreshing low calorie snack, dice the flesh of a fresh mango and freeze apart, and flat, on a plate. Once frozen, add the cubes to a separate container and freeze.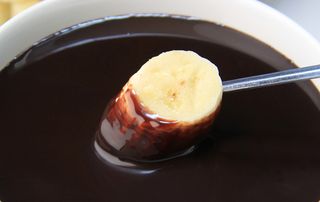 3. Banana chocolate bites
'These include healthy fats and protein and come in at 99 calories for 2 bites,' says Andrea.
Banana chocolate bites recipe
3 ripe bananas
Almond butter
½ cup (75g) dark chocolate chips
2tsp coconut oil
Peel and slice the bananas. Place ½tsp almond butter onto a banana slice and top with another banana slice to make a sandwich. You should be able to make around 30. Place the bananas on a baking paper-lined baking tray and leave them in the freezer for about 1 hour.
Next, melt chocolate chips and coconut oil in the microwave or using a water bath. Once the chocolate is melted, dip each frozen banana sandwich into the melted chocolate so that half of it is coated. Place the chocolate-covered sandwiches back on the baking tray and into the freezer for 15-20 mins. Once the chocolate is set, transfer the bananas into a container and store them in the freezer for up to 2 months. The longer the bananas stay in the freezer, the harder they will get. Remove from the freezer about 5 minutes before eating.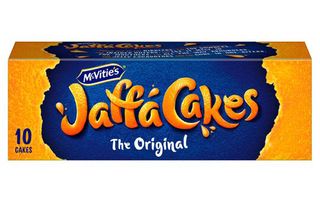 4. Jaffa Cakes
Ok, so these are processed so they're meant to be eaten occasionally. But if you're exercising regularly and need a quick pick-me-up, Jaffa Cakes (£1 for 10, Tesco) are an acceptable treat as they are one of the healthier biscuits out there.
'There's a reason you'll see footballers snacking on these cakes during halftime,' says Amy. 'Two Jaffa Cakes are 92 calories in total, and provide a great little sugar kick.'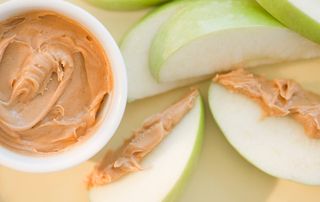 5. Fresh fruit and nut butter
'One of the healthiest sweet snacks out there is fresh fruit. Snacking on fruit slices, dipped in, or spread with, nut butter or tahini is a good way to add healthy fats and protein to a simple snack,' says Andrea.
'An apple slice and some peanut butter is a great snack full of natural sugars, fiber, insoluble, and vitamin C, plus its only 96 calories per slice,' says Amy.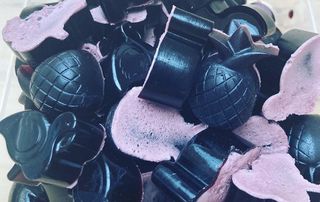 6. Kombucha gummies
'Research shows the importance of maintaining a healthy microbial balance in the gut,' says Andrea. 'Regularly consuming traditionally fermented foods (one of a range of foods that can boost our mood) containing beneficial bacteria and yeast species is a great way to support your health. Kombucha is one such fermented food. It's made by fermenting tea (green or black), with sugar and a SCOBY (symbiotic colony of bacteria and yeast). As the SCOBY ferments the tea, it uses up the sugar as an energy source, making the final product a healthy, slightly fizzy, low sugar option. Kombucha is cheap and easy to make at home.'
'Alternatively, pre-made versions are available online and health food stores (we like Suffolk Elderberry's Homemade Kombucha Jellies, £4.80 for 20). Or there are plenty of recipes online to follow. The calories are dependent on the recipe but are generally around 35 calories per gummy.'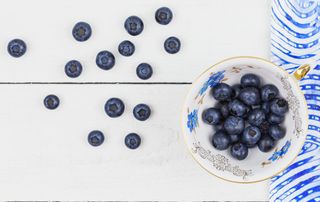 7. Cup of blueberries
Blueberries are one of nature's superfoods and nutrient-dense food that makes an ideal snack option. Blueberries are also considered low calorie fruits, which makes them perfect if you're on a strict calorie-counting diet.
'Packed with huge levels of antioxidants and nearly 15g of vitamin C, blueberries pack a huge health punch. A cup (190g) only contains around 90 calories,' says Amy.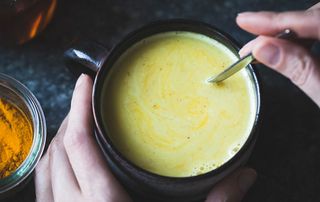 8. Golden milk
'There's no reason snacks can't be liquid! Treating yourself to a delicious mug of golden milk can be just as satisfying as a food-based snack,' says Andrea. 'It's packed with warming spices, many of which are high in polyphenols and antioxidants. The main ingredient that gives the drink its distinctive golden colour is turmeric, an Indian spice that contains the active flavonoid curcumin. Curcumin has been widely studied and shown to have over 150 therapeutic properties, including anti-inflammatory and antioxidant functions.'
'Turmeric (and other spices such as cardamom, cinnamon, and cloves if using) are heated with dairy or plant-based milk, and the mix is sometimes sweetened with 1tsp of honey or maple syrup, or cinnamon – which are naturally sweet,' she adds. 'There are lots of different recipes available. You may find making a batch of turmeric paste and keeping it in a sealed jar in the fridge useful – just add milk whenever you fancy a pick-me-up. The calories depend on the recipe used but, as an example, golden milk made with coconut milk and a ⅓tsp honey is about 90 calories per cup.'
Savoury low calorie snacks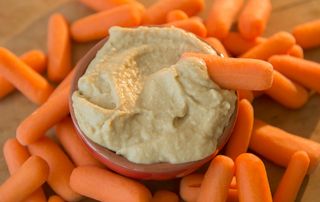 9. Vegetable sticks and dips
'These are an excellent snack, helping you to reach your recommended veg intake for the day,' says Andrea. 'Veg is also high in fiber, helping to feed beneficial species of bacteria in the gut. Go for hummus as the dip and you will also be getting a good amount of protein. Combine it with cherry tomatoes, red pepper and cucumber slices, broccoli florets, celery, and carrot batons.'
Two tablespoons (30g) of hummus is about 50 calories, while a whole carrot contains around 30 calories and 1 medium pepper around 25 calories.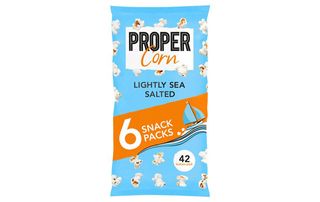 10. Popcorn
There aren't many healthy crisps out there so popcorn is a great alternative instead. 'Popcorn snacks are now quite common in our supermarkets but look out for the brands that don't add the nasties!' says Andrea. 'Proper Corn has some good varieties and most come in under 100 calories per bag.' Try Proper Corn's Lightly Sea Salt Popcorn (£1 for a pack of 6, Tesco), which contains just 44 calories per bag.
'It's the perfect munching snack while multi-tasking,' says Amy. 'It's high in fiber too, so not only is it low in calories it keeps you fuller for longer.' Just aim to make your own so there's nothing added, such as salt or sugar.