Rosie and the Recipes: How to eat low-syn Slimming World meals all week
Rosie and the Recipes is a low-syn and syn-free recipe blog set up by dedicated Slimming World follower Rosie Akenhead to help you follow the plan.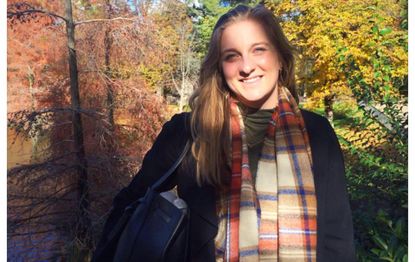 Rosie and the Recipes is a recipe blog set up by dedicated Slimming World follower Rosie Akenhead.
The Rosie and the Recipes blog has risen in popularity amongst healthy recipe seekers, particularly those who have focused on low-fat diets or the nation-famous Slimming World programme.
A self-confessed yo-yo dieter, Rosie set up an Instagram account back in 2012 when she started to concoct her own recipes that were suitable for the Slimming World plan that she was following.
Now, two and half stone lighter, Rosie continues to come up with delicious everyday easy Slimming World recipes that fit into her busy schedule as the Global Lead of Community for Time Out and founder of her own candle brand, Kväll Candles, which she set up last year to embrace her love of crafts and travel.
Due to demand from her 216,000 followers on Instagram, the healthy foodie set up her recipe blog Rosie and the Recipes back in January this year, so that her readers could get hold of her convenient and delicious recipes all collated on an easy platform.
Although her recipes are formulated to work with the Slimming World diet plan, they also work for low-fat diets and are so tastebud-friendly that they'll work for the whole family.
How does Slimming World work for Rosie and the Recipes?
Slimming World has developed their signature Food Optimising plan that focuses on filling up on as much of their 'free food' as you like. That includes most fruit, vegetables and sources of protein, like meat and fish. Unlike other diet plans, it also allows you to eat as many of the allowed carbs as you like too. So pasta dishes, rice dishes and even risottos are all on the menu.
As well as all of these foods, you can also have a certain amount dairy and fibre foods each day, known as 'healthy extras'. So you could have filling breakfast, lunch and dinner dishes and still have a completely free day.
Most of the Rosie and the Recipes dishes focus on using all of these ingredients so you can fill up on low-fat, Slimming World friendly foods all day.
Lastly, you're allowed your daily 'syns' on top, for all of those naughty extras that you just can't give up.
Slimming World syns explained by Rosie and the Recipes
Slimming World syns are all the foods that aren't classes as 'free foods' or 'healthy extras', but they mean that you can still have a limited amount of whatever you fancy.
So if you want a drizzle of truffle oil on your risotto, a bowl of ice cream after dinner or a glass of wine in the evening you can.
Of course, some foods have a higher number of 'syns' than others, so you just add up what you have to make sure you don't go over your daily limit.
In her dishes on Rosie and the Recipes, the food enthusiast uses small amounts of 'syn' foods to add flavour to her dishes or give a sweet kick to her desserts.
Look out for gravy granules, grated parmesan and even a sprinkle of cocoa powder here and there - yum!
Slimming World freezer meals from Rosie and the Recipes
Working a full-time job, running her candle brand and managing her blog and Instagram page keeps Rosie constantly busy, but she doesn't use it as an excuse not to cook up easy Slimming World recipes throughout the week.
Of course, it's a lot more convenient to fit in extravagant meals on the weekend, so on Rosie and the Recipes, Rosie dedicates a whole section of the website to freezer foods for the weekdays.
'I don't have any time for cooking faff, especially on weekdays,' says Rosie.
Rosie has developed easy slimming world recipes that can be cooked on the weekend and frozen in portions for quick evening dinners when you're too tired or busy to cook.
'I do occasionally batch cook things for the freezer too like my tasty beef rendang. That freezes really well and is a speedy meal after a late night in the office'
Her 'almost syn free' Lasagne is a real winner too and her low fat Chicken Kiev will even keep the kids happy.
'My go-to ingredients for quick week night recipes are for a simple noodle dish called Mie Goreng,' says Rosie. 'I always have dried egg noodles in the cupboard so I mix up some veg, sometimes some prawns, add a tbsp each of oyster sauce and kecap manis (it's sweet soy sauce and it's amazing, available in most supermarkets) and hey presto, you have a tasty, healthy dish that's good to go.
'You can top it with a fried egg if you want to get some extra protein too. It's my go-to dish and it takes about 10 minutes to make.'
Slimming World just got a whole lot tastier.
Aleesha Badkar is a lifestyle writer who specialises in health, beauty - and the royals. After completing her MA in Magazine Journalism at the City, the University of London in 2017, she interned at Women's Health, Stylist, and Harper's Bazaar, creating features and news pieces on health, beauty, and fitness, wellbeing, and food. She loves to practice what she preaches in her everyday life with copious amounts of herbal tea, Pilates, and hyaluronic acid.