Can you earn money while on maternity leave? Rules for new mums explained
Make sure you understand the rules around earning money while on maternity leave so you don't jeopardise your maternity pay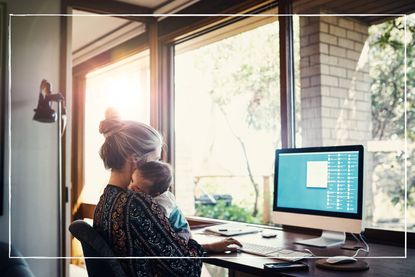 (Image credit: Getty Images)
If you're pregnant and working, you'll be entitled to maternity pay when you take time off to have your baby. When planning your finances for when you have a baby, it's important to understand how maternity pay is calculated so you know when and how you will get paid. But you may find it's not enough to see you through your maternity leave.
For many people, surviving on maternity pay will mean your finances are stretched thin. But you might be able to earn some extra money by doing certain types of work during your maternity leave. But you need to make sure you stay within the rules, or you could risk losing your maternity pay.
Head of personal finance at investment company AJ Bell, Laura Suter says: "Parents who want to take on extra work or work a second job while they are on parental leave need to make sure they've checked out the rules, otherwise they risk breaching them and losing their maternity pay.
"There are certain circumstances where you can work on maternity or paternity leave, but they are quite restricted, so make sure you've checked the details and checked with your employer."
Can you earn money while on maternity leave?
In general, you are not allowed to work while you are on maternity leave and receiving maternity pay. If you do, your statutory maternity pay or maternity allowance will stop.
However, there are a few exceptions to this rule:
'Keeping in touch' (KIT) days with your employer(s)
If you have two jobs
Self-employed work
KIT days
You can work up to 10 keep in touch (KIT) days without it impacting your maternity pay. A KIT day can include any work you would normally do as part of your work, such as going to the office, training courses, attending conferences, or going to meetings.
Sarah Coles, senior personal finance analyst at Hargreaves Lansdown, says: "These are optional, both you and your employer need to agree to it, and before you go into work, you should be clear about what you'll be doing. This doesn't affect your maternity pay or leave. Make sure you stick to the rules though. If you work more than 10 KIT days, you'll lose a week's maternity pay for any week you work an extra day."
There isn't a law that states how much you should be paid for a KIT day but employers are expected to pay your normal rate of pay, and you'll definitely be paid at least the National Minimum Wage.
If you have two jobs
If you have two jobs and qualify for SMP from both, you can take your maternity leave and statutory maternity pay at different times for each job.
"If you have two jobs then you can do 10 KIT days for each employer. However, you need to have had this job on the 15th week of your pregnancy, so you can't take on another job after this and qualify," says personal finance expert Laura Suter.
"If you work two jobs you can also choose to take maternity leave at different times from each job. You might want to go back to work sooner with one job, which is fine and won't affect the statutory maternity pay you get from the other employer."
Self employed work
You may also be able to do freelance work while on maternity leave. Any self-employed work you do must be 'genuine' self-employment – you can't work for your usual employer on a self-employed basis.
"You need to check whether your employment contract allows you to do any self-employed work elsewhere. Some will forbid it altogether, but if they allow it at other times, they can't outlaw it while you're on maternity leave," says senior personal finance analyst Sarah Coles. "If you take this on, you'll need to let the taxman know, and pay tax for this bit of your income through self-assessment. However, it won't affect your maternity pay."
Is there a limit to how much extra you can earn while on maternity leave?
There isn't a limit as to how much money you can earn on a self-employed basis while you are getting you maternity pay.
However, you can only work up to 10 KIT days. How much you will get paid for these depends on your contract, but it must be at least the minimum wage.
Other ways to boost your income while on maternity leave
If you can't work during maternity leave, you may be able to boost your income another way - this could include selling any old gadgets you may have lying around or learning how to sell clothes online for some extra money.
Money blogger Joseph Seager from ThriftyChap.com says: "If the nesting feeling continues, why not clear out and sell your unwanted stuff? It is said that most households have at least £500+ of stuff they no longer want or need. This is a good chunk of money to get your hands on. Listing on eBay will open up your items to a wider audience but you could also sell, fee-free, by using Facebook Marketplace."
You can also read our article on how to make extra money if you need more inspiration.
Emma Lunn is a multi-award-winning journalist who specialises in personal finance and consumer issues. With more than 18 years of experience in personal finance, Emma has covered topics including all aspects of energy - from the energy price cap to prepayment meter tricks, as well as mortgages, banking, debt, budgeting, broadband, pensions and investments. Emma's one of the most prolific freelance personal finance journalists with a back catalogue of work in newspapers such as The Guardian, The Independent, The Daily Telegraph, the Mail on Sunday and the Mirror.