What is the motherhood penalty? We look at just how women are paying for having children and why
We explain what the motherhood penalty is, its impact and why the finances of single mothers are likely to be hit the hardest
(Image credit: Getty Images)
A new report by Scottish Widows has highlighted the long term impact of women taking time out of work to raise their families - known as the motherhood penalty.
When you take into account average childcare costs, it's no wonder than in order to cope with the cost of raising a child, many women take career breaks to instead take on a primary role in raising a family.
But beyond weighing up whether it's financially worth returning to work after having a child, there are longer term implications that can affect a woman's finances, especially when it comes to retirement, implications that aren't faced on the same scale by men.
In a recently released Women & Retirement Report, managing director of pensions company Scottish Widows, Jackie Leiper states: "Deep-seated structural inequalities remain on pay and employment, and our research also shows that women are still far more likely to suffer career impacts due to childcare arrangements."
What is the motherhood penalty and why does it happen?
The term motherhood penalty is used to describe the price that women pay for taking time out of work to raise their family. According to the Scottish Widows report, 37% of women had left a job to look after their children, compared to just 19% of men, and 47% of women had moved to part-time hours in order to raise their family, while only 15% of men had done the same. When it comes to finding a new job, 51% of single mothers said they found it harder after they had kids.
These factors mean that mothers tend to earn less than men, and are less able to save money for their retirement. The report found that the long-term impact of this means that 39% of women are not on track for even a minimum retirement lifestyle, with these percentages much higher for divorced (60%) or single mothers (75%). Not being on track for even a minimum retirement lifestyle means they are estimated to struggle to afford basics such as food or heating their homes when they retire.
Goodto's Family Editor, Stephanie Lowe says: "While there have been strides forward in this area (thanks to Pregnant Then Screwed and Mother Pukka for all their work and campaigning), women who have children and also work are still very much paying the price, both now and in the future with the gaps in National Insurance contributions leading to lighter pension payouts."
"I'm not surprised at the stat of 37% of women leave their job to look after their children compared to just 19% of men, if you look at the mental load, even that still very much sits with mothers - whether they work full time or not, they also still deal with the family admin - the Fadmin. And when they're trying to do all of that, and work full time, it's understandable that so many women leave."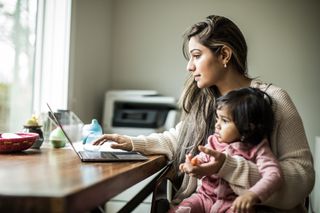 However, the report states that single fathers aren't affected in the same way as single mothers: "This is likely because single fathers have better access to childcare, whether it be informal or formal. They tend to stay in employment and hence be part of a workplace scheme. Typically, single fathers earn more and have more household income than single mothers so can keep paying into their retirement savings and for the childcare they need."
Who is affected most by the motherhood penalty?
Single mothers are the worst affected by the motherhood penalty, with three in four estimated to struggle to afford a basic standard of living during retirement, with six out of 10 divorced mothers facing the same fate. This is largely down to covering all living and childcare costs themselves, being unable to share the financial load with a partner.
Single mum-of-one Melissa adds: "I have a son and work full time and I know that we are still expected to work like we're not parents and parent like we don't work. Schools bombard us with holidays - my son has 70 days off this year - while work expects us to put in the same office hours as before we had children. It's not a fair reflection of what is needed these days to afford life - which is essentially two parents working full time, while also figuring out how to actually be present in their child's life Monday to Friday."
But it's not just women with children who may face challenges affording their retirement – 66% of single women are also forecast to not be on track for a minimum retirement lifestyle. This is based on the fact that couples are more likely to split costs throughout their working life, enabling them to save more for their future. In retirement, couples are also able to share their state and private pensions too.
What is being done about the motherhood penalty?
While the motherhood penalty and the gender pension gap (the difference in pension pots between men and women) is a long standing issue that has affected older generations too, the dial is starting to move. Women in the workforce are starting to save from a younger age and all employees are auto-enrolled into workplace pension schemes. This means that people are starting to pay into their pensions earlier than before.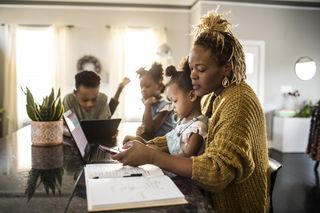 However, these factors won't lead to quick change in the gender pension gap or eradicate the motherhood penalty. The Scottish Widows report states that a lot more needs to be done to effect real change: "Reform needs to support women to stay in high-quality employment whilst raising families, so there should be a focus on improving access to, and funding for, childcare.
"Pensions policy can also play a role in helping lower-income women save for their retirement. Whilst there has been significant progress made in achieving gender pensions parity in the 19 years since we began our analysis, this year's Forecast is a stark reminder of the distance we still have to travel."
Goodto's Stephanie Lowe adds: "The motherhood penalty sits at the feet of society, work and home - and the expectations that haven't altered for decades."
If you're still trying to figure out the balance between your family life and work life, make sure you're aware of the rules under the Flexible Working Bill and whether you qualify for 30 hours free childcare to see how it could help you achieve the equilibrium you're looking for.
Parenting advice, hot topics, best buys and family finance tips delivered straight to your inbox.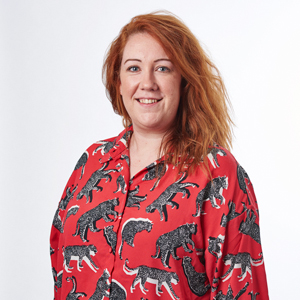 Sarah is Goodto.com's Money Editor, covering various aspects of family finance - everything from energy price cap, cost of living payments and food prices to major sales, money saving tips and how to get more for less. A writer, journalist and editor with more than 15 years' experience, Sarah is allergic to confusing jargon and hates money-saving hacks that don't actually save you money. As well as putting a spotlight on the money news that will actually impact your family life, Sarah is also the Goodto team's guru on how to tell a good deal from a dud and the best way to dodge price hikes. When not writing about money, or picking the brains of leading personal finance experts, Sarah can be found hanging out with her rockstar dog Pepsi, getting opinionated about a movie or learning British Sign Language.