Do I actually need a TV licence?
Wondering if you really need a TV licence or whether you are paying for it unnecessarily? Our finance expert explains the rules so that you don't get caught out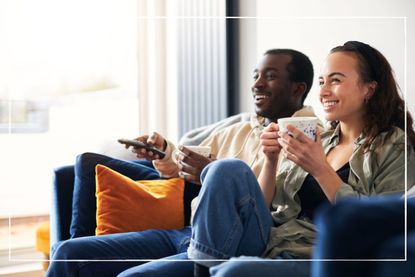 It can be difficult to know exactly when you do and don't need a TV licence. Nowadays there's a whole host of different channels to choose from thanks to the addition of satellite and cable TV, plus many of us use streaming services like Netflix, Amazon Prime and Disney. This means the way we watch TV has changed dramatically since the TV licence was first introduced in 1946.
When you consider how much the TV Licence costs (opens in new tab), covering the cost of a licence can be a struggle for a lot of people. And it's a significant cost if you don't actually need one.
Editor of news and reviews site Cordbusters, Or Goren (opens in new tab), told us: "With the cost of living crisis running rampant, many people are looking to save on their TV watching.
With so many different TV services available these days, ditching the TV licence fee is a relatively easy way to save £159/year - as long as you follow the rules."
However, if you simply decide to stop paying for your TV licence, you could be faced with a £1,000 fine, so it's vital you understand the rules around whether you do or don't need a TV licence.
Do I need a TV licence?
You need a TV licence if you're watching or recording live TV. That doesn't just mean live events but TV that's being broadcast live. All channels, not just the BBC, apply. A licence fee is also triggered when watching live on online TV services such as:
Now TV
Amazon Prime
Disney Plus
Apple TV
ITV Hub
All 4.
So too will watching plus 1, plus 2 and plus 24 channels.
If you only watch programmes on demand, you do not need a TV licence. The big exception is BBC iPlayer. Even watching programmes on catch-up or downloading them from iPlayer to watch later are covered by the licence fee rules.
A fee is payable even if you're not watching on a TV set. Additional devices include a desktop computer or laptop, a mobile phone, tablet, games console, a Freeview digital box or a Blu-ray/DVD or VHS recorder – if there are any still around.
The TV licence fee was introduced so that viewers could support and fund the creation of a wide range of BBC programmes and services. On top of the BBC's TV and radio programmes it pays for podcasts, iPlayer, BBC World Service and apps. In 2021, fees collected by TV Licensing reached just over £3.75 billion and accounted for 74% of BBC funding.
Is it actually law to have a TV licence?
If you watch live TV on any channel, or streaming service, or use BBC iPlayer in any way, then yes, the requirement to hold a TV licence and to pay a fee for it is mandated by law under the Communications Act 2003 and the Communications (Television Licensing) Regulations 2004.
According to TV Licensing: "It is an offence under section 363 of the Communications Act 2003 to watch live on any channel, TV service or streaming service, or use BBC iPlayer on any device, without a valid TV licence."
What can I watch without a TV licence?
If you are only watching programmes on-demand or catch up, you don't need a TV licence. However, most TV services now offer live programmes on their demand or catch up services, so be careful not to get caught out.
On-demand programmes refer to the service's library of shows, box sets or films. Catch-up are programmes that have been shown recently that you may have missed. They are eventually removed from the hub.
Watching an old episode of Heartbeat or Coronation Street on ITV 3 that's being broadcast live on the channel, so it's listed on the schedule, is a fee-paying pastime. Watching last week's episode of Britain's Got Talent on catch up through the ITV hub is not.
BBC iPlayer is the exception to the rule. Any use of this service means you'll need a licence.
Do I need a TV licence if I just watch Netflix, Amazon Prime and Disney Plus?
If you are just streaming on-demand TV programmes and films through services like Netflix, you don't need a TV licence. This is the same for YouTube and other online video streaming services. However, if you are watching live programming via any of these services, such as live football on Amazon Prime, you will need a TV licence.
Do I need a TV licence for Sky?
If you're using Sky, or any other satellite or cable service, to watch or record live TV then yes you'll need a licence. That includes live TV you may have recorded on your planner. If you only watch programmes or films on demand, you don't need a licence.
Can I refuse to buy a TV licence?
That depends. If you never watch live TV or BBC iPlayer, you don't need to pay for a TV licence. But if you refuse to buy a TV licence when you should have one, you will be breaking the law which can have serious repercussions.
Or Goren from Cordbusters says: "The number of people who decide to ditch the TV licence fee tends to grow year after year. If you don't watch anything on the BBC (live or on iPlayer), and don't watch anything live (that includes international live channels) - you can legally stop paying the TV licence fee.

"While those requirements were hard to follow in the past - these days, with so many people only watching streaming services like Netflix, or even free ones like ITVX (without watching the live broadcasts) - some people may be exempt from paying the fee without even realising it."
What happens if you don't have a TV licence?
Non-payment of your TV licence fee, when you should have one, could lead to a fine of up to £1,000. You can't go to prison for not paying your TV licence fee, but you could face a sentence for not paying the fine imposed on you as punishment. If you're convicted you'll get a criminal record. The record will only be visible if advanced criminal record checks are carried out on, rather than basic checks.
The government had discussed plans to decriminalise non-payment of the fine, but these were shelved in January last year. TV licence evasion has risen from 5.2% to 7.25% over the last ten years.
How do they catch you without a TV licence?
TV Licensing uses a database of 31 million addresses as its main tool for detecting evaders, and says it identifies an average of 1,000 people a day watching without a licence.
Managing director at Money Expert, Philip Stubbins (opens in new tab), adds: "According to the TV Licencing website, detector vans using TV receiving equipment are also used to find out whether you're watching programmes without a TV licence and can provide evidence in minutes."
However, these 'secret' methods of detection have, over the years, raised eyebrows among sceptics who doubt whether they exist.
Cord cutter Or Goren says: "This has always been a controversial issue, especially these days when many people are watching content on their phones, tablets or computers - and not on big TVs that those legendary spy vans can presumably detect. And yet, many people are still prosecuted for not paying the fee every year - so it's always better to follow the law."
What happens if you move house?
When you move house, you'll get a letter prompting you to apply for a licence. If you have a valid licence, you can update your address details to take your licence with you. If you ignore the letters or emails you might receive a knock on the door from TV Licensing.
Money blogger Joseph Seager (opens in new tab), who runs the Thriftychap.com blog, says: "They will have a lanyard detailing their official information and if you answer the door, ask you a number of questions about why you don't have a licence."
How many licences do you need in each household?
You only need one licence per household, regardless of the number of devices that household uses to watch TV. If you rent your home with other people, the rules depend on how the tenancy agreements are drawn up.
Renting with three other people in a house share, for example, where you each have your own tenancy agreement and separate bedrooms, means you'll each need a licence. By having one, you can also watch TV in communal areas.
If you're renting with someone else and you have a joint tenancy agreement, you only need one licence.
Students living in university accommodation will also need a TV licence to watch TV in their room. However, Money Expert's (opens in new tab) Philip Stubbins adds: "If students live at another address outside of university term time, such as a parent or guardian's home, they can use that TV licence providing its watched on a device such as a laptop or tablet."
How do I cancel my TV licence if I no longer need it?
If you don't need a licence because of the way you watch television you can fill out a 'no licence needed' declaration. When you fill in the declaration it will stop letters being sent to your home for up to two years.
Money blogger Joseph Seager says: "Should you want to cancel your licence you can do so and apply for a refund via the TV licence website. If your licence is coming to an end and you don't want it anymore, simply don't renew it."
You can cancel your licence online (opens in new tab). If you've paid for your TV licence in full and decide to cancel it because you no longer watch live TV you may be eligible for a refund for the unused months.
TV Licensing works out whether you're eligible for a refund based on the date your licence was issued, when it expires and when you can show that you do not need the licence from. To be eligible you must have a full month left on your licence, which you don't need to use, before it expires. If you pay your fee in instalments your expiry date could be changed to reflect how much you've paid towards the total cost.
As soon as you've received your refund your licence is cancelled.
Rachel is a freelance personal finance journalist who has been writing about everything from mortgages to car insurance for over a decade. She spent more than eight years as an editor at price comparison site MoneySuperMarket. She is passionate about helping consumers become more confident with their finances, giving them the tools they need to take control of their money and make savings.
Related video: How to save money on fuel
Samantha Partington is a personal finance journalist specialising in mortgages and the property market. Over the past nine years, Samantha has worked for the Daily Mail, trade website Mortgage Solutions and business title Property Week. She regularly writes for national money pages including Money Mail and Sun Money and supports prop tech firms with content writing.