How much does the TV Licence cost and can I get a reduction?
Want to know how much the TV licence costs and whether you could be eligible for a reduction? We've got the answers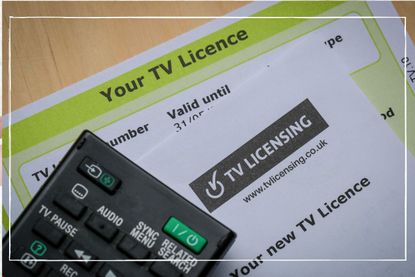 Anyone who watches 'live' TV is required to have a TV licence. But how much does the TV Licence cost and can you get one for free?
For many people, a TV licence will be an unavoidable expense. But for others, they don't actually need a tv licence (opens in new tab) or they might qualify for a reduction.
But at a time when household bills are high and family budgets are stretched more than ever, it's never been more important to try and reduce your outgoings.
Associate Professor, Bloomsbury, at the University of Law, Peter Goodchild (opens in new tab) told us: "Managing costs is more important than ever for almost all households in the UK at the moment. So many people are working to very strict budgets and therefore need to be able to account for every household expense, including the TV licence."
How much does the TV Licence cost?
The cost of the TV Licence varies based on the device you're using for watching programming. For most devices, the TV licence costs £159 per year - however, if you're watching on an old black and white TV set then the licence costs £53.50 each year.
It's important to bear in mind that a TV licence is required even if you don't actually use a regular TV. If you watch programming on your phone, laptop or another portable device - you also need a £159 licence. The crucial element here is what you watch, not how you watch it.
The TV licence is only valid for a year, so you will need to renew your licence every 12 months. Failure to do so is a serious offence; you could end up facing a £1,000 fine for failing to have a valid TV Licence in place.
What's the cheapest way to pay for your TV licence?
There are several ways to pay for your TV licence. You can pay the annual fee in one go by direct debit, debit or credit card, cheque, postal order or by BACS. You can pay online or take your card to an outlet that has PayPoint. Or you can pay in monthly or quarterly instalments by direct debit.
You won't receive a discount for paying in full or by direct debit. It's cheaper to pay annually or monthly.
Swipe to scroll horizontally
| Header Cell - Column 0 | Each payment | How much you will pay over 12 months |
| --- | --- | --- |
| Anually | £159 | £159 |
| Monthly | £13.25 | £159 |
| Quarterly | £41 | £164 |
The first time you ever get a TV licence you're only given a six-month period to spread the cost. After that, you can choose a method that suits your budget.
You can also pay weekly, fortnightly or monthly using a TV Licensing payment card. There is no extra cost.
Are TV Licences going up?
The price of a TV Licence is not going up ‒ yet. Because of the way that the BBC is funded, the government and the national broadcaster negotiate funding settlements every four years. Part of that negotiation covers the pricing of the TV Licence.
In January 2022, former Culture Secretary, Nadine Dorries (opens in new tab), announced that the price of the licence was being frozen at £159 until 2024, following that latest round of negotiations.
However, from this point onwards the price of the TV Licence will start to increase once more. For the four years after 2024, the TV Licence cost will increase annually in line with inflation.
While the rate of inflation can change, under its existing estimates for how the economy will perform in the coming years, the government believes this will mean an increase of around £3.50 in 2024 to £162.50. Then, by the final year of this pricing settlement, the TV Licence will come to less than £175.
Who is eligible for a free TV Licence?
There are certain situations in which you might qualify for a free TV licence, or get a reduction instead. However there is no discount if you are on benefits or Universal Credit.
Founder of finance site MoneyNerd, Scott Nelson (opens in new tab), explains: "Anyone over 75 and receiving Pension Credit, or living with a person who does, may qualify for a free licence. Sadly, this scheme hasn't been extended to those receiving other types of benefits, though it probably should be."
If you are blind – classed as being severely sight impaired - you might also qualify for a 50% reduction. At the current rate, this would mean a normal colour licence would set you back £79.50. If you are partially sighted, then you will not qualify for the discounted rate.
Financial services expert Scott Nelson adds: "If you are living in supported or sheltered housing or you are in a residential care home, you may also be able to get a reduction in the fee."
This is known as an 'accommodation for residential care' (ARC) licence, and costs £7.50 per room, flat or bungalow.
It used to be the case that everyone aged 75 or over qualified for a free TV Licence each year. But that changed back in 2020. Now, you only get a free TV Licence if you are over 75 and in receipt of Pension Credit. Pension Credit is a form of benefit offered to older people on low incomes.
Will the TV Licence be scrapped?
Right now, it is undecided if the TV Licence will be scrapped, but it's definitely up for review. In a recent government broadcasting white paper (opens in new tab), the government has committed to carrying out a full review of the licence funding model before the start of the next charter period in 2028.
The white paper notes that when the funding model was last reviewed, back in 2015/16, the government had concluded that while there were "a number of drawbacks" to the licence fee model, it remained the most appropriate option.
However, this may be changing. In the white paper, the government notes that an increasing number of households are choosing not to get a licence. This is because they don't watch live TV or iPlayer. If this trend continues, then either the BBC will have to have its funding cut or the price of the licence will have to increase.
The TV Licence, and how viable it is going to be, has long been a topic of debate.
Sarah Coles (opens in new tab), senior personal finance analyst at Hargreaves Lansdown notes that "the days of the TV Licence could be numbered".
She adds: "The big change that hit millions of TV owners was that the government made the BBC responsible for funding free licences for the over 75s, and from August 2020 the BBC restricted the benefit to those who receive Pension Credit. There has been a huge amount of opposition to cutting off this lifeline for millions of people, but essentially once the government passed the enormous cost to the BBC, its fate was sealed."
Related video: How to save money on fuel
John Fitzsimons has been writing about finance since 2007, and is a former editor of Mortgage Solutions and loveMONEY. Since going freelance in 2016 he has written for publications including The Sunday Times, The Mirror, The Sun, The Daily Mail and Forbes, and is committed to helping readers make more informed decisions about their money.