How to take passport photos at home: guidelines for babies, kids and adults
We explain how to take passport photos at home, how much you can save by taking your own photos, the guidelines you'll need to follow, as well as tips for taking an infant's passport photo yourself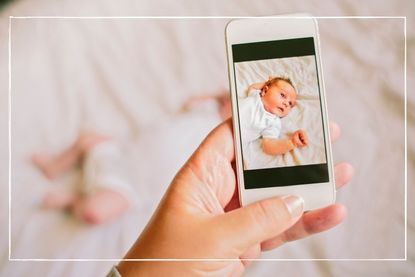 (Image credit: Getty Images)
Knowing how to take passport photos at home can easily save you both time and money. But there are very strict guidelines to adhere to so that you can be sure your application, and the applications for your family will be accepted.
If you're planning on heading on holiday, make sure you have your family's passports in order and in date before you book, as when it comes to how long it takes to get a passport, you could be looking at a weeks-long wait. And if it doesn't arrive in time, your whole holiday will be in jeopardy and you could lose a significant amount of money, as this eventuality won't be covered by your travel insurance.
When you consider how much a passport costs, having to pay for the whole family to have passport photos taken to accompany the applications can be a costly endeavour. Fortunately, it is possible to take your own passport photos.
Here we explain the guidelines you'll need to follow, as well as providing tips on how you can successfully take passport photos of small children and babies.
How to take passport photos at home
You can take your own passport photos at home if you are planning to submit a passport application online. For paper applications, you need to submit two identical passport photos, measuring 45mm high and 35mm wide. As these can't be a cutdown version of a larger photo, it's advisable to use a photo booth that prints photos in these dimensions as standard in the UK.
To take your digital photos at home, you can use your smartphone or a digital camera, or you can get a digital version of a passport photo using a photo booth in a shop by choosing the option that gives you a code with your photos.
If you take your own digital photos, as long as they meet the required guidelines and minimum size requirements, you won't need to worry about cropping the images, that will be done for you by the Passport Office.
General guidelines for digital passport photos
There are clear guidelines for the quality of your passport photo and what it must show. Your application must be submitted within a month of you taking your photo.
When it comes to quality, your passport photo must:
be clear and in focus
be in colour, rather than black and white
not be altered using computer software in any way
not have red-eye
size wise, it must be no less than 600 pixels wide and 750 pixels tall. The file size must be more than 50KB, but no more than 10MB. You can see this information in your smartphone's image library, or by hovering over the image file on your desktop computer or laptop.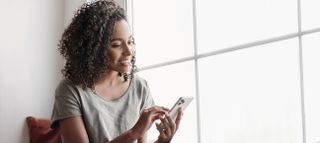 When it comes to what the picture should show:
it must show your head, shoulders, and upper body
be taken against a plain, light-coloured background, with no other objects or people in the photo with you
The person in the photo should be in sharp contrast to the plain background
There should be no shadows on your face or behind you
You should be facing forwards, with a plain expression, eyes open and visible, and your mouth closed
You should not have anything covering your face (although if you have to wear glasses, then make sure the frames do not cover your eyes and that there is no glare, reflection, or shadow caused by the glasses). Sunglasses or tinted lenses are not acceptable.
Unless for religious or medical reasons, you should not wear a head covering
Your hair should not be covering your eyes.
How much can I save by taking passport photos at home?
You could save around £13 per person by taking your passport photos at home, which soon adds up if you are applying for passports for the whole family at the same time.
For example, Max Speilmann charges £12.99 for passport photos. For a family of four, this means forking out £51.96, on top of the passport application fee, which can be up to £104 for an adult and up to £75 for a child under 16.
How can I take my baby's passport photo at home?
While there are still guidelines to follow when it comes to taking passport photos for young children and babies at home, there are some leniencies:
Children under six years old do not have to be looking directly at the camera or have a plain expression
And babies under one year old don't have to have their eyes open.
However, you will need to make sure the following criteria are met:
Children must be on their own in the picture
With children under one, you can support their head with your hand if necessary, but your hand must not be visible in the picture
Alternatively, with children under one year old, they can lie on a plain coloured sheet and you can take the photo from above.
Tips for taking an infant's passport photo at home
Make sure your little one is fed, rested, with a clean nappy
Be prepared to be patient
Take loads and loads of snaps, in quick succession, to increase your chances of getting an appropriate shot
If you can have another adult, or older child present, then you could try waving your little one's favourite toy, or singing their favourite song to keep their attention
Lie your baby down on a light coloured sheet on the bed or sofa, in a well-lit area, and try taking the photo from above
For older children, it's worth letting them burn off some energy with some physical activity before you try to take their photo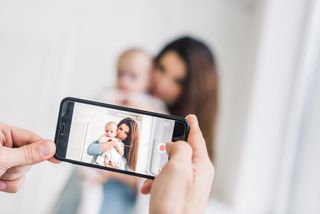 Goodto.com's Family Editor, Stephanie Lowe, took her son's passport photo when he was six months old: "I never bothered even attempting to get my six-month-old into a passport photo booth, I'd heard too many horror stories from other mum friends. Plus we decided to try it at home as it was the best place to keep him calm, as it's his space.
"Instead I lay a white bed sheet down, popped Ted on his back, and took the photo from above. Sounds easy enough, right? It was in fact, a three-person job. I was standing above with my phone to take the photo, and he was rolling about so my mum held him by his hips, while my sister made popping sounds with her mouth to get his attention. We tried his favourite toy but that just made him smile and laugh, and we thought we should at least try to snap a shot of something close to a plain expression as we could. Not an easy task!"
Father-of-one, Jon also took his three-year-old son's passport photo at home: "We must have taken 100 snaps, trying to get a suitable one. But we broke it down into bite-size chunks rather than trying to take them all in one go. Our main issue was that Max wouldn't sit still because he was excited about us doing something out of the norm. But once we'd been to the park and he'd had a runaround and expended some energy, it was much easier. You've definitely got to be patient though, and keep trying."
Pros and cons of taking your family's passport photos at home
Pros of taking your own passport photos at home
It's cheaper than getting them taken in a photo booth or shop
You can take your time, especially when taking photos of little ones
Children may be more relaxed having their pictures taken at home
You can take as many photos as you want, in order to find the best one
Cons of taking your own passport photos at home
You must meet the strict criteria set by the government, and if you don't your application may be rejected or delayed, which can be costly
Toddlers may find it challenging to sit still long enough for you to take the picture
If you don't have a plain, light coloured wall in a well-lit area at home, it can be challenging to find a suitable backdrop
Some photo booths or shops offer approval guarantees, which you don't get if you take your own photos.
Can you take a passport photo at home with an iPhone?
Yes, you can take a passport photo at home using an iPhone, or any other smartphone that is capable of taking pictures. You can also use an iPad or tablet device or a digital camera.
There are even apps that you can download, or websites you can visit, that aim to help take the perfect passport photo. These include Passport Photo UK AiD Photo ID, which is designed for iPad users and can be downloaded from the App Store. If you're looking for a website, you can try passport-photo.online.
How can I improve my chances of my photo and application being successful?
To improve your chances of your passport application being successful, you can use the Post Office's Check and Send service for either digital or paper applications.
It costs £16 and means it's less likely that your application will be rejected by the Passport Office. For digital applications, the cost of your photo is included, but for paper applications, you will need to pay to have your photos taken.
In other holiday prep, it worthwhile making sure you know whether you need travel insurance, as well as how to save money at the airport when traveling with your family.
Parenting advice, hot topics, best buys and family finance tips delivered straight to your inbox.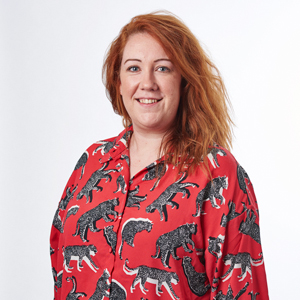 Sarah is Goodto.com's Money Editor, covering various aspects of family finance - everything from energy price cap, cost of living payments and food prices to major sales, money saving tips and how to get more for less. A writer, journalist and editor with more than 15 years' experience, Sarah is allergic to confusing jargon and hates money-saving hacks that don't actually save you money. As well as putting a spotlight on the money news that will actually impact your family life, Sarah is also the Goodto team's guru on how to tell a good deal from a dud and the best way to dodge price hikes. When not writing about money, or picking the brains of leading personal finance experts, Sarah can be found hanging out with her rockstar dog Pepsi, getting opinionated about a movie or learning British Sign Language.