10 expert-approved ways you can save money at the airport (#5 is absolutely crucial)
These tips include how to take snacks through security, free water, the one thing NOT to do at the airport to save money, and more...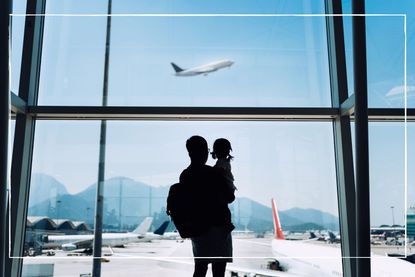 (Image credit: Getty Images)
When the summer holidays roll around, it can be an expensive time for families. You might be forking out for a travel cot or travel stroller, on top of paying for the actual holiday so it pays to save money where you can. And if you're heading abroad, then make sure you apply these money-saving tips when you're at the airport.
Planning ahead is essential for anyone wanting to save money at the airport. Even if you've managed to find the cheapest flights and saved on your hotel, taking a holiday can still put a considerable dent in your budget.
At a time when high inflation is putting increased pressure on household finances, it's never been more important to know how to save money on holiday.
Travel expert at WeMustVisit, Sandra Thomas, told us: "Holidays are undoubtedly a very exciting time but we can't deny they can also be very expensive. But fear not, there are a few airport hacks that will save you money and still guarantee that holiday feeling."
Our 10 tips include everything from finding cheap airport parking to getting the best deals on food and drink at the terminal.
1. Pre-book your airport parking
If you're planning to drive to the airport, always book car parking online in advance as prices will be cheaper than driving up on the day. (You might also be interested in our guide on how to get cheap airport parking).
Jane Hawkes, consumer expert at ladyjaney.co.uk, says: "Take a look at price comparison sites such as holidayextras.co.uk or airport-parking-shop.co.uk to find a range of options to suit your budget. Consider using the cheaper long-stay car parks and get a free shuttle bus to the terminals."
As an example, if you just turned up at Heathrow's short-stay car park for Terminal 5, you'd pay £666.40 for eight days. Yet booking just one day in advance would cost £188.60, saving you £477.80.
You could also look into renting someone's driveway nearby through sites such as Just Park or Your Parking Space.
2. Avoid drop-off fees
Alternatively, if someone is giving you a lift to the airport, you can avoid airport drop-off charges of around £5 to £7 by heading to the free drop-off areas available at most airports.
You'll need to be willing to take a short walk or shuttle ride to the terminal, so give yourself a little extra travel time. At Gatwick, for example, you can park for free in its long-stay car park for up to two hours and use the free shuttle bus to the terminal.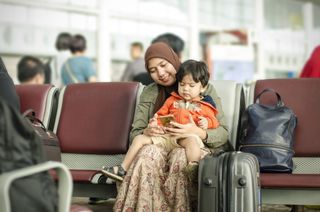 3. Take an empty water bottle
Although you can't take water through security, you can take an empty water bottle to fill up at one of the many water fountains available once you're airside. This will save you from paying inflated prices at the airport shops and restaurants. You can even pick up collapsible water bottles from places like Amazon for less than £10.
4. Bring your own food and snacks
It's also worth prepping in advance and taking some food with you, so that you don't need to buy much at the airport - or on the flight itself.
Savings expert at VoucherCodes.co.uk, Anita Naik, explains: "Many people are under the impression you can't bring your own food through security, and although there are guidelines on what you can and can't take, for the most part things like sandwiches, crisps and fruit are usually safe – so there is no need to shell out on food at airport restaurants where they tend to hike up the prices by 10-15%."
Dry, solid foods are usually acceptable to take through security, although its a good idea to pack them in a clear container. But things like soup, pasta sauces and such are not permitted. Check your airport's website for specific guidance.
Small amounts of baby food, baby milk and other baby products are usually permissible too, but maybe subject to additional screening.
5. Don't exchange money at the airport
Taking a small amount of cash with you on holiday can be useful for taxi fares, tips and anywhere you can't use card payments. But whatever you do, don't exchange your money at the airport. Airport foreign exchange bureaux offer poorer exchange rates and charge a higher commission too.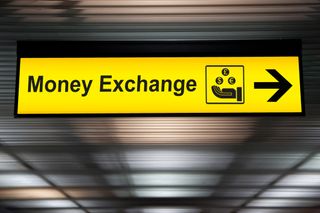 Instead, plan ahead and order your travel money in advance. Managing director at travel money site No1 Currency, Simon Phillips, says: "Remember rates can differ quite a bit between different travel money providers, so do shop around for the most competitive quotes. Good providers charge no commission and offer a range of convenient ways to get your cash, such as click and collect or home delivery."
If you've left ordering currency until the last minute, you can still save money by pre-ordering your currency for collection at the airport. You'll usually need to do this at least four hours in advance.
6. Check if duty free deals really are cheaper
Be careful before going on a spending spree in the duty-free stores as you might not always be bagging the bargain you thought you were. Research by price and product comparison service PriceSpy found that duty-free was more expensive than shopping online almost a third of the time. Based on an analysis of 75 products, watches were the only product found to be cheaper in duty-free.
Savings expert Anita Naik, says: "Where possible, try to avoid impulse buying items at the airport and pre-plan what you want to buy ahead of your travels. Once you know the items you'd like to buy, research the RRP of the products so you can ensure you are making a saving."
7. Weigh your luggage at home
Make sure any luggage you're taking with you meets the airline's requirements by weighing and measuring it before you go.
Consumer expert Jane Hawkes says: "Not staying within baggage weight and size limits can prove very costly. Travel light if you can with one item of hand baggage. Read the airline's flight T&Cs and weigh (and measure) your luggage carefully to avoid paying extra or having to wear the contents of your suitcase."
You can buy luggage scales for £10-15 from the likes of Amazon and Argos, and they are small enough to pack in your luggage so you can weigh your suitcases on the way home too.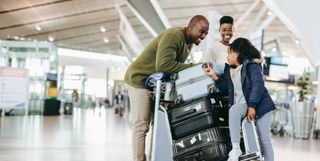 8. Make use of Click and Collect
You can also save valuable luggage space (and money) by using click and collect services at airport shops like Boots, as savings expert Anita Naik explains: "If you are travelling with hand luggage only and want to avoid the 100ml liquid limit at security, pre-order your toiletries, or formula and nappies if you are travelling with children, to click and collect at Boots within the airport. This means you'll pay the website prices instead of the airport's inflated prices."
9. Look out for discount codes and offers
Keep your eyes peeled for any voucher codes and offers you can use if you do need to make any last minute purchases at the airport, or you want to eat at a restaurant. For example, Heathrow is offering a kids eat free deal at selected restaurants throughout the summer holidays when an adult buys a main course.
10. Consider booking an airport lounge
It might sound counterintuitive but you could make some decent savings by buying a pass for an airport lounge. You can do this through sites such as Lounge Pass, Holiday Extras or Lounge Buddy or, if you have a packaged bank account or rewards credit card, you might have free or discounted access through that.
Abigail Yearley, spokesperson for TopCashback, says: "While airport lounges may seem like an unnecessary extra, they offer free drinks and food and can cost as little as £15 per person – which can ea