Are you missing out on more than £200 a year for healthy baby must-haves?
Having a child is expensive, but a government scheme could lend you a financial hand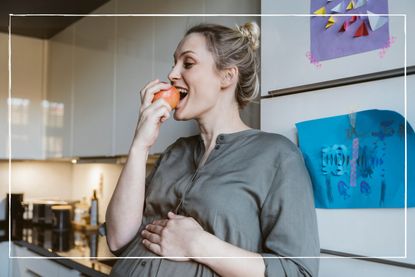 (Image credit: Getty Images)
If you're pregnant or have a child under the age of four, you could be eligible for the Healthy Start Scheme - a government initiative that gives you £200 a year for all the essentials you need for your baby.
There are a lot of money concerns that might arise during your pregnancy. For example, you might be worried about how much maternity pay you will get (opens in new tab) and who pays for maternity leave (opens in new tab) and whether you need to pay it back. But the cost of living crisis means family budgets are more stretched than ever before, and parents are increasingly concerned about how much it costs to raise a child (opens in new tab). So it's vital you take advantage of any financial help available to ease the pressure as you become a parent. This could be the Healthy Start Scheme or the Sure Start Maternity Grant (opens in new tab).
NHS data shows that more than 215,000 pregnant women and new parents who are entitled to payments under the Healthy Start Scheme are missing out. The NHS Business Services Authority (NHSBSA) says one in three (37%) of those who should be claiming, aren't.
Personal finance expert Scott Nelson (opens in new tab) from MoneyNerd said: "Thousands of Brits are still unaware of this scheme, and even those that are aware do not realise that they are eligible to claim these vouchers. Some people don't claim because of the stigma surrounding government help when it comes to their finances. With the cost of living increasing, it is essential for eligible families to claim them."
What is the Healthy Start Scheme?
The Healthy Start Scheme is an initiative run by the NHS. It was launched back in 2006 to replace the Welfare Food Scheme.
The scheme is designed to help expectant or new mums buy healthy food, milk and vitamins. Money-saving expert Roslyn Weems (opens in new tab) says: "Many will already realise that spending £1.65 on four pints of milk or £1.35 for five bananas every other day quickly adds up, so this government scheme is beneficial and a great resource."
With the prepaid digital card, you can buy the following:
plain liquid cow's milk
infant formula milk based on cow's milk
fresh, frozen, and tinned fruit and vegetables
fresh, dried, and tinned pulses, like beans, peas and lentils
You can use your card in most places that sell milk, infant formula, fruit and vegetables, but the shop must accept Mastercard payments. This includes:
supermarkets
convenience stores
grocery stores
drug stores and pharmacies
markets
dairy products stores
newsstands
petrol stations.
Your Heathy Start card should only be used for buying healthy food or milk and not for other supermarket supplies of fast food. For example, if you got to a shop and buy £2 of cows milk, £5 of fresh vegetables and £4 of cereal and snacks, then you should only put the £7 for the cows milk and fresh vegetables on your Healthy Start card. The cereals and snacks should be paid for using your own bank card or cash.
The scheme originally began with paper vouchers. It was only in 2022 that the paper vouchers were replaced by a prepaid digital card, a bit like a bank card.
Any payments to your card must be used within 16 weeks. Anything not spent within that time frame will be returned to Healthy Start.
Free Healthy Start vitamins
Under the scheme, you can also collect free vitamins:
Healthy Start vitamins – these support you during pregnancy and breastfeeding
Vitamin drops for babies and young children – suitable from birth to four years old
The vitamins do not contain milk, egg, gluten, soya or peanut residues and they're suitable for vegetarians and halal diets. You can speak to your midwife or health visitor about how to get the vitamins or you can use this search tool (opens in new tab) on the NHS website. (You'll need to show your Healthy Start card in order to get them for free).
How much money do you get on the Health Start Scheme?
The amount you get on the Healthy Start Scheme will depend on the stage of your pregnancy or how old your child is, but it'll likely be at least £200 a year.
Healthy Start payments are paid via a digital card and so depending on what you are eligible for, that amount is topped up weekly on your card.
Swipe to scroll horizontally
| Header Cell - Column 0 | Amount you receive per week | What it works out as per month |
| --- | --- | --- |
| You're at least 10 weeks pregnant | £4.25 | £17 |
| Your child is under the age of one year old | £8.50 | £34 |
| You have a child aged between one and four years old | £4.25 | £17 |
You could claim for Healthy Start payments from when you are 10 weeks pregnant, up until your child turns four. It will just mean when you have your baby, your payments will increase from £17 to £34, and then when your child turns one, your payments go back down to £17 until they reach the age of four.
When the government made the switch from paper vouchers to a prepaid card system in 2022, a lot of those who were eligible for payments had issues when applying for the scheme. The NHSBSA (opens in new tab) says if you were affected, you will hear from them and they will offer backdated payments to eligible users. But aside from that, payments will only be backdated to the date of the claim and not to when your child was born.
How can I find out how much money is left on my card?
You can check the balance on your Healthy Start Card using a cash machine (like you would with your bank card), but remember you can't withdraw cash from the machine using your Healthy Start card.
Alternatively, you can call 0300 330 7010 and ask for your remaining balance.
How do I know if I'm eligible for the Healthy Start Scheme?
The Healthy Start payments are for low-income mums and mums-to-be who live in England, Northern Ireland or Wales.
To be eligible for the payments, you must be claiming one of the following benefits:
Universal credit (only if your household earns £408 or less per month in take-home pay)
Income-based jobseeker's allowance
Child tax credit (if your annual family income is £16,190 or less)
Income support
You're pregnant and under the age of 18 (you don't have to be claiming benefits)
Pension credit (only for those who get child pension credit, so if you've been granted guardianship you would be eligible)
You're over 10 weeks pregnant and you claim income-related employment and support allowance (ESA)
If you or your partner receive a working tax credit (when you stop working 16 hours or more a week you receive this tax credit)
Money saving expert Roslyn Weems adds: "Those eligible for this scheme should sign up because with service and product prices rising, this scheme provides critical support, and allows some of your money to then be reallocated to other necessities such as heating and electricity."
How to apply for the Healthy Start Scheme
You can apply for the scheme on the NHS website (opens in new tab) or via email at healthy.start@nhsbsa.nhs.uk. You can also apply over the phone by calling 0300 330 7010.
Before you apply, make sure you have the following information ready to share:
Your name
address
date of birth
your National Insurance number
your baby's due date if pregnant
if you are over 18 years old you will need your benefit award letter.
Once you're approved and receive your card, you will need to activate it before you use it. You should receive an instruction letter with you card explaining how to do this.
The card is contactless, but you will need to use your PIN the first time you use the card. Your PIN will be send to you along with the card (although they may arrive in separate envelopes for safety).
Staff writer at our sister brand The Money Edit
Vaishali is a journalism graduate who has experience working with the likes of Leicester Mercury, Inews and The Week. She also comes from a marketing background, where she has done copywriting and content creation for businesses. Currently, writing about all things personal finance, Vaishali is passionate about finding the best deals around, whether it's the best credit cards or the cheapest personal loans, as well as sharing top money hacks to help people save and better manage their money.