Could you get £500 FREE CASH from the government when you have a baby?
New parents feeling strapped for cash can get £500 in cash from the government thanks to the Sure Start Maternity Grant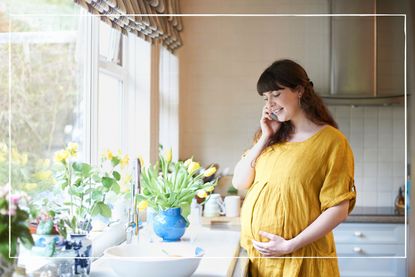 (Image credit: Getty Images)
Having a baby is a beautiful experience, but it's also an expensive one. When it comes to how much it costs to raise a child (opens in new tab), new parents typically spend £500 in the first month of their baby's life, according to MoneyHelper. This money is typically spent on all the essentials from nappies and clothes to feeding equipment, toys and furniture.
This is where the Sure Start Maternity Grant can help - it's a one-off payment of £500 to help with these costs. This little-known scheme, which is part of the Social Fund, offers vital support to parents on certain benefits, including those who claim Universal Credit (opens in new tab). This help can be a lifeline to those struggling with the initial costs of parenthood coupled with the cost of living crisis.
Goodto.com's Money Editor Sarah Handley (opens in new tab) says: "Buying all of the essentials a baby needs can be expensive, even if you hunt out bargains every step of the way. And the costs add up quickly. But with the rising cost of living putting even more strain on the budgets of expectant and new parents, it's so important that you claim any benefits or grants that you could qualify for to help ease the pressure."
But the Sure Start Maternity Grant isn't for all new parents – you need to meet strict eligibility criteria to apply.
Who is eligible for the Sure Start Maternity Grant?
You can normally apply for the grant if you're claiming benefits and expecting your first child or, if you have kids already, you're expecting a multiple birth.
To get the Sure Start grant you normally need to be receiving one of the following benefits:
Income Support
Income-Based Jobseeker's Allowance
Income-Related Employment and Support Allowance
Pension Credit
Child Tax Credit
Working Tax Credit that includes a disability element
Support for Mortgage Interest
The money will be paid into the same bank or building society account your benefits are paid into. As the money is a grant, you don't have to pay it back and it won't affect your other benefits.
Normally to get the Sure Start grant, you can't have any other children under 16 living with you. But there are a couple of exceptions to this. You could still get the grant if you already have a child and you're expecting a multiple birth. You could also qualify if the child you're caring for is not yours or your partner's and was more than 12-months-old when the arrangement began.
Another exception if you already have kids is if you have been granted refugee status or humanitarian protection and you have a child from before you arrived in the UK.
You can't get the Sure Start grant if you live in Scotland, but you can apply for a Best Start Grant (opens in new tab) instead.
When can I claim the Sure Start Maternity Grant?
If you're having a baby, you can claim the Sure Start Maternity Grant from 11 weeks before the week your baby is due. The latest you can claim is six months after your baby is born.
If you are not giving birth but becoming responsible for a baby, you only make a claim once the baby is in your care, not before.
If you're adopting or have been granted a residence order, guardianship, or parental order you can claim within six months of the order, and the baby can't be more than 12-months-old when you claim.
How can I claim the Sure Start Maternity Grant?
If you live in England or Wales, you need to fill in the Sure Start Maternity Grant (SF100) form (opens in new tab) on the government website. You'll need to print, complete and sign the form, then either send it to the DWP address stated on the form or take it to a JobCentre Plus.
If you live in Northern Ireland, you can download a form from the NI Direct website (opens in new tab).
If the Sure Start claim is being submitted by the father or partner of an expectant mother before the birth of the baby, the money can only be paid if the couple are living together.
What information is required to claim the Sure Start Maternity Grant?
When you apply for a Sure Start grant, you'll need to give your personal details, details of any children under 16 who live with you, and information about the benefits you're receiving or waiting to hear about.
Depending on when you apply, you'll also need to give the baby's due date or the date the baby was born. You'll also need to state if you had twins or triplets.
Personal finance expert and money blogger Faith Archer (opens in new tab) adds: "You'll need to get a doctor or midwife to fill in a statement on the form, although you can send the form without it to meet the deadline and arrange a statement later."
What other support is available for expectant parents?
There is various other government support for expectant or new parents - this could be Statutory Maternity Pay, the Healthy Start scheme or Child Benefit.
You should get at least Statutory Maternity Pay (opens in new tab) (SMP) if you've worked for the same employer for at least 26 weeks by the time you are 15 weeks away from your due date, and earn more than £123 a week before tax.
SMP pays out as 90% of your weekly pay for the first six weeks of maternity leave, and then £156.66 a week for 33 weeks, or 90% of your pay if it's less than that.
If you don't qualify for SMP, perhaps because you don't earn enough or are self-employed, you may still be able to claim Maternity Allowance. This will give you £156.66 a week or 90% of your average weekly earnings (whichever is less) for 39 weeks if you're employed or have recently stopped working.
If you're self-employed, you can get between £27 and £156.66 a week for 39 weeks, depending on how many Class 2 National Insurance contributions you've made in the 66 weeks before your baby is due.
Expectant parents on Universal Credit or Child Tax Credit may also be able to get help with buying food and milk via the Healthy Start scheme (opens in new tab).
"This provides £4.25 each week of your pregnancy from the 10th week, then £8.50 each week for children under one, and £4.25 each week for children between one and four-years-old," says money blogger Faith Archer, "The money is loaded to a card every four weeks, and can only be used towards certain types of milk, infant formula, fruit and vegetables."
Once the baby is born, parents can claim Child Benefit (opens in new tab) of £21.80 a week for the first child and £14.45 a week for additional children.
Emma Lunn is a multi-award-winning journalist who specialises in personal finance and consumer issues. With more than 18 years of experience in personal finance, Emma has covered topics including mortgages, first-time buyers, leasehold, banking, debt, budgeting, broadband, energy, pensions and investments. Emma's one of the most prolific freelance personal finance journalists with a back catalogue of work in newspapers such as The Guardian, The Independent, The Daily Telegraph, the Mail on Sunday and the Mirror.