Parents could face £500 fine if children don't wear their seatbelts
Motoring experts issue plea for parents to make sure their children are safely secured at all times when travelling in a vehicle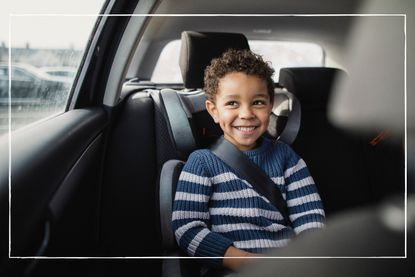 (Image credit: Getty Images)
Parents have been warned that they could face a fine of up to £500 if their children don't wear their seatbelts when travelling in a vehicle.
Even when you've secured your children using the best car seats, as children get older and discover that they can unclip their seatbelt, they may do it while you're driving without realising the dangerous risk. But as the driver of the vehicle, it's important that you make sure your children are safely secured at all times.
As well as the serious risk of injury or even death, parents could face a large fine for failing to make their children wearing a seatbelt. The warning comes as the Department of Transport's Seatbelt wearing rate report found that 24% of car occupant fatalities were not wearing a seatbelt.
Gary Digva, founder of mobile GPS for automobiles specialist Snooper, said: "It is essential that parents be extra cautious when driving with children because they are known to go through phases of clicking and releasing their seatbelts."
Parents face hefty fines
It is a legal requirement to wear a seatbelt when travelling in a vehicle. Drivers are responsible for ensuring that any passenger under the age of 14 is safely secured. If they don't, the driver can be fined for each child passenger not wearing a seatbelt, and if the case goes to court, motorists can be fined up to £500.
But the fines can apply to drivers and older passengers too. In fact any driver or passenger over the age of 14 caught not wearing a seatbelt can be given an on-the-spot fine of £100.
The law says it is also the driver's responsibility to ensure that children have an appropriate car seat until they are either 135cm in height or 12 years old.
How to make sure your child wears a seatbelt
As adults, we already know how important seatbelts are and how they can prevent the risk of serious injury or death should you be in an accident. But it is important to explain to your children from a young age while they must wear their seatbelt and highlight the consequences of not wearing it.
Before each journey, you should make sure all passengers are securely wearing their seatbelts before starting the engine. Lots of cars will have a warning sound or light show up on the dashboard if any passenger undoes their seatbelt while the engine is running, alerting you. Depending on the age of your child, you can either instruct them to refasten their seatbelt or pull over when it's safe to do so and secure it yourself.
Snooper's Gary Digva adds: "Consider taking some toys, a book or an electronic device in the car to keep them distracted, but if that is not working, another adult should remain in the back seat to stop them from releasing them.
"Under no circumstances should a driver ever let anyone in the car travel without being strapped in because not only is it illegal, but it could also end in serious injury or death."
Sarah is Goodto.com's Money Editor. After segueing into the world of personal finance from the Homes sector, and acting as launch editor of Goodto's sister brand TheMoneyEdit.com, Sarah now focuses on family finance. She is passionate about cutting through confusing jargon to help people make sound financial decisions, avoid overspending and set themselves and their families up for a financially-stable future.