Will Netflix stop password sharing? BIG rule change coming in spring 2023
New rules are coming into force that will affect whether you can share Netflix accounts. Here's what you need to know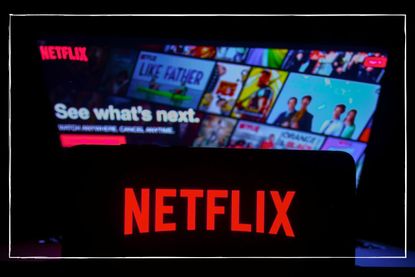 (Image credit: Getty Images)
Wondering will Netflix stop password sharing? If you share Netflix accounts, it's important to be aware of a huge rule change that's due to take effect this spring.
Thanks to high inflation (opens in new tab), the cost of pretty much everything is going up which means that families are becoming increasingly concerned about how to cut household bills (opens in new tab).
In an effort to find ways to save money on Netflix, Amazon Prime and Disney Plus (opens in new tab), some households have been sharing account passwords with others. But now, Netflix is cracking down on this money saving loophole.
Goodto.com's Money Editor, Sarah Handley (opens in new tab), says: "If you currently share your Netflix account details with a family member who doesn't live with you or you've been piggybacking off someone else's account, it's vital to know how a new rule change could affect your pocket later this year."
Will Netflix stop password sharing?
Yes - from spring 2023, Netflix has said that it will ban family members living in different UK households from using the same account.
Solicitor Paul Britton (opens in new tab) of Britton and Time solicitors told us: "In 2022, it was announced that Netflix had lost half a million subscribers in the UK alone, meaning a huge drop in its income. In order to try and limit the damage of losing this significant number of subscribers, it is planning to introduce a new system that means that Netflix users will need to pay more for multi-household password sharing. This new system is anticipated to be introduced some time in March this year."
The change also follows a recent ruling by the Intellectual Property Office that sharing Netflix passwords is illegal.
Tech expert and founder of SEOTesting.com, Nick Swan, says: "Research firm Digital i estimated last year that about one quarter of Netflix subscribers in the UK are sharing their passwords, which the Intellectual Property Office – a Government agency – outlined as against the law, citing a breach of contractual terms, fraud or secondary copyright infringement."
If you are currently letting someone in another household piggyback off your Netflix account and you want this to continue, you will soon have the option of adding something known as 'paid sharing'.
The move follows trials in selected South American countries and allows people from different households to add profiles under one account, provided the account holder pays an additional fee. It's not yet known how much this will be but it's expected to be around £2 to £3 per month. Keep in mind that those who live in the same household as the account holder won't have to worry about paid sharing.
If you'd prefer not to add paid sharing, your friend or family member will need to pay for their own Netflix account or look at alternatives.
TV and streaming expert Catherine Hiley says: "If you already subscribe to a pay-TV service with Sky, you should be able to get a Netflix account included with your deal, as it is now part of its main TV packages."
You could also try switching to other big streaming platforms such as Amazon Prime Video and Apple TV Plus that offer free trials.
Can you share Netflix accounts right now?
Under current rules, each Netflix account is only meant to be shared in one household, with different subscription options allowing users different levels of account access and enabling them to stream on either one or several devices.
However, it's also possible for the main account holder to share password details with other households, giving them access to Netflix content for free.
No matter which subscription you have, you can set up a total of five different profiles on a single account. This enables you to set up profiles for different family members so they can receive different recommendations depending on their age and viewing tastes.
How many people can watch Netflix at once?
The number of devices that can stream Netflix at the same time will depend on the plan you have.
TV and streaming expert at Uswitch.com, Catherine Hiley (opens in new tab), told us: "The newest, Netflix Basic with Ads, costs £4.99 a month and allows subscribers to watch on one device at a time. For £6.99 a month, subscribers can stream content ad-free in standard definition. Like the cheaper package, they can only use one device but are also able to download content.
"Netflix's Standard subscription costs £10.99 a month and enables viewers to watch shows and films in HD and on two devices at a time. The most expensive Netflix subscription, Premium, is £15.99 per month and enables subscribers to watch in Ultra HD and on four devices at a time."
What happens if you share Netflix accounts?
Currently, if you share your Netflix password with someone outside your household, you might need to verify the new user is allowed access, but not a lot else will happen.
Technically, it is against Netflix's terms and conditions that state: "The Netflix service and any content accessed through the service are for your personal and non-commercial use only and may not be shared with individuals beyond your household unless otherwise allowed by your subscription plan."
But, up until now, Netflix has never indicated it will take any action if you don't follow these terms.
What could happen if you share accounts after the crackdown?
Given that sharing Netflix passwords has been classed as illegal, it's likely that Netflix will get a little tougher on those who bend the rules. Tech expert Nick Swan told us: "On the technical side, Netflix will use a combination of your account activity, device IDs, geographic locations and IP addresses to stop password sharing."
This will help Netflix to work out which people count as household members living together. If it detects a change in location of the account being used, it's likely that the account holder will receive a notification and be prompted to either change their household address or pay a fee to add the new address.
Solicitor Paul Britton adds: "Users in a trial in Latin America received notifications informing them that if their account was used at a separate location for over two weeks, they would need to pay the extra fees. If users try to continue to bend the rules when the new change is brought in, as with any breach of the Netflix terms of use, users' accounts may be terminated or restricted."
But don't worry if you're trying to watch Netflix while away on holiday. Subscribers will still be able to watch Netflix when travelling, using their laptop, tablet or mobile phone.
Rachel is a freelance personal finance journalist who has been writing about everything from mortgages to car insurance for over a decade. Having previously worked at Shares Magazine, where she specialised in small-cap stocks, Rachel developed a passion for consumer finance and saving money when she moved to lovemoney.com (opens in new tab). She later spent more than 8 years as an editor at price comparison site MoneySuperMarket where she helped support the CRM programme, as well as the SEO and PR teams, often acting as spokesperson. Rachel went freelance in 2020, just as the pandemic hit, and has since written for numerous websites and national newspapers, including The Mail on Sunday, The Observer, The Sun and Forbes. She is passionate about helping consumers become more confident with their finances, giving them the tools they need to take control of their money and make savings. In her spare time, Rachel is a keen traveller and baker.