5 important reasons ALL parents should get life insurance
It's not nice to think about death, but it's important to plan for it and know that your family will be protected should the worst happen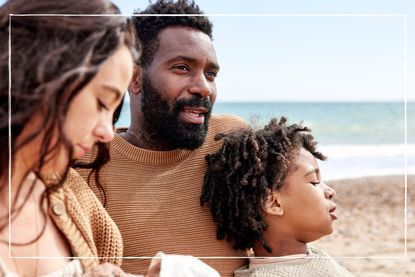 (Image credit: Getty Images)
It can be daunting planning for what happens when you die, but its crucial if you have, or are planning on having, a family. Much like writing a will, life insurance can provide a financial lifeline for your partner and kids should you pass away.
Life insurance is an insurance policy that pays out a tax-free lump sum to beneficiaries named on the policy (normally your surviving partner or children) if you die. Emma Walker, director at life insurance provider LifeSearch, said: "Life insurance pays out if you die within a specific time frame, such as 20 or 30 years and 99% of claims are paid in the UK.
"The cost of raising a child is expensive and the money can be used to provide an income for the family, to cover costs such as childcare and holidays, and to pay off debts such as the mortgage."
1. Life insurance can replace income from employment
Life insurance is crucial for anyone with people who depend on them financially. This is because, understandably, if you were to die, your employer would stop paying your salary. This loss of income can leave your family struggling financially, adding extra worry at an already challenging time.
David Nottingham, protection expert at NFU Mutual, said: "Life insurance provides a lump sum figure on death and is most commonly taken out by parents to pay off debts in the event of a death or terminal illness.
"It can be taken out on either a single or joint life basis for partners. As the mortgage is usually a household's biggest debt, many life insurance policies run for the term of the mortgage and the cover is taken out on either a level or decreasing value depending on the type of mortgage."
2. Life insurance can help cover the costs of a stay-at-home parent
As well as income from employment, life insurance can also be used to cover household and childcare costs.
Kevin Brown, savings specialist at Scottish Friendly said: "For stay-at-home parents, although they may not be bringing in any income each month, they play a huge role in taking care of the family and the home. If they were to pass away, how would the other parent cope picking up everything they do on top of working what is most likely to be a full-time job?
"There's a good chance they would need to pay someone to help with childcare, cleaning or other households jobs, such as cooking. This costs money and therefore it's really important to factor this in when deciding whether both parents should have life insurance in place."
3. Pay for education and university costs with life insurance
How much life insurance you take out is up to you. Most families take out enough cover to pay off their mortgage, cover household bills and potentially pay for a funeral. But if you can afford it, you might want to take out a policy that would also cover the cost of privately educating your children, and/or their university costs.
Insurance company NFU Mutual's David Nottingham added: "Many parents also take out life insurance to cover other large expected costs such as the cost of university, especially if they are expecting to contribute to fees or accommodation."
4. Life insurance gives you peace of mind should the worst happen
For parents, life insurance offers peace of mind. It's designed to make sure your children will be financially secure and taken care of if you or your partner die.
Grief can be difficult enough – having the right protection policies in place will mean your family won't have to worry about money at an already difficult time.
"Couples should often consider buying one policy each rather than a joint life policy. It may be slightly more expensive overall, however, there are many benefits," said LifeSearch's Emma Walker.
"It is also easier to write life insurance policies in a trust, which helps to avoid any inheritance tax which may apply. Other policies are available which may also be suitable, including critical illness cover and income protection."
5. Ease the impact on your child's guardian with a life insurance payout
If you're a single parent, or you and your partner were to both pass away, life insurance can be used to ease the financial impact on your child's guardian.
You should set out in your will how your children should be cared for should there be no one else alive with parental responsibility. Normally, this means appointing a guardian for any children aged under 18. But becoming a child's guardian would have a huge financial impact on a family member or friend and life insurance could ensure there was enough money to care for your child.
Emma Lunn is a multi-award-winning journalist who specialises in personal finance and consumer issues. With more than 18 years of experience in personal finance, Emma has covered topics including all aspects of energy - from the energy price cap to prepayment meter tricks, as well as mortgages, banking, debt, budgeting, broadband, pensions and investments. Emma's one of the most prolific freelance personal finance journalists with a back catalogue of work in newspapers such as The Guardian, The Independent, The Daily Telegraph, the Mail on Sunday and the Mirror.