5 reasons why you should write a will when you become a parent
It's not nice to think about what will happen to your family when you pass away, but it's really important for those you leave behind that your wishes are made official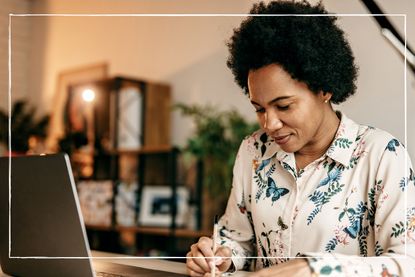 (Image credit: Getty Images)
No one likes to think about death, but it will happen to us all at some point. When you have children it is especially important to have a will in place. Thinking about how to write a will (opens in new tab) and the things you should include might be the last thing on your mind when you become a parent for the first time - but it's an important legal document that will protect your children in the future.
Chartered financial planner Gavin Jones (opens in new tab), from accountancy firm Old Mill, said: "A will is a legal document that records your wishes about what you would like to happen to your money, property, and possessions after your death. As a new parent, a properly drafted will can also determine who you want to care for your children if you die.
"Without a will or a legally appointed guardian your children may not be looked after by who you want to. Any assets you wish them to have and other matters, such as their education may be managed by people you don't know."
Anyone over the age of 18 can write a will, but most people set one up after getting married, buying a house or having children.
1. You need to protect your child's financial future
Your will should include arrangements to cover the expenses of bringing up your children in the event of your death. If you die when your children are young, their assets will need to be held in trust until they reach the age of 18. In your will, you can nominate a trusted person (a 'trustee') to manage the trust for your children until they are old enough to manage it themselves. The trustee can be your partner, or you can appoint a relative or friend, as well as substitutes should the original trustees pass away.
If your family will receive money from a life insurance or death in benefit policy, your will should also set out how this money should be spent - to pay for your children's education, for example.
Rebecca Harbron Gray (opens in new tab), head of wills, probate and trusts at Winn Solicitors, said: "Wills trusts allow you to nominate trustees who can hold your assets rather than them going straight to beneficiaries when you pass.
"They can be beneficial if, for example, you have children with your current partner, but they remarry after your death. Since marriage revokes any previous wills, your children would not be legally classed as relatives of the new spouse or partner, so your estate could pass outside your family."
2. Dying without a will is complicated
If you die without making a will, this is called dying 'intestate'. If you die intestate, your property, money and possessions (your 'estate') might not be shared out how you would have wanted, but dished out in accordance to the rules of intestacy instead.
Gareth Hughes (opens in new tab), head of private wealth and succession planning at London law firm Lawrence Stephens said: "Children of the intestate person will inherit if there is no surviving married or civil partner. If there is a surviving partner, they will inherit only if the estate is worth more than a certain amount.
"If there is no surviving partner, the children of a person who has died without leaving a will inherit the whole estate. This applies however much the estate is worth. If there are two or more children, the estate will be divided equally between them. If there is a surviving partner, a child only inherits from the estate if the estate is valued at over £270,000. If there are two or more children, the children will inherit in equal shares - one half of the value of the estate above £270,000."
3. Intestacy laws don't cater for modern families
If you and your partner aren't married or in a civil partnership, your other half won't automatically inherit from your estate unless you make a will.
Francesca Hayward (opens in new tab), associate solicitor at Gullands Solicitors, said: "Intestacy rules do not make provisions for unmarried partners or those not in a civil partnership.
"For unmarried couples who own a home jointly, it will depend on how the property is held as to whether they will inherit their partner's share. If the property is held as beneficial joint tenants at the time of the death, then the surviving partner will automatically inherit the other partner's share. If it is held as tenants in common, the surviving partner does not automatically inherit the other person's share."
If you die without a will, your stepchildren or foster children won't automatically inherit anything. However, legally adopted children are treated in the same way as your biological children – so they will inherit if you die intestate.
4. You can appoint a guardian for your children
Your will allows you to appoint a guardian for children aged under 18 if you were to die. The guardianship appointment would only take effect if there was no one else alive who already had 'parental responsibility', such as your child's other parent.
If you don't appoint a guardian in your will, and no one else alive has parental responsibility, the local authority will decide who will care for your children. While your child could be placed with immediate family, it's not guaranteed this will happen.
It's important to discuss your will with the guardian you want to choose as you need to be sure they would be willing to take on your child or children and consider alternatives if they couldn't fulfil the role for some reason.
5. You can set the age of inheritance
If you don't have a will, the rules of intestacy state that all children will receive their inheritance at the age of 18 (17 in Scotland), regardless of how mature they are. The rules also mean your estate will be divided equally between your children – which might not be what you want.
If you make a will, you can ensure your children receive their inheritance when you choose – for example, perhaps some of it at 18 and the rest at 21 or 25.
If you have adult children and have given one child more financial help than others while you are alive, this can be reflected in your will and could help to minimise disputes between your children after you die.
Emma Lunn is a multi-award-winning journalist who specialises in personal finance and consumer issues. With more than 18 years of experience in personal finance, Emma has covered topics including mortgages, first-time buyers, leasehold, banking, debt, budgeting, broadband, energy, pensions and investments. Emma's one of the most prolific freelance personal finance journalists with a back catalogue of work in newspapers such as The Guardian, The Independent, The Daily Telegraph, the Mail on Sunday and the Mirror.