6 things you should NEVER do to save money (and 3 things you should!)
There are loads of ways to save money, but these six options could actually be more harmful than helpful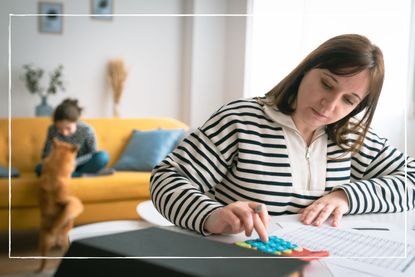 (Image credit: Getty Images)
We're all battling to find ways to make our money go further right now, but there are certain things you should never do if you want to save money.
At a time when inflation remains high (opens in new tab), millions of families are desperate to figure out how to cut household bills (opens in new tab) as well as seek out new tips on how to save money (opens in new tab).
Goodto.com's Money Editor, Sarah Handley (opens in new tab), says: "Household budgets continue to be squeezed from every direction, but in our eagerness to find ways to save, there are a number of things that can actually do your bank balance more harm than good. Knowing what these are will help ensure you find more effective options to help you save money."
Things to avoid if you want to save money
1. Paying for everything on a credit card
Credit cards work (opens in new tab) by enabling you to buy something now and pay for it later. They can be particularly useful for spreading the cost of a large purchase if you can secure an interest-free deal lasting several months.
However, credit cards should be used with caution. It can be easy to get carried away and spend more than you can afford to repay. If you don't pay off your balance before any 0% deal ends, or you simply don't have one to begin with, it can rapidly become an expensive option.
John Smith (opens in new tab) from Hull and East Yorkshire Credit Union says: "Don't be tempted to put everything, or too many things, on your credit card. Yes, it's convenient and yes it's good to pay off credit cards in order to build up a good credit score (opens in new tab), but it is all too easy to fall behind."
2. Choosing the cheapest option no matter what
Buying the cheapest item available might save you money in the short-term, but it can end up being a costly mistake.
Personal finance expert at lender Cashfloat (opens in new tab), Sarah Connelly, says: "Although you may think you are saving money, low-quality items may require frequent replacements, costing you more in the long run."
The same applies to insurance policies. In a bid to save money, it can be tempting to go without certain insurance or plump for the cheapest deal available. But doing so could leave you seriously unprotected.
Take this travel insurance (opens in new tab) example from Jane Hawkes (opens in new tab), consumer expert at ladyjaney.co.uk, explains: "If the unexpected happens on holiday, travel insurance cover could protect you from equally unexpected bills. Failure to take out insurance could result in substantial medical or repatriation costs if you fall ill or hurt yourself abroad, and you may risk a delay in treatment. You will also have to foot the bill for any lost or damaged items. In other words, the price you pay could be a great deal higher than the premium."
3. Prioritising saving over debt
It's important to have a savings pot to fall back on in the event of an emergency, such as a boiler breakdown. But it's also important not to prioritise saving over paying off existing debts such as credit cards and loans.
Interest rates (opens in new tab) are rising and debt is becoming more expensive. This means the rate you're paying on existing debts will likely be higher than any interest you are earning on your savings. For this reason, you'll be better off focusing on your debt first - even if that means using some of your savings to pay them off.
4. Buying items just because they're cheap
It can be difficult to resist bargains in the sale, particularly if you can save 50% or more. But doing so can lead to overspending.
Senior brand and communications manager at price comparison site idealo.co.uk, Katy Phillips (opens in new tab), says: "We all get very tempted by a sale, but buying discounted items doesn't necessarily help you to save money as you are more likely to spend more and people often purchase things they don't actually need - they just buy because it's cheap."
5. Telling yourself you can't afford it
Telling yourself you can't afford to buy something might feel like the right thing to do. But it can actually make the situation worse, according to wealth expansion coach and founder of The Rising Wolf, Jamie Sea (opens in new tab).
She explains: "When you are in a restrictive mindset when saving, saying things like, 'I can't afford that. I can't buy anything right now' can create a large sense of restrictive energy in the mind and body. It can lead to the feeling of being deprived and lead to overspending."
Instead, she suggests telling yourself: 'I am currently creating a safe place for all my funds to be! I'm adding to it daily and it feels fun and expansive!'
6. Only saving at the end of the month
When it comes to saving, you might prefer to transfer whatever is left in your account to your savings account at the end of the month before you next get paid. But doing so can result in you not having anything left to transfer over.
Communications director at EQ Investors, Ben Faulkner (opens in new tab) says: "Many of us make the mistake of saving what's left at the end of the month, which often means very little or nothing at all. Instead, make saving some of what you earn a monthly priority. Start with a small sum at the beginning of the month. Then when you don't notice that money is not there, increase it slightly until you get into the habit of saving a decent amount each month."
Saving tips that actually work
Setting up a budget
One of the best ways to make savings and cut back is to draw up a budget and stick to it. Personal finance expert Sarah Connelly says: "The 50/30/20 rule is an easy budgeting method that can help you to manage your money simply, effectively and sustainably. The rule suggests dividing your monthly income into three spending categories: 50% for needs, 30% for wants and 20% for your financial goals."
Founder of budgeting app HyperJar, Mat Megens (opens in new tab), also suggests naming your goals to encourage you to save more. He says: "Achieving goals you've named and visualised is way easier than trying to do something without a clear picture in your head of what you want and how much it's going to cost."
Find out more about what budgeting is (opens in new tab) and why it's so important.
Paying for your bills annually
Paying for your car insurance, home insurance or even your Amazon Prime membership will be a lot cheaper if you pay in one go on an annual basis rather than spreading the cost in monthly instalments. Insurance providers often add interest if you pay monthly.
So if you can afford to pay all in one go, then it is a good idea to. But if paying in one go will push you into debt, then stick with monthly payments. In many cases, you can start off paying monthly and change to annually when your contract is up for renewal. For things like Amazon Prime, you should be able to swap from monthly to annual payments in your account.
Regularly check your bank statements
Once a month, go through your bank statements to check whether you're paying for anything you shouldn't be.
Co-Founder and COO of pocket money app GoHenry, Louise Hill, (opens in new tab) says: "Life is busy, and it's easy to miss unnecessary subscriptions or small, unfamiliar spending on your card. Make a point of keeping an eye on your bank and credit statements weekly or monthly, whichever works best for you, and also check your emails for order notifications and subscriptions. Why not cancel unneeded service subscriptions and put them towards your savings instead?"
Rachel is a freelance personal finance journalist who has been writing about everything from mortgages to car insurance for over a decade. Having previously worked at Shares Magazine, where she specialised in small-cap stocks, Rachel developed a passion for consumer finance and saving money when she moved to lovemoney.com (opens in new tab). She later spent more than 8 years as an editor at price comparison site MoneySuperMarket where she helped support the CRM programme, as well as the SEO and PR teams, often acting as spokesperson. Rachel went freelance in 2020, just as the pandemic hit, and has since written for numerous websites and national newspapers, including The Mail on Sunday, The Observer, The Sun and Forbes. She is passionate about helping consumers become more confident with their finances, giving them the tools they need to take control of their money and make savings. In her spare time, Rachel is a keen traveller and baker.