How to save money: 40 expert tips for food, bills, travel and family
Understanding how to save money is key to limiting the impact of rising costs as much as possible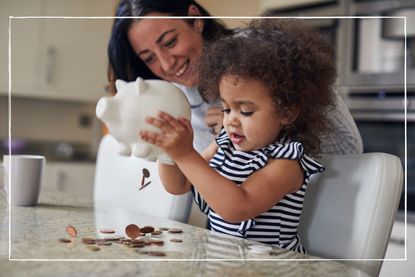 (Image credit: Getty images)
It's never been more important to know how to save money as the cost of living crisis continues to eat into family finances. Right now especially, households are scrambling to figure out how to save money for Christmas (opens in new tab) and how to make extra money (opens in new tab) to help make ends meet.
Personal finance analyst Alice Haine (opens in new tab) from Bestinvest says: "For many families, the cost-of-living crisis has made saving seem more of a luxury rather than a necessity. While everyone would love to stash cash away for the future – being able to afford to is an issue in itself as households contend with runaway food, fuel and energy bills.
"But by slashing the amount you spend on everyday bills and cutting costs elsewhere, you can quickly create a small sum that will either boost your current account or be saved or invested into a separate pot for a rainy day".
How to save money
2022 has been a year of rising prices, with everything from energy and National Insurance to food and fuel going up significantly. All of these rising costs eat into our ability to save money. In fact, according to the Resolution Foundation (opens in new tab), only one in four of us has enough money to pay our bills for just one month if we lost our jobs.
Knowing how to save money is a skill that will benefit you throughout your whole life. It'll likely involve some changes, some of which are quick and easy while others might seem a bit more daunting, but even if you only manage a few of the things on this list, it'll help your money stretch further. This list focuses on how to save money rather than how to earn more, but do check out our 'how to earn extra money' article if you want to bring in some extra cash.
There are three key principles when it comes to how to save money:
Cut out any unnecessary spending
Reduce costs you already have
Pay less for what you buy in the future.
Switching gas and electricity suppliers was once the fast track to saving money on energy bills but in the current energy crisis, that's not always the case. With the energy price cap predicted to rise by 65% in October, some people might be wondering whether they should fix their energy prices (if available). Any fixed rate deals available now are likely to be more expensive than the current cap, but could end up cheaper than what the cap is forecast to be in October.
The logic is that you could pay more now, in the hopes that you will pay less (or at least breakeven) by the time the cap changes again in April 2023. But it's a gamble. Do your sums to see if you could save by fixing.
If not, sticking with your supplier's standard rate is likely to be your best option. This does at least offer some protection as it puts a cap on the maximum price you can be charged per unit of energy you use.
1. Understand and set your budget
This is the most important starting point if you want to save money. You need to have a clear understanding of what your budget is. Start by writing down how much money you have coming in each week or month.
Then you need to add up all your essential expenses each month. This might include your rent or mortgage payments, council tax, energy and water.
Once you have all your essentials listed, add those up and take them away from how much you have coming in. Anything left over, is what you have available to spend on food, entertainment and non-essentials.
It's important to be able to see how much you spend each month, and what you spend it on so you can identify where you might be paying more than you need to.
If you pay your essentials by direct debit, many people like to take the remainder of the income out of their bank account and try to pay cash for everything else to avoid over spending. You could try cash stuffing (opens in new tab) - a viral social media trend which involves splitting your cash budget between different envelopes which is a really visual way of managing a budget.
If you need help making a household budget there's lots of handy tools out there to help. You can use the Budget Planner on the Moneyhelper website (opens in new tab) and there's free money courses (opens in new tab) on budgeting you can do.
Find out more about what budgeting is (opens in new tab) and why it's so important.
2. Be a wise shopper
Whether you are shopping online or in a shop or supermarket, keep in mind that a retailer is always trying its best to make you buy things - and the more things the better. It might be that it displays more expensive items at eye level with cheaper items lower down, or sends you regular emails with multibuy or money-off offers.
Goodto.com's Money Editor Sarah Handley (opens in new tab) says: "If you're looking to save money, you need to be savvy about all of the moves that retailers make to encourage you to buy things you don't necessarily need.
"To avoid temptation, unsubscribe to the emails, turn off app notifications and plan purchases ahead of time and budget for them rather than buying on impulse."
3. Try a different supermarket
Switching to a different supermarket can be a great way to save money on your food shopping, especially when you consider the price difference between the most expensive and cheapest supermarket (opens in new tab).
Buying online if possible is a great option. It'll help you avoid impulse buys, and you can check your fridge, freezer and cupboards as you are adding items to your basket to avoid buying items you don't need.
But if you do buy online, try to choose the collection option rather than delivery to keep costs low. If you do need your shopping to be delivered, try to be flexible on the day and time you want it delivered to get the cheapest delivery price.
4. Remember your loyalty card - and your bags
If you're shopping somewhere with a loyalty scheme, make sure you flash your supermarket loyalty card (opens in new tab). In some cases, you'll get exclusive discounts or coupons, and in others you'll be able to exchange loyalty points for things like restaurant vouchers, theme-park and cinema tickets and more.
Also remember to take your own bags with you - you can pay anywhere from 10p to 50p for a reusable bag from your local supermarket which can soon tot up if you are doing a big shop.
5. Use coupons and voucher codes
If you do have items you want to buy, look out for discounts by searching voucher codes websites, such as our sister brand MyVoucherCodes (opens in new tab), or checking magazines and fliers.
Sign up for newsletters from your favourite retailers, or follow them on Twitter or Facebook, for more codes, deals and discounts (but remember, you might want to unfollow or unsubscribe after you have bought what you need to avoid temptation down the line). Then avoid pesky postage costs by waiting until you have a big enough order to qualify for free shipping, or by using click and collect services.
For big savings on future days out, spa days, travel and other shopping, keep an eye on sites like Wowcher (opens in new tab) and Groupon (opens in new tab).
6. Plan ahead for purchases
Planning ahead for anything you want to buy allows you to really consider it and budget for it accordingly. If you have a list of things you want to buy, you can prioritise it by what you need then by what you want. On your list, make a note of how much that item or service costs - it'll help you to better understand when you can buy it based on your available budget.
By taking your time and planning purchases in advance, you will also have time to shop around and do your research to make sure you are paying the best price possible.
Sometimes it might be best to wait until a big sale event like Amazon Prime Day or Black Friday to make your purchases, but do check sites like Camel Camel Camel (opens in new tab) or Kelkoo (opens in new tab) to make sure that's the cheapest price.
7. Try to reduce leftovers
We throw away a whopping £700 of food per household each year but there's lots of ways to reduce food waste. (opens in new tab).
This might be:
Using every part of the fruit and vegetables that you buy
Making your own stocks and sauces
Freezing leftovers
Having a 'use up' day once a week.
8. Buy a brand level lower
Everyone has favourite brands - but you might be spending more than you need to. In many cases, you could be paying for a prestige brand name and not the actual product and can swap to less expensive own-brands without you or anyone in your family noticing the difference.
So if you normally buy branded products, like Walkers, Kelloggs or Coca Cola, try buying supermarket own brands instead. If you already buy supermarket own brands, then try out the value or basics range to see if you can tell the difference.
To test the waters, try it with the following items:
Rice and pasta
Over the counter medications, such as paracetamol or hay fever tablets
Hand soap and shower gel
Canned foods like beans and chopped tomatoes
Cereals
Nappies
Baby wipes
Washing up liquid
Laundry detergent.
Even if you end up going back to old favourites for some items, if you stick to the new brand level for certain products, you'll save some money.
And, if you're wondering 'how long do canned foods last (opens in new tab)?' the great thing about opting for store cupboard alternatives is they last for several years as long as the can is in good condition – e.g., no rust, bulges or leakages.
9. Plan meals
Planning meals might be time consuming, especially at the beginning, but it is key to saving money on food. Planning meals helps you to firm up your shopping list with only the items you need and avoiding buying extra items unnecessarily.
Once you've done your food shop, try and prioritise based on any use by dates to avoid wastage.
Cooking from scratch and in batches can also help to save money and make sure you get the maximum use out of everything you buy. To save even more, avoid buying anything pre-prepared including salads and pre-chopped or peeled fruit and vegetables. You'll pay a lot more than if you bought the items in their original form.
10. Swap bulbs for LED versions
Whether you want to replace all the bulbs in your home with LED versions in one go, or as each incandescent bulb dies, you replace it with an LED bulb, it's a great way to reduce how much you spend on your energy bills.
Depending on whether you have old incandescent or halogen bulbs and their wattage, you can save between £4 and £10 per bulb each year, according to the Energy Saving Trust (opens in new tab).
The table below shows you how much you could save by swapping to an LED bulb.
Swipe to scroll horizontally
| Bulb type | Annual saving per bulb |
| --- | --- |
| 100W incandescent bulb | £15 |
| 75W incandescent bulb | £10 |
| 60W incandescent bulb | £7 |
| 40W incandescent bulb | £4 |
| 50W halogen bulb | £6 |
| 35W halogen bulb | £4 |
11. Don't leave appliances on standby
Many of us tend to think of an appliance on standby as being off. But when you look at it in terms of energy consumption, 'standby' and 'off' are two very different things. Some appliances can even use as much energy while on standby as they do when they are on, which means you could be wasting money unnecessarily. Check out these seven most expensive appliances to leave on standby (opens in new tab)).
Another way to reduce your energy use is to use a smart plug (opens in new tab). This will allow you to control you appliances and devices from your smartphone, and turn them off remotely.
12. Only boil the water you need
Did you know that it could cost you around £40 more per year to boil a full kettle each time you made a hot drink, compared to just boiling enough water for one cup? And that's based on just two hot drink making sessions a day, so could be significantly more if you are a tea-drinking fiend. Our guide to how much it costs to boil a kettle (opens in new tab) explains how you can keep costs as low as possible.
13. Be mindful when using 'wet' appliances
Wet appliances like your washing machine and dishwasher tend to need to be some of the most energy hungry appliances. But there are ways you can be more efficient about how you use them.
Eco modes might take a little bit longer than standard cycles in washing machines (opens in new tab) and dishwashers (opens in new tab), but they are great for keeping running costs low. Eco modes tend to use less and cooler water than other cycles, but run longer to achieve the same standard of cleanliness.
While an eco mode might not be the best choice for stubborn dirt or stains, using it regularly for your day to day washing needs will have a positive impact on your energy bill, leaving you with more money in your pocket each month.
You should also make sure you only use them when you have a full load. They use the same amount of energy regardless of how full they are, so you get the best value for your money by making sure your dishwasher or washing machine is filled to the recommended capacity before you turn it on. This will also mean you don't fall into the habit of regularly cleaning half loads. You might even find that you can run your wet appliance fewer times each month, which is good for the environment and your bank balance.
14. Do you really need to use a tumble dryer?
As well as wet appliances, like washing machines and dishwashers, tumble dryers are energy-guzzling appliances, so it makes sense to use this particular appliance less, where you can. If you're looking for how to dry clothes without a dryer (opens in new tab), you might choose to dry your clothes outside on dry days, or dry them on an airer or on radiators indoors. We've ranked the cheapest way to dry clothes (opens in new tab) to help.
If you need to dry clothes quicker, it could be worth investing in a heated airer or a dehumidifier which both cost less to run than a tumble dryer. Check our guides to find out how much a dehumidifier costs to run (opens in new tab) and how much it costs to run a heated clothes dryer (opens in new tab).
15. Switch to an air fryer
If you regularly use your oven to make dinner for your family, then it might be worth considering an air fryer instead. When it comes to how much an air fryer costs to run (opens in new tab), it's pretty similar to a microwave, but significantly cheaper than a conventional oven. This could make a serious difference to your annual energy bills.
Not only do air fryers use less energy than an oven, but they can often cook your food quicker too!
If you don't already own one, you can pick one up for as little as around £30.
16. Turn the thermostat down
According to the Energy Saving Trust, you can save around £80 a year by turning your thermostat down by just one degree - and it's likely you won't even notice a difference in your comfort levels.
You could also look at how many hours a day you have the heating on (opens in new tab), and see if you can reduce that number to help save money.
If you want to avoid having your heating on unnecessarily, you could try a cheaper alternative to keep warm - we've pitted two popular options against each other to see which is the cheapest to use and the most effective at keeping you warm - an electric blanket or a hot water bottle? (opens in new tab)
17. Bleed your radiators
Bleeding your radiators can help your heating system work more efficiently, improving how effectively your home is heated. This means you might be able to have your heating on less which can save you money.
It's an easy task to complete yourself. You just need a towel, a bowl to catch any drips and a radiator key.
18. Get a smart meter for free
If you don't have a smart meter, it's worthwhile seeing if you can get one for free. They will help you understand how much energy you are using which is an essential first step in figuring out how to save energy in your home. Read our guide to what a smart meter is and how you can get one for free (opens in new tab).
19. Check how you pay your bills
In many cases, how you pay your bills can influence how much you pay. For example, if you pay for your energy by cheque, you could be paying £215 more per year compared to those with similar usage who pay by direct debit.
This could also be the case for things like car insurance and if you have an Amazon Prime membership. Paying monthly likely means you will pay more over the course of a year than if you paid the annual fee. For example, Amazon Prime's monthly membership costs £8.99, while the annual membership costs £95. But 12 monthly payments of £8.99 will actually cost you £107.88 over the course of the year - almost £13 more than the annual membership fee.
Make a list of all your regular outgoing payments, then speak to your provider or look online to see if you could save money by changing how you pay your bill. You might not be able to tackle all of them at once, but even if you only address one or two bills a month, you'll save a little bit more money each time.
But make sure you don't commit to paying big bills in one go if it is likely to put you in debt or make you unable to pay other bills.
20. Cancel any unnecessary direct debits you have
Start today by checking which direct debits go out of your current account. See if you are still paying for magazines you never read, trial subscriptions you meant to stop or a gym you no longer visit. Then contact the companies to cancel.
However you'll need to make sure you're out of contract when you do this – you can't just stop your direct debit payments for the gym half way through a one year contract or they'll chase you for the money and it could impact your credit score.
In certain cases, it's worth weighing up whether paying a cancellation fee to end your contract early is actually more cost-effective than paying the monthly fee until the end of contract.
21. Never let contracts auto renew
Whether it's mobile phones, broadband, home or car insurance, we've probably all been guilty of letting it auto-renew at the end of the contract. After all, when you're busy, it can seem like such a hassle, especially when, in most cases, you have to phone up your supplier and wait for an age before you get to speak to someone.
But as much as it seems like a hassle, speaking to your supplier when your contract is due for renewal is the best way to avoid a huge price hike.
With some contracts, you'll get some renewal documents through the post before your contract comes to an end, giving you a quote for how much your payments will be on a new contract. (It might also be worth adding the renewal date to your diary or as a reminder on your phone, just in case you don't get, or miss, anything through the post). At this point, it's worth having a look on price comparison sites, like our sister site Go.Compare (opens in new tab), to see what kind of deal you could get if you took out a new contract elsewhere. This then gives you a useful bit of information when you speak to your current supplier.
It's highly likely that your supplier will offer to take another look at the quote and see if they can improve it. This is where you can use the information you found on a price comparison site to haggle.
If you know you can get a cheaper deal for the right coverage or contract type elsewhere, then you can tell your current supplier that you want to cancel. Sometimes you'll be put through to the cancellation department who are actually able to offer a further discount, but if not, then be prepared to cancel, especially if you can save a significant amount of money each month.
22. Do you qualify for any council tax discounts?
Council tax is one of those priority bills that you must pay, however there's still ways to save. Check what qualifies for council tax reduction (opens in new tab) and whether your circumstances mean you are eligible. It's also worth checking whether you may be due a refund if you've overpaid (opens in new tab), especially if you've moved home.
It's also worth checking your council tax band (opens in new tab) if you live in the same size property as your neighbours and find they pay less. Refunds can be huge if you have lived there a long time as you can claim back as far as 1993 when council tax first came in, or when you first moved in, if this is more recent.
23. Save on fuel costs
The price of petrol and diesel is soaring but there's lots of ways to save money on fuel, including keeping your tyres inflated, driving sensibly and not driving around with unnecessary cargo. Car sharing where you can and avoiding unnecessary short journeys can also help you to use less fuel.
It's also worth using this fuel prices tool from Go.Compare (opens in new tab) to find the cheapest fuel near you. Not only is it free to use and there is no need to register, you can also specify the fuel type.
24. Save on water
If you have a water meter, it's definitely worth learning how to save water (opens in new tab) so you can reduce your water bill. This could be anything from taking shorter showers and using eco modes on your washing machine and dishwasher to investing in a water butt and swapping to an aerated shower head.
If you're not on a water meter, it could be worth requesting one from your provider. This is especially the case if you have more bedrooms than people in your household.
25. Save on streaming services
If you're really strapped for cash then you may have to ditch your TV streaming service or try and haggle down the price when your contract is up for renewal.
Check our article for ideas on how to save money on Netflix, Amazon Prime and Disney Plus (opens in new tab).
If you have multiple streaming services, then over the course of a week, tot up how much you use each one - you might find that there is one you use less than an other, so you might not notice too much of a difference if you cancel it.
You can always choose your streaming service based on what you want to watch, and cancel your subscription in between must-watch shows.
26. Save on train travel
With rising pump prices – filling up the car is a luxury so you could save money taking the train instead of driving. Plus you'll save on car parking too!
Spend £30 for a Friends & Family railcard (opens in new tab) and you will get a third off for adults and 60% off for children on most train tickets for a year. A family of four, for example, could cover the cost in a couple of trips.
If you're after cheap train tickets (opens in new tab), book in advance and see if you can save by split ticketing, where it can cost less to buy one or more tickets to cover a single journey on the same train.
27. Book early and in advance for any activities
Keeping the kids occupied can gouge a big chunk out of the family budget especially with school summer holidays around the corner.
Save money by booking big trips to the likes of zoos and theme parks online rather than rocking up on the day, or see if you can cash in supermarket loyalty points. You could also keep your eyes peeled for free adult ticket promotions that regular appear on Kelloggs cereal boxes.
For activities like bowling, swimming, cinema trips and soft play, look out for discounts at less popular times. For example, find tickets for as little as £2.50 a person for mid-morning films at weekends and during school holidays from the likes of Cineworld Movies for Juniors (opens in new tab), Odeon Kids (opens in new tab) and Vue Mini Mornings (opens in new tab).
28. Always make minimum payment on credit cards to avoid interest charges
Set up a direct debit to pay off at least the minimum payment on your credit card every month. This way, you can't forget and miss a payment and won't get hit with extra interest and charges.
If you're paying interest on credit card debt, investigate whether you are eligible for a balance transfer card with a low or 0% rate. By moving your balance from a higher interest rate to a lower rate, or no interest at all, you can slash your interest costs and clear the debt quicker. As with any credit application, always use an eligibility checker, like on Go.Compare, before you apply to see what deals you qualify for. This way you can avoid any failed applications that could leave a black mark on your credit score (opens in new tab).
29. Set up a standing order to put money in a savings account
If you can squeeze a bit extra from your budget, set up a standing order into a savings account straight after payday. That's when you are least likely to notice the difference. Several banks and building societies offer regular saver accounts, where you can save from as little as £1 to £25 a month for a year, and get paid as much as 3.5% interest for a year.
Setting up a standing order is pretty straightforward - you might be able to do it yourself via your online banking, or you can do it over the phone or by popping into your local branch.
If you have a low income, you may qualify for a Help to Save (opens in new tab) account which can supercharge your savings twice over a four year period.
You could also try the 1p savings challenge – it's an easy way to boost your bank account by £667 a year!
Automatic savings apps like Chip (opens in new tab) or Plum (opens in new tab), which look at your bank account, work out how much you can set aside, and then transfer small amounts to a savings account every few days are also worth considering.
30. Consolidate your debts
If you owe money across credit cards, loans and your overdraft, rather than trying to pay off a bit towards each of them every month – you might be wondering how to consolidate your debts (opens in new tab) into one loan.
This means instead of making separate monthly repayments to everyone you owe money to – you lump the lot together and take out one loan, on a lower interest rate to clear the lot. This then means you only have to make one single monthly repayment which can help keep track of your spending.
31. Think about moving your mortgage
If you've got a mortgage, check your interest rate – around two million homeowners are still paying their lender's Standard Variable Rate which is usually the most expensive deal.
Consumer banking expert Katie Brain (opens in new tab) from Defaqto, says: "It is worth reviewing your mortgage now if you are coming out of a deal or if you are on a provider's Standard Variable Rate as interest rates look to be only going one way, up."
And if you're nearing the end of a fixed-rate deal where you pay the same amount each month – don't wait for it to end before you shop around. You can usually lock another in three to six months before your current deal ends. Use a mortgage broker to help you through the mortgage maze.
32. Do you need a TV licence?
If you exclusively use streaming services to watch boxed-sets or films on demand, but are still paying for a TV licence, you may be wasting money. You need a TV licence if you watch or record live TV, on any channel or streaming service. But if you only watch programmes on demand (with the exception of BBC iPlayer), you don't actually need a TV licence so could save yourself between £159 and £164 per year (depending on how you pay).
Make sure you read our guide as to whether you need a TV licence (opens in new tab) or make sure you don't fall foul of the rules by cancelling your licence when you should in fact have one.
33. See if you can change from a prepayment meter to a standard meter
If you have a prepayment energy meter, you are likely paying more for your gas and electricity than those on standard meters, which is definitely not fun at a time when energy bills are so high.
In fact, according to Uswitch (opens in new tab), the number of prepayment meter installations have risen for the first time since 2019, with 60,000 prepayment meters installed between October 2021 and March 2022. This means that more people could be at risk of self-disconnection this winter.
Director of regulation at Uswitch.com, Richard Neudegg (opens in new tab), commented, saying: "The rise of prepayment meter numbers is a worrying reversal of a trend after nine consecutive quarters falling - suggesting households are becoming increasingly at risk this winter.
"With energy prices set to rise again in April, this is a warning of things to come and we will most likely see more and more households moved to prepayment meters in the coming months and years.
"Anyone who is worried about paying their energy bills this winter should contact their energy supplier, who can offer advice and support."
Try these prepayment energy meter tricks (opens in new tab) to see if you can reduce how much you pay.
34. Buy second hand
Whether it's clothes, homewares or refurbished tech like phones for laptops - buying second hand is a brilliant way to spend less and save money. Local charity shops are a good choice, but you can also check out apps like Vinted, Depop and Preloved, as well as eBay and Facebook Marketplace.
You can get in on the action and sell your unwanted items online too. Read our guides to how to sell clothes online (opens in new tab) and how to sell your old gadgets (opens in new tab) for clear tips to see you through the process.
35. Make food from scratch and pack lunches
Food prices have risen dramatically this year, so if you want to save money, there might be some easy changes you can make to cut your costs. Making lunches from scratch is key, as well as avoiding buying any pre-prepared sandwiches, fruit or vegetables which are expensive.

Making packed lunches for work, school and says out, will also help to keep costs low. It could also be worth looking into whether your child qualifies for free school meals (opens in new tab) to reduce your costs even more.
36. Be flexible about specifics when you do shop
Keeping a bit of flexibility in mind when you're shopping can be key to saving money, especially when it comes to devices like smartphones and smart assistants. These devices come in different colour options. And to begin with, they'll likely all be the same price, but after a while you'll notice that the less popular colours are less expensive than the popular ones. So if you were planning on buying one of these devices anyway, and it ultimately doesn't matter to you which colour you get, opt for the less popular one to save some money.
In some cases, this logic can also be applied to clothes and homewares.
37. Buy in bulk or extra value sizes
Buying extra value sizes (or buying in bulk) can be a great way to save money on household and food items, like toilet roll, surface cleaner, washing tabs, crisps and cereal. But it'll only prove to be a bargain if you use up everything you buy.
Avoid bulk buying a product you've never used before, even if it's a good deal, because if you don't like it, you're either lumbered with having to use up a product you hate, or you'll end up buying an alternative.
38. Get on the electoral roll
Being on the electoral roll essentially means you'll be able to vote in local and general elections, but it can also help you to save money. This is because being on the electoral roll helps your credit score and can speed up any credit applications.
Being on the electoral register helps any potential lenders check your details more quickly and can help them to see how long you have been at your address. This helps your lender determine how reliable or risky you will be to lend money too. The more reliable it thinks you are, the better interest rates you will be offered when you apply for any kind of credit. So while it doesn't directly save you money, it can help you pay less to borrow money in the future.
39. Manage your overdraft
You don't need to pay for an overdraft – some banks like First Direct (opens in new tab) will give you a free financial buffer up to £250 which means zero charges if you go into your overdraft by up to £250.
If you've got a big purchase coming up – say like renewing the car insurance – may be worth applying for a credit card with a 0% deal on new purchases which means you can pay in one go but then split the payments interest free rather than risking charges on your overdraft. But always use an eligibility checker first, and make sure you can afford the monthly repayments.
40. Cut your childcare costs
Pay for child care while you work? See if you're eligible for 30 hours free childcare (opens in new tab) or claim some cash back from combination of Working Tax Credits, or the new tax-free childcare scheme (opens in new tab) that pays out up to £2,000 per child. Different options suit different people, but it's worth wading through the Government website Childcare Choices (opens in new tab) to find what works for you.
Sue Hayward is a personal finance and consumer journalist, broadcaster and author who regularly chats on TV and Radio on ways to get more power for your pound. Sue's written for a wide range of publications including the Guardian, i Paper, Good Housekeeping, Lovemoney and My Weekly.