Why has Nicola Sturgeon resigned and who will replace her?
Scotland's first minister has announced she will be stepping down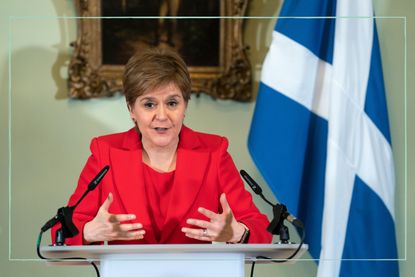 (Image credit: Getty Images)
Scotland's first minister shocked the public with the news that she will be stepping down, leaving many wondering why Nicola Sturgeon has resigned.
The UK has seen a number of political leaders come and go in recent months. It started with Boris Johnson's resignation (opens in new tab) in July 2022, and his successor Liz Truss announced her resignation (opens in new tab) mere weeks later, after just 44 days in office. Now, things are changing in Scottish Parliament too, after first minister Nicola Sturgeon has revealed she plans to step down.
Much like the world wanted to know why Jacinda Ardern resigned (opens in new tab) when she announced her intention to step down just a few weeks ago, the same is being asked of Nicola Sturgeon, who after close to a decade in office has stunned the public with a shock resignation speech.
Why has Nicola Sturgeon resigned?
Nicola Sturgeon said "In my head, and in my heart, I know that the time is now, that it's right for me, for my party and my country," in her resignation speech.
The news came in a surprise press conference on Wednesday 15 September. She went on to explain that her decision to step down now was partly made by the SNP conference taking place next month, which will aim to decide the party's strategy on Scottish independence.
She said: " I cannot in good conscience ask the party to choose an option based on my judgement whilst not being convinced that I would be there as leader to see it through."
Sturgeon has campaigned for Scottish independence throughout her time in office, and was essentially in charge of the independence referendum in 2014, before becoming first minister just one month after the vote and leading the country through the aftermath.
However, she faced a blow to her campaign when a Supreme Court ruling in November 2022 dashed hopes of a second independence referendum without Westminster's approval.
In her resignation speech, Sturgeon touched on the issue of independence, saying: "We are at a critical moment. The blocking of a referendum as the accepted, constitutional route to independence is a democratic outrage.
"But it puts the onus on us to decide how Scottish democracy will be protected and to ensure that the will of the Scottish people prevails."
She added: "To achieve that we need to reach across the divide in Scottish politics, and my judgement now is that this needs a new leader."
In addition, Nicola Sturgeon has recently been under pressure over a trans-rights row, which saw proposed legislation to make it easier for Scots to legally change their gender blocked by the UK government.
However, the Scottish first minister said her resignation was not a "reaction to short-term pressures".
🏴󠁧󠁢󠁳󠁣󠁴󠁿 To all the people of Scotland - whether you voted for me or not - please know that being your First Minister has been the privilege of my life. Nothing - absolutely nothing - I do in future will ever come close. Thank you from the bottom of my heart. https://t.co/ZbmmkzyHwKFebruary 15, 2023
See more
Who will replace Nicola Sturgeon?
We don't yet know who will replace Nicola Sturgeon, as her resignation has triggered a contest for the position of leader of the Scottish National Party.
Alex Salmond, who was Scotland's first minister before Sturgeon, said the next first minister is "more likely to be somebody from the new generation rather than the previous Nicola generation."
There are already a number of MSPs who are expected to be in the running:
Kate Forbes: Kate Forbes is the MSP for Skye, Lochaber and Badenoch, a position she has held since 2016. She is also cabinet secretary for finance and considered the rising star of the party.
Keith Brown: The Clackmannanshire and Dunblane MSP has sat in Scottish Parliament since 2007 and is currently serving as justice secretary - though he has held a range of briefs from transport to the economy.
Angus Robertson: Edinburgh Central MSP Angus Robertson is currently Scotland's constitution secretary and has previously held roles in Westminster as well as Holyrood - though he did take a brief break from frontline politics after losing his Moray seat in 2017.
Humza Yousaf: Hamza Yousaf is the MSP for Glasgow Pollok and has been at Holyrood since 2011. He's Scotland's health secretary and led the country through the pandemic, and has held a number of other senior posts in government.
John Swinney: The Perthshire North MSP has sat in Scottish Parliament since 1999 and is one of the most experienced potential candidates. He is deputy first minister and has led the party before, between 2000 and 2004, but left due to disappointing election results.
Mairi McAllan: First elected as MSP for Clydesdale in 2021, Mairi McAllan stepped into government as environment minister and has previously served as a special advisor to Nicola Sturgeon.
It's hard to overstate the intellect, dedication, empathy and humility with which @NicolaSturgeon has led us and through the most challenging times.I'm very sorry she's stepping down. It's been my honour to know & work with her. Scotland is a better place because of her.💛 pic.twitter.com/zC6EJwlKlSFebruary 15, 2023
See more
How long has Nicola Sturgeon been in power?
Nicola Sturgeon has served as Scotland's First Minister for over eight years, having succeeded Alex Salmond on 20 November 2014 and becoming the first woman to hold the position.
In addition, she has been a member of Scottish Parliament since it was established, standing in its first election in 1999 and serving as a a list MSP for the Glasgow region, before winning election to the Glasgow Southside seat in 2007.
After serving as Alex Salmond's understudy and deputy from 2004 - during which time she was the SNP's leader at Holyrood - she was crowned party leader in 2014 without a contest.
When will Nicola Sturgeon step down?
Nicola Sturgeon said she will remain in office as Scotland's first minister until her replacement is elected. However, the timetable for the election of a new SNP leader has not yet been set.
Sturgeon added that she plans to continue on the back benches as an MSP "until, certainly, the next election" for Holyrood, which is due to take place in 2026.
Video of the Week
Ellie joined Goodto as a Junior Features Writer in 2022 after finishing her Master's in Magazine Journalism at Nottingham Trent University. Previously, she completed successful work experience placements with BBC Good Food, The Big Issue and the Nottingham Post, and freelanced as an arts and entertainment writer alongside her studies. In 2021, Ellie graduated from Cardiff University with a first-class degree in Journalism.