Why is Jacinda Ardern resigning? What's next for New Zealand's PM
The New Zealand Prime Minister has shocked the world with her resignation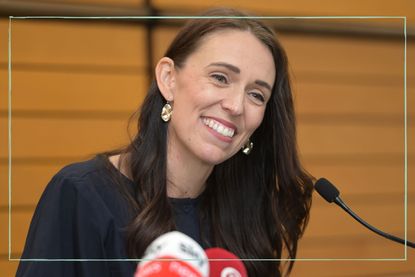 (Image credit: Getty Images)
She led New Zealand through the Covid pandemic and became the world's second elected head of government to give birth while in office. As her time as Prime Minister comes to an end, many want to know why is Jacinda Ardern resigning?
Here in the UK we've had our fair share of political turmoil over the last year, with Boris Johnson's resignation (opens in new tab) and then Liz Truss resigning (opens in new tab) just mere months later. Many of us have probably looked across to the other side of the world and envied New Zealand for their resilient Prime Minister, Jacinda Ardern.
But, like most world leaders over the last few years, Ardern has faced unprecedented challenges in her role - not to mention the fact that she gave birth while in office and has a 4-year-old daughter to look after. Now, the trailblazing politician has shocked the world by announcing her intention to step down, leaving many wanting to know why is Jacinda Ardern resigning?
Why is Jacinda Ardern resigning?
Jacinda Ardern announced her resignation on Thursday 19 January, saying she no longer has "enough in the tank" to seek re-election. Ardern has been in office for six years, during which time she has given birth to her daughter and steered the country through the Covid pandemic.
Though Ardern is popular globally for her progressive credentials, her approval ratings have recently plummeted in New Zealand over concerns around the cost of living and a perceived surge in crime.
Her Labour government's drop in the polls jeopardises her chances of re-election later this year, and has also intensified the abuse and threats of violence directed at the New Zealand Prime Minister.
Over the past year in particular, Ardern has faced threats from conspiracy theorists and anti-vaccine groups infuriated by the country's response to Covid. However, Ardern has made it clear that the increased risk associated with the her job was not a factor in her decision to resign.
She said: "I don't want to leave the impression that the adversity you face in politics is the reason that people exit. Yes, it does have an impact. We are humans after all, but that was not the basis of my decision."
What did Jacinda Ardern say when she resigned?
At the party's first caucus meeting of the year, Ardern explained that she no longer feels she has enough energy to do the job of Prime Minister justice, and that the Labour Party needs a "fresh set of shoulders".
"The decision was my own," Ardern said in the shock announcement. "Leading a country is the most privileged job anyone could ever have, but also the most challenging. You cannot and should not do the job unless you have a full tank, plus a bit in reserve for those unplanned and unexpected challenges."
She went on to say, "With such a privileged role comes responsibility - the responsibility to know when you are the right person to lead, and also when you are not.
"I know what this job takes, and I know that I no longer have enough in the tank to do it justice."
Though recent polls have suggested that Ardern's Labour Party is now falling behind the centre-right National Party, Ardern said this had not affected her decision to step down.
"I'm not leaving because I believe we can't win the election, but because I believe we can and will, and we need a fresh set of shoulders for that challenge," she said.
Ardern also mentioned her partner, TV presenter Clarke Gayford, and her 4-year-old daughter Neve, saying they were the ones "that have sacrificed the most out of all of us."
She added: "To Neve: Mum is looking forward to being there when you start school this year. And to Clarke - let's finally get married."
Ending her speech on a hopeful message, Ardern said: "Thank you to New Zealanders for giving me this opportunity to serve, and to take on what has and will always be the greatest role in my life.
"I hope in return I leave behind a belief that you can be kind, but strong. Empathetic, but decisive. Optimistic, but focused.
"That you can be your own kind of leader - one that knows when it's time to go."
When will Jacinda Ardern resign?
Jacinda Ardern has said she will resign as New Zealand Prime Minister no later than February 7, though an exact date has not yet been announced.
She also said she will not seek re-election to Parliament, ending her time as an MP.
In her resignation speech, she said: "I intend to remain the member for Mt Albert through until April. This will give me a bit of time in the electorate before I depart, and also spare them and the country a by-election."
The next general election in New Zealand will be help on Thursday 14 October 2023.
What will Jacinda Ardern do next?
Ardern said that once she leaves Parliament her focus is on spending time with her family. She plans to remain in Parliament until April, to avoid the need for a by-election in her Auckland electorate.
"Beyond that, I have no plan," she said in her speech. "All I know is that whatever I do, I will try and find ways to keep working for New Zealand and that I am looking forward to spending time with my family again."
Thank you, @JacindaArdern, for your partnership and your friendship – and for your empathic, compassionate, strong, and steady leadership over these past several years. The difference you have made is immeasurable. I'm wishing you and your family nothing but the best, my friend. pic.twitter.com/72Q5p9GZzgJanuary 19, 2023
See more
Who will be the next New Zealand Prime Minister?
We don't know yet who will be the next New Zealand Prime Minister, as the Labour Party needs to hold a vote for their new leader. The vote is scheduled for Sunday 22 January.
If one candidate receives more than two-thirds of the party's support, Ardern said she will resign soon after and the new leader will be sworn in as prime minister. However, if no one receives a two-thirds majority of support, the vote will go to the wider party membership.
It's not yet clear who from the Labour Party plans to stand in the leadership contest. Deputy leader and finance minister, Grant Robertson, has said that he has no plans to put himself forward.
What did Jacinda Ardern do?
Jacinda Arder was elected as New Zealand's Prime Minister in 2017. At 37 years old, this made her the world's youngest female leader at the time she took office.
During almost six years in the role, Ardern faced unprecedented challenges and won global praise for the way she handled them. These included the 2019 mass shooting at two mosques in Christchurch that killed 51 people, after which Ardern's government swiftly introduced gun law reforms.
Her pandemic strategy aided her party's landslide win in the 2020 election, though it was also criticised for being too strict, with the entire country going into lockdown in August 2021 after a single case was reported.
Her critics also argue that she has done little to deliver the transformational government she promised when first elected, which included increasing the housing supply and reducing child poverty.
In 2018, Jacinda Ardern became the world's second elected head of government to give birth while in office.
She said at the time: "I am not the first woman to multi-task, I'm not the first woman to work and have a baby. I know these are special circumstances, but there will be many women who will have done this well before I have."
Goodto.com thoughts
Goodto.com Family Editor, Stephanie Lowe (opens in new tab) says;
Jacinda did the one thing all mums aspire to do, she put herself first. She held her hands up and said she had 'nothing left in the tank' to give, and she stepped away.
Seeing her in the public eye these last four years holding her own again and again was so empowering - a woman, a mum, out there making noise and being heard, getting sh*t done, I was in awe. And, now I am beyond sad to see her step down, but I also totally get it. She has been the most relatable politician from start to literal finish.
Video of the Week
Ellie joined Goodto as a Junior Features Writer in 2022 after finishing her Master's in Magazine Journalism at Nottingham Trent University. Previously, she completed successful work experience placements with BBC Good Food, The Big Issue and the Nottingham Post, and freelanced as an arts and entertainment writer alongside her studies. In 2021, Ellie graduated from Cardiff University with a first-class degree in Journalism.