Zingy pickle spears coated in golden panko breadcrumbs and air fried to perfection. A great party food, snack, or starter.
It takes just 10 minutes to cook these delicious air-fried pickles in the air fryer. You will need kosher dill pickles along with all-purpose flour, kosher salt and pepper, panko breadcrumbs, and egg to make the crisp, golden coating for each spear. Serve with a creamy homemade ranch dressing made with buttermilk, sour cream, and mayo alongside a handful of flavor-packed seasonings such as garlic, and onion powder.
Ingredients
For the buttermilk-herb ranch dressing:
175 g (¾ cup) mayonnaise
115 g (½ cup) sour cream
60 ml (¼ cup) buttermilk
25 g (¼ cup) chopped scallions/spring onion
2 tablespoons (8 g) chopped fresh dill
1 tablespoon (3 g) chopped chives
½ teaspoon garlic powder
½ teaspoon onion powder
½ teaspoon cayenne pepper
Kosher salt and pepper to taste
For the fried pickles:
905 g (1 jar) kosher dill pickles
94 g (¾ cup) all-purpose flour
Kosher salt and pepper to taste
125 g (2½ cups) panko bread crumbs
2 eggs beaten with 2 tablespoons (30 ml) water
Vegetable oil for spraying
Method
To make the dressing, in a medium bowl, whisk together the mayonnaise, sour cream, and buttermilk. Add the scallions, herbs, and seasonings and stir to combine. Cover the bowl and chill for at least 30 minutes prior to serving to allow the flavors to develop.
To make the fried pickles, cut each pickle into 4 spears and place the spears on paper towels to drain for at least 15 minutes. Place the flour on a plate and season with salt and pepper. Place the panko on a separate plate. Dip a pickle spear in the flour, shaking off any excess, then coat with egg mixture. Dredge the spear in the panko, pressing to make the crumbs adhere, and place the breaded spear on a lined baking sheet. Repeat with the remaining spears.
Spray the spears with oil and, working in batches, place them in a single layer in the air fryer basket. Cook at 400°F (200°C) for 8 to 10 minutes, flipping once halfway through. Serve with buttermilk ranch dressing.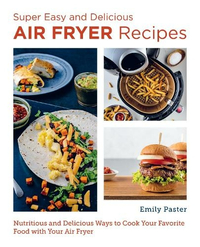 Super Easy and Delicious Air Fryer Recipes: Nutritious and Delicious Ways to Cook Your Favorite Food with Your Air Fryer by Emily Paster
Top tips for making air fried pickles
Recipe author and air fryer expert Emily Paster says; "I vividly remember the first time I had fried pickles - a southern specialty dating back to the 1960s - on a trip to North Carolina. They were scalding hot right out of the fryer and served with a creamy ranch dipping sauce that cut through the brininess of the pickles. What a combination! Where had these been all my life?
Today, fried pickles are one of my favorite air fryer recipes. With a simple flour-egg-bread crumb coating and just a spritz of oil, these fried pickles come out extra crunchy and stay that way even after they cool down. I use pickle spears, not coins because I find that they are easier to transfer in and out of the air fryer. Serve these fried pickles with a homemade buttermilk-herb ranch dressing and they may become one of your favorite recipes too."
You might also like...
Recipe writer and cookbook author
Recipe writer and cookbook author Emily Paster has an array of cookbooks under her belt including Food Swap, The Joys of Jewish Preserving, Epic Air Fryer, and her latest Super Easy and Delicious Air Fryer recipes. Emily Paster is a food writer and culinary instructor specializing in global Jewish cuisine. Emily lives outside Chicago, where she teaches culinary classes, with her husband and two children.