Best air fryers for families - our top 8 air fryers, tried and tested
We tested the best air fryers for families of four or more. Here's how they fared...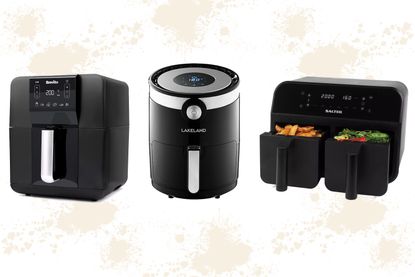 (Image credit: Future / various brands)
If you and your family are looking to invest in an air fryer this year we're here to help make that all-important decision easier for you with our roundup of the best air fryers for families - all suitable for a family of four or more.
Busy parents, meet the air fryer - the sought-after kitchen appliance of the year, and the answer to the afterschool mealtime rush madness. As a team of parents, we know that getting a meal on the table as quickly as humanly possible that still meets the five-a-day quota, and stops the fussy eaters in their tracks is a daunting task - especially when you're on a time limit too. That's where the air fryer comes in.
We've put a range of air fryer brands to the test including the likes of Ninja Kitchen and Proscenic, to find the ideal option for families - all with efficiency, durability, functionality, and value for money in mind. Each air fryer in this collection has been trialed first-hand by our Goodto team comparing notes on everything from fan noise to the size of the machine to how perfectly golden and crisp our potato wedges cooked as well as other air fryer foods.
Much like the best slow cookers were the revolutionary appliance in the 70s, air fryers are what modern-day parents need in their kitchen and these are the best suited to families - and they're all under £180...
Quick list
Best air fryers for families 2023
Specifications
Capacity: 15L
Wattage: 1700W
Functions: Air Fry, and rotisserie
Reasons to buy
+
Large 15L capacity
+
12 preset options
+
TurboAir tech means less oil
+
Recipe suggestions via app
Reasons to avoid
-
Large
-
Takes time to learn how to use properly
What makes the Proscenic T31 great for families? This is the biggest air fryer in our collection, and our go-to machine if you're looking to fully invest in the air fryer lifestyle for your family. You'll need plenty of surface space on the kitchen countertop to home it and it's heavy so it will need to stay put.
It features TurboAir technology, which according to Proscenic is seven times more effective than normal air circulation technology in an air fryer and increases cooking efficiency by 30%. This air fryer features a two-level cooking space and 12 preset functions which are easy to navigate as well as a handy remote control app that can be accessed from your smartphone when you're out and about - so you preheat the air fryer on the way home from the school run for example.
Deputy Editor Heidi Scrimgeour says: "After a long day at work with five hungry stomachs to fill, I can't face fiddling around with a gadget or - worse - risking a burnt offering. But the preset buttons take all that hassle out of using an air fryer. Press the corresponding button and bingo, dinner is almost ready. And if you prefer to set your own temperature or cooking time, simply ignore the preset buttons and turn the dial to control it manually."
What Heidi cooked in this air fryer: French toast, cinnamon buns, accordion potatoes, potato wedges, Yorkshire puddings, frozen oven chips, chicken breasts, steak pieces, and more.
---
Specifications
Capacity: 7.4L
Wattage: 2,400 W
Functions: Air Fry, Roast, Bake, Reheat & Dehydrate
Reasons to buy
+
Family-friendly capacity of 7.4L
+
Easy to clean
+
Not too noisy
+
Range of cooking options, including roast, bake and reheat
+
Excellent sync function
Reasons to avoid
-
Takes up a lot of counter space
-
Could be too big for smaller households
What makes the Salter Dual great for families? The Salter Dual EK4750BLK Air Fryer has a 7.4L combined capacity and is perfect for bigger families or those who want to use it daily for lunches and dinners. Not only can you air fry with this machine, you can choose from a range of other functions too including roast, bake and reheat - making it a great multifunctional machine for the midweek dinner rush or slow Sunday lunch cooking.
This machine certainly impressed not only with its varied functions but with its sleek modern design and easy-to-clean trays, and wipe-clean exterior - meaning less time standing around in the kitchen after dinner is cooked. This air fryer allows you to cook two different foods at the same time using a clever sync function which is clearly explained in the guide booklet. This also means that you can cook a whole meal e.g. potatoes and chicken, or roasted veg and fish all in one go.
Money Editor Sarah Handley says: "This air fryer has a duo basket design which means it's capable of cooking extra large portions or two different types of food at the same time. In terms of size, it's perfect for a family - each of the frying trays has a 3.7L capacity. For times when you don't need to cook for the whole family, you can use the trays individually, which is very handy."
What Sarah cooked in this air fryer: Potato wedges, chicken goujons, curly fries, sweet potato fries, potato waffles, sausages, bacon, halloumi, hash browns, breaded mushrooms, and field mushrooms.
---
Specifications
Capacity: 3L
Wattage: 1350W
Functions: Air Fry
Reasons to buy
+
Eight preset functions to choose from
+
Sleek, modern, curvaceous design
+
Easy-to-clean surface
+
3L round basket
+
LED touchscreen display
Reasons to avoid
-
Large
-
No divider or extra accessories
-
No viewing window
What makes the Lakeland Digital Crisp great for families? Choose from eight different preset functions on this 3L air fryer by Lakeland. The smallest capacity air fryer on this list, however, its efficient even cooking, easy-to-use LED touchscreen, and easy-to-clean basket and surfaces truly make up for this. Plus it's a great choice for cooking sides to accompany a family meal. It's also a great choice for families who like to bake as the round basket makes it ideal for air frying cakes.
Ready to use from the get-go, Lakeland's air fryer comes with a handy setup guide along with recipe suggestions to get you started - great if you're new to the world of air fryers. The touchscreen and preset functions make cooking a breeze. We particularly loved the time countdown flashing up on the LED screen as well as the five sharp beeps to let you know when food is done - a great alert that you can hear whilst out in the garden with the kids.
Senior Content Editor Jessica Dady says: "The Lakeland Digital Air Fryer is taller than it is wide so it didn't take up as much counter space which was perfect for our small busy kitchen. Despite being a smaller capacity machine, it ticked all the boxes for us and catered to our family's cooking needs making it a great machine for cooking sides, reheating foods, and baking - which I just love to do with the kids at the weekends."
What Jessica cooked in this air fryer: Chocolate chip cookies, chicken goujons, potato wedges, chips, roasted vegetables, and cake.
---
Specifications
Capacity: 7L
Wattage: 1800W
Functions: Air Fry
Reasons to buy
+
Extra-large 7L capacity
+
Viewing window
+
7 pre-set cooking settings
Reasons to avoid
-
No divider options
-
Very large
What makes the Tower Digital Vortx great for families? A large air fryer perfect for bigger families, this 7L Tower model is under the £100 mark which compared to other machines, is great value for money giving you plenty of capacity to work with. Featuring seven pre-set modes including options to cook chicken drumsticks, fish, ribs, cakes, fries, and more.
Its sleek, minimal design means it won't be an eyesore on your kitchen counter and the viewing window makes cooking a breeze as you can easily check on the food without pausing the cooking process. Plus the digital symbols (once deciphered) are a great asset to the machine.
Features Writer Ellie Hutchings says: "This air fryer is best suited to those who have a family to cook for or love hosting people for dinner. The seven-liter capacity means it's a really cost-effective way of cooking a lot of food - and cooking it quickly too - but if there's only two or even three of you to cook for, a smaller air fryer might be a better option, as it'll likely mean you'll be using less energy too."
What Ellie cooked in this air fryer: Bagels, potato wedges, veggie sausages, and roasted vegetables.
---
Specifications
Capacity: 5.2L
Wattage: 1750W
Functions: Air Fry, Max Crisp, Bake, Roast, Dehydrate & Reheat
Reasons to buy
+
Quick and easy to set up
+
Modern and sleek exterior
+
Easy-to-read buttons and display
+
Six cooking functions
+
Not too loud or too noisy
Reasons to avoid
-
Works best if you check on food regularly
-
No viewing window
-
No divider options
What makes the Ninja MAX great for families? This 5.2L family-size air fryer by sought-after brand, Ninja Kitchen, is easy to use and cooks whole potatoes in just 30 minutes making it an efficient choice for families during the midweek dinner rush. Choose from six different functions; air fry, dehydrate and roast to name a few - making it a great multifunctional choice.
The sleek surface of this air fryer means it's easy to wipe down, should you make a mess when cooking, while removable parts such as the crisp plate are dishwasher safe, making it a great easy-to-clean choice.
Features Writer Ellie Hutchings says: "I'd never used an air fryer before, so I found the 'Quick Start & Recipe Guide' that came with this model really helpful. The Ninja air fryer is taller than it is wide, so it doesn't take up as much room as you might think, making it a great choice for smaller family kitchens, as surface space can often be limited with kids about."
What Ellie cooked in this air fryer: Crispy tofu, Greek potato frickles, S'mores, potato wedges, and more.
---
Specifications
Capacity: 3.8L
Wattage: 1,500W
Functions: Air Fry
Reasons to buy
+
Compact and stylish
+
Affordable yet powerful
+
User-friendly
+
Suitable for small families
What makes the COSORI Lite great for families? If you're looking for an air fryer that doesn't take up much space in your kitchen the COSORI Lite 3.8L air fryer may be the right choice for you. It's a great machine if you're catering for smaller families - for example, a family of four with two younger kids who obviously eat smaller portions but you may be a tad limited if cooking for a family of four with teenagers for example.
The digital display panel and Wifi smartphone control option make it a modern choice for those who truly love a gadget. Despite its small size, it's a powerful machine with preheat function and an array of preset functions too including chicken, fries, bacon, etc., and a shake feature allowing you to shake the food midway through for even cooking.
Money Editor Sarah Handley says: "It has a decent 3.8L capacity which would be suitable for cooking about three portions, so is perfect for couples and small families, but those with larger families will likely need something a little larger and maybe even a dual tray model instead."
What Sarah cooked in this air fryer: Chicken goujons, curly fries, sweet potato fries, potato waffles, sausages, and halloumi to name a few.
---
Specifications
Capacity: 5.7L
Wattage: 1450-1700W
Functions: Air Fry, Roast, Bake, Reheat, Dehydrate, and Grill
Reasons to buy
+
Large 5.7L capacity
+
Viewing window
+
6 pre-set modes
+
Dishwasher safe parts
Reasons to avoid
-
Cook one type of food at a time
-
No quick-use buttons
-
Short cable lead
What makes the Instant Vortex Plus great for families? This 5.7L air fryer is an easy-to-use machine with a touch-screen control panel and a variety of functions alongside air frying - like roasting, grilling, and reheating too making it a great multifunctional option if you really want to get your money's worth when cooking for the family.
It's a fuss-free model that requires little to no attention while cooking so you can leave the appliance to do its thing whilst you get on with other food prep for example. You can only cook one thing at a time in this air fryer as it doesn't come with a divider however as the basket is so large, you could easily use two small disposable air fryer liners instead if you wanted to cook two things at once.
Family Editor Stephanie Lowe says: "This large-capacity - it can roast a 1.8kg chicken - air fryer is great for families, and fits perfectly in a kitchen as it only needs a bit of countertop space. Each function comes with a pre-heating time, and it beeps to remind you to do important things like shake your chips or turn your sausages - though if you don't do this like I didn't, it's no big deal - the food is still delicious. The only thing I feel that lets it down is its lack of a food divider, meaning you can only do one element of a meal for lots of people."
What Stephanie cooked in this air fryer: Bacon, sausages, chips, fish fingers, and potato wedges.
---
Specifications
Capacity: 5.5L
Wattage: 1700W
Functions: Air Fry, Bake, Roast & Grill
Reasons to buy
+
Modern exterior with a digital touchscreen
+
Versatile food options
+
Large 5.5L basket with dividers
+
Adjustable temperature and time settings
+
Auto turn off
Reasons to avoid
-
Big and rather heavy
-
Air fryer basket divider not stable
-
No window to view food
What makes the Breville Halo great for families? This 5.5L air fryer by Breville can cook anything from 700g of fries to a 2.2kg whole chicken making it the perfect choice when catering for four or more. The machine itself and easy to set up as soon as it's out of the box with thorough instructions and a handy cooking guide for beginners.
The Breville Halo VDF126 5.5L Air Fryer features a digital panel at the front of the machine with light-up icons such as chips, fish, chicken, etc. all of which are presets you can choose from when cooking. The divider means you can make two things at once, which is ideal when cooking for a big family.
Senior Content Editor Jessica Dady says: "Other than looking smart and being super easy to use, I loved that this air fryer turns itself off once it's reached max cooking time. It also beeps a couple of times before the auto power off mode kicks in - a good 'alarm' that can be heard around the house."
What Jessica cooked in this air fryer: Potato wedges, chicken thighs, sausages, roasted vegetables, and cupcakes to name a few.
---
How we tested these air fryers
We know that investing in an air fryer and choosing the right one for your family is a big decision, that's why we extensively tested each and every air fryer in this collection - making sure that certain boxes were ticked when it comes to functionality, efficiency and most importantly how it would work for a busy family life. Here are the main things we tested and looked out for when reviewing:
Practicalities
Each tester was sent a brand-new air fryer to review and put to the test. First on the tick list was to ensure that the air fryer was easy to set up, how thorough and useful the instruction guide was, as well as first impressions - whether the machine was bigger than expected or looked more modern than advertised, and so on.
If you're investing in an air fryer, especially when it comes to cooking for a family, you want it to be a practical, easy-to-use machine that bypasses the faff and can be ready to use straight out of the box, or as soon as it's plugged into the mains. This was another big factor we considered when testing.
We wanted to ensure that the air fryers we chose would suit the everyday whirlwind that is family life. Ready-to-go preset functions, dishwasher-safe removable parts, wipe clean surfaces, durable basket, and good family-sized capacity (more on this shortly) were among a few of the practical things each one of our air fryers needed to have in order to pass the 'is this machine practical for families?' test.
Functionality
The common factor in these air fryers is that they all air fry and that is the main functionality of each machine. It sounds a bit daft, but some air fryers bake, reheat, grill, and so on - but we predominately wanted to focus on testing air fryers that air fry to perfection - with speed and efficiency in mind.
All the other functions are an added bonus that you may or may not need to use during your everyday cooking. These elements weren't our main focus in testing, it was most importantly about making sure that the air fry function was of the highest standard and that the food air fried in these machines was cooked successfully.
Size
When you look to buy an air fryer the first thing you tend to think about is capacity - how big do I really need an air fryer to be? Well, that is entirely down to your family and how often you plan on using it as well as whether you want to cook full meals in it or just parts of the meal. The size was yet another component in testing that each of our reviewers made sure worked for them and their families.
We trialed a range of different sizes from our small 3L Lakeland Digital Crisp Air Fryer to the whopping Proscenic 15L Air Fryer Oven. All of these air fryers are suitable for family cooking, but it really depends on how you plan on using it - this is why we've chosen to include both single and dual-basket air fryers in this roundup as each family will have a personal preference on one or the other.
Dual air fryers tend to be bigger and take up more space, and some single-basket air fryers include accessories like dividers anyway so you can easily 'convert' your air fryer to cook two things at once - again all points that were kept in mind when putting this selection of machines to the test.
Price
Another tick box that was on the forefront of our minds when testing and calling in these air fryers was the price. With the majority among us parents, we know that spending a fortune on one kitchen appliance can be hard to justify which is why we kept to the £180 maximum budget.
On average an air fryer costs around £100 and we wanted to make sure that we gave a variety of well-known air fryer brands a trial but with a price limit - as some sought-after, bigger names can tend to have higher price models. We feel that all of these air fryers are good value for money, particularly the ones that have the added functionalities of roasting, baking, reheating, etc. as well as those that come with accessories.
And finally...
The potato wedges test
Of course, every family is different when it comes to dinner time so choosing to cook the exact same meal didn't really make sense to us however we chose a side dish, a common carb that tends to crop up on a weekly basis come dinner time - the potato.
Each tester was told to make a simple batch of skin-on potato wedges in their air fryer using just one tablespoon of vegetable oil and seasoning of their choice. All of the models in this roundup have a preset fries or potato wedges setting so each preset function was put to the test.
The Lakeland Digital Crisp Air Fryer, Tower T17072 7L Digital Vortx Vizion Air Fryer, and Proscenic T31 Air Fryer Oven certainly struck gold and completed this test with flying colors producing deliciously golden, crisp potatoes with fluffy insides - rated 5 out of 5 by our testers. Here were our results:
The Lakeland Digital Crisp Air Fryer - 5 out of 5 - "Really surprised how well the potato wedges came out in this least-known air fryer model by Lakeland. I've made about five or six batches now (my kids love potato wedges, can you tell?) and each time they've been spot on," says tester, Jessica.
Tower T17072 7L Digital Vortx Vizion Air Fryer - 5 out of 5 - "My potato wedges came out great in this air fryer; crisp on the outside with a good bite," says tester, Ellie.
Proscenic T31 Air Fryer Oven - 5 out of 5 - "The best potato wedges - my teens even approved - golden on the outside, soft and fluffy on the inside. I can't rate my Proscenic enough," says tester, Heidi.
Ninja Air Fryer MAX AF160UK - 4 out of 5 - "First attempt they were a tad burnt and not cooked all the way through but with a shake halfway on the second attempt they were much better," says tester Ellie.
Salter Dual Air Fryer EK4750BLK - 4 out of 5 - "Slightly got my timings out and a couple caught a bit on the edges, but still edible and perfect with ketchup," says tester, Sarah.
Breville Halo VDF126 5.5L Air Fryer - 3.5 out of 5 - "I think the air fryer was too hot as my potato wedges burnt straight away. Shaking halfway through on the second attempt helped and I lowered the temperature too," says tester Jessica.
COSORI Lite 3.8L Smart Air Fryer - 5 out of 5 - "Crisp on the outside and fluffy in the middle, what more could you want?" says tester, Sarah.
Instant Vortex Plus 6-in-1 air fryer - 3.5 out of 5 - "First attempt they had a great color but were a bit... al dente, shall we say. I really didn't want to parboil as that undoes the 'faff-free-ness' of air frying. Instead, I lowered the temperature to 150c and tried again. Making sure to shake them when the beep told me, et voila - delicious, crispy and fluffy," says tester, Steph.
Things to consider before buying an air fryer for your family
Price: What's your budget? How much do you really want to spend on an air fryer and can you afford it right now? Some air fryer brands can be very expensive - particularly if you're looking for a model which includes other functions such as roasting, dehydrating, reheating, etc. Start by figuring out how often you plan on using your machine, how much of an impact it'll have on dinner time, and how much it'll save you in the long run - then you can assess how much you're willing to spend on it.
Capacity: Do you need a large machine with dual compartments or do you need an air fryer that has a smaller 3-litre basket? Air fryers are rather limited when it comes to how much food you can actually cook in them so make sure you choose a size that suits you. If you choose a smaller capacity machine, you probably won't be able to cook a whole dinner in one go for a large family so it may be better to go for a bigger model or dual basket air fryer - to cook two things at once.
Special features/functions: Do you want your air fryer to just air fry, or does it need to do other tricks too? Some air fryers feature a range of different functions - not just air frying. Some larger machines often include the option to reheat, dehydrate, bake, roast, grill, and so on. Air fryers with more functions tend to cost more money and tend to be bigger in size so keep this in mind too.
Size: How much kitchen counter space do you have to home an air fryer? Air fryers are surprisingly larger than you may think (they are mini ovens after all!) and take up quite a bit of surface or cupboard space so do make sure you have room for one. Of course, some machines are smaller than others be it slim design or cylinder shape, and take up less space.
Accessories: Some air fryers come with a range of different accessories - particularly larger air fryers or those which have more functions and features. Accessories can include trays, brushes, tongs, liners, pizza pans, and more. So if you want your air fryer to include all the extras, you'll need to shop around to find one that does. Keep in mind this may come at a higher cost.
Design: Finally, design. Do you want your air fryer to look sleek and modern and slot nicely into your kitchen decor? Do you want your air fryer to have a light-up LED touchscreen or digital display panel? If you plan on keeping your air fryer out on the kitchen counter on permanent display, you need to make sure you like the look of the model of course.
Air fryer FAQs - all your questions answered
What capacity should I buy for a family of four?
On average a 4-7L capacity air fryer would suit a family of four - particularly a family of four with older children who eat adult portions. A family of four with younger children, however, may benefit from a smaller model of 3-5L as these machines often cook around three portions per use.
Any air fryer 7L and above, like the epic 15L Proscenic Air Fryer Oven with two-level cooking space, would certainly take a shot at replacing your standard oven as you'll be able to cook a good range of foods from whole chickens to large portions of chips in one go.
Are air fryer accessories all dishwasher safe?
Not all air fryer accessories or air fryer baskets are dishwasher safe so make sure you consult the air fryer manual before making that assumption. You don't want to ruin or misshape any of the accessories from the heat of the dishwasher resulting in you buying replacements.
If in doubt, handwashing with warm soapy water is a great call when it comes to cleaning accessories or the air fryer removable basket. The inside of the air fryer, however, and outside as best cleaned with a damp cloth or kitchen roll to remove any unwanted bits of food or sticky fingerprints.
Is an air fryer worth considering for family cooking?
If you're looking to save time, money and eat a little healthier, an air fryer could be the perfect choice for you and your family. Some air fryers don't need to be preheated which means they can be used from the moment you switch on at the plug and often take less time to cook than your standard oven as they are smaller than conventional ovens taking less time to meet the maximum temperature required to cook.
In general, an oven needs more oil than an air fryer, because air fryers are hot enough to crisp food without any added oil. Reducing the amount of oil in cooking means the meal itself will be a little healthier therefore air fryer cooking is often associated with healthier cooking.
Air fryers are also cheaper to run than a conventional oven according to our Money Editor, Sarah Handley who certainly knows a thing or two when it comes to the cost of running an air fryer; "Air fryers cost on average between 13p and 34p to run per day, and a conventional oven costs around an average of 87p per day," she says.
Sarah adds; "It might be worth considering an air fryer if you use your oven daily, but do your research first. Not only it is a healthy way of cooking, but an air fryer can cook food faster whilst using significantly less energy than your standard oven. Before deciding, it's best to find out what kinds of foods you can and can't cook in an air fryer, and what capacity air fryer would best suit the needs of you and your family."
How does an air fryer actually work?
To put it simply, an air fryer works by circulating hot air around the food. It uses convection heat which moves around the machine to cook the food, similar to a fan oven, resulting in crisp, hot food when cooked at the right temperature in the air fryer for the correct amount of time.
Air fryers include trays or baskets which allow hot air to flow around the food without restriction. The baskets or trays have holes or grates to allow this flow of air to circulate around the food.
It's the perfect cooking method that requires little oil as the food will still crisp and cook without it, making an air fryer a healthier choice when it comes to preparing traditionally high-fat foods.
One of the biggest differences between an air fryer and a conventional oven is the size. An air fryer is much smaller than an oven meaning its compact size can heat food quicker with more power - and often with no preheating either.
"Two things to consider when using an air fryer are the newer models tend to be more energy efficient to run so they may cost less, and the more powerful the air fryer, the quicker the cooking time," adds Money Editor, Sarah Handley.
Are there different types of air fryers?
There are two types of air fryers to choose from; the basket air fryer and the air fryer oven. Both are similar in style however, one has more functions than the other.
Basket air fryer
Basket air fryers include a drawer or drawers with removable baskets (similar to deep fryer baskets) where the food is placed. The basket allows the food to be heated from the top and the bottom of the machine. The fan in the air fryer circulates the air evenly around the food in the basket. Basket air fryers tend to have basic functions and are often purely for air frying.
Require less counter space than an air fryer oven
Pre-heats faster
Many colors and choices are available
Easy to clean with a removable basket
Limited capacity
Can't see food during cooking
Cheaper than air fryer ovens
Oven air fryer
Air fryer ovens have a similar cooking method as basket air fryers - the heat is circulated around the food and around the inside of the machine from the top and bottom with a fan which ensures even cooking.
The main difference is that an air fryer oven has no basket, instead has a rack or shelf, similar to an oven, to hold food. It may be bigger in size and suitable for baking trays depending on the model you choose. Most air fryer ovens also come with a variety of added functions like baking, toasting, etc.
Machines are often bigger so need more counter space compared to basket air fryers
Large capacity - so great for bigger families
Accommodate a range of baking dishes and trays
Can often see the food through the glass door
Depending on the model, most removable parts are dishwasher safe
More expensive than basket air fryers
Limited color choices
Is there any reason to avoid buying an air fryer?
An air fryer certainly isn't for everyone so do take your time to think about investing in one for you and your family before making the final purchase.
One of the biggest things that can often put people off straight away is the price. Air fryers - particularly larger or more high-value brands - can be rather expensive so only go for an air fryer if you can financially afford it. It may be more energy efficient in the long run, but the initial payout could set you back - especially if you choose a more expensive brand so do take this into consideration.
Size and capacity is another big factor. The machines themselves are rather large, you've got to think that it's a mini oven so will take up a fair amount of space on your kitchen counter so may not be ideal for small kitchens, unless you have storage space and are happy to do a bit of weight lifting when it comes to putting away.
Limited capacity also means that you can only cook a few items at a time, sometimes you can only cook one thing at a time which isn't great if you're catering for lots of people or you've got meat eaters and vegetarians to consider at dinner time. You are also limited to which foods can be cooked in an air fryer too.
Some models can also be tough to clean and not safe in the dishwasher either.
Meet the experts: Tested by...
Former Consumer Editor for Goodto.com, Heidi certainly knows a thing or two when it comes to the best product on the market. Specializing in all things parent and baby, Heidi has an abundance of experience and expertise particularly when it comes to product testing, reviewing, and finding the best of the best.
"I'm popping an air fryer oven on my list of things to buy when my son moves into University accommodation - anything that encourages a student to eat healthily and spend less cash is a must-have in my book, and worth every penny," says mum-of-three, Heidi.
Specializing in all things food, be it the latest food trends or sought-after kitchen appliances of the year, Jessica has over 10 years of experience as a digital editor and has a wealth of knowledge when it comes to must-have food products.
"I've had the privilege of testing a range of appliances from stand mixers to kettles, from blenders to air fryers. It's all about the user experience, how it works for your family and truly getting the most out of the machine... you're paying for it after all!" says mum-of-two, Jessica.
With over 13 years of experience as a digital journalist, Stephanie is a wealth of knowledge and experience when it comes to all things family and lifestyle. From food and drinks to interiors, Royals, kids' days out, and quick crafts.

"Before owning an air fryer, my first impression of air frying was that it was too good to be true. How can you fry food without oil? But, after reading dozens of reviews and watching countless videos, I decided to give it a try and I bought my first air fryer. Reader, it was a game-changer," says mum-of-one, Steph.
Sarah is Goodto.com's Money Editor and knows everything there is to do with sensible spending. She has a wealth of knowledge in her field with over 10 years of experience in the industry. Sarah is also very passionate about helping people cut through confusing jargon to make the right financial decisions - be it mortgages, utility bills, or even energy-efficient kitchen appliances for that matter.
"With the cost of living still high, it's never been more important to spend wisely and make sure you're buying products that really work. That's why we test a range of products on your behalf and provide really honest reviews that help you understand if it will suit your needs before you part with your cash. And it's even better when a product we've tested, like these air fryers, can help save money in other ways too!" says Sarah.
Ellie is a digital writer who joined the Goodto team in 2022, and has experience writing and reviewing across a range of titles. Having discovered a love for covering all things food related while on work experience with BBC Good Food, Ellie loves trying out the latest gadgets in the kitchen and putting new recipes to the test.
"In my kitchen, any appliance that's going to save time when making dinner is a must-have. I'm all about food that tastes delicious but won't take hours in the kitchen, so any products that help speed up the process get a big thumbs up from me!" says Ellie.
Related Features:
For more on family air frying, our Family Editor Steph gives you her personal account on her air fryer and all you need to know before buying one
Looking for air fryer recipe inspiration? Here are some of the best air fryer cookbooks out there
Can you put foil in an air fryer? Our Features Writer Ellie explains precisely what materials you can and can't use in an air fryer
Jessica Dady is Food Editor at Goodto.com and has over 10 years of experience as a digital editor, specialising in all things food, recipes, and SEO. From the best food hampers to cookbooks, from the best cake stands to kitchen appliances, Jessica has a wealth of knowledge when it comes to must-have food products. A passionate baker, she spends some of her time creating celebration cakes for friends and family including her two lucky children.