A popular meat to cook in the air fryer, this pork tenderloin serves up to six people making it great for sharing.
Tender air fryer pork tenderloin crusted with a cumin coating with chili powder, kosher salt, and black pepper. Served with crisp golden potatoes, this tenderloin is the perfect option come Sunday lunch - plus it can be easily made in the air fryer - ready in just 30 minutes.
Ingredients
3 tbsps (21 g) ground cumin
1 tsp chili powder
1 tsp kosher salt
1/4 tsp black pepper
2 cloves garlic, minced
455 g pork tenderloin, cut into 2 pieces
Vegetable oil for spraying
455 g Yukon gold potatoes, quartered
1 tbsp (15 ml) extra-virgin olive oil
Method
Combine the spices and garlic in a small bowl. Transfer 1 tablespoon (8 g) of the spice mixture to another bowl and set it aside to season the potatoes. Rub both pieces of the tenderloin with the remaining seasoning mixture. Set aside.
Preheat the air fryer to 350°F (180°C). Spray the air fryer basket with oil. Place both pieces of tenderloin in the air fryer basket and spray lightly with oil. Cook the tenderloin for approximately 20 minutes, turning halfway through, until a thermometer inserted in the center of the tenderloin reads 145°F (63°C).
While the tenderloin cooks, place the potatoes in a medium bowl. Add the reserved tablespoon (8 g) of seasoning mixture and the olive oil. Toss gently to coat the potatoes.
Transfer the tenderloin pieces to a platter and tent with foil to rest for 10 minutes. While the tenderloin rests, place the potatoes in the air fryer. Increase the air fryer temperature to 400°F (200°C) and cook the potatoes for 8 to 10 minutes, tossing once halfway through cooking, until golden brown. Serve immediately alongside the pork tenderloin.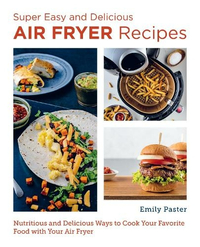 Super Easy and Delicious Air Fryer Recipes: Nutritious and Delicious Ways to Cook Your Favorite Food with Your Air Fryer by Emily Paster
Top tips for making air fryer pork tenderloin
Recipe author and air fryer expert Emily Paster says; "This easy, spice-crusted pork tenderloin with potatoes is an all-in-one dinner that is ideal for busy weekday evenings. The tenderloin cooks in just 20 minutes in the air fryer and the potatoes cook while the pork rests. Whip up a green salad and you have a complete meal that is ready in under 30 minutes."
You might also like...
Recipe writer and cookbook author
Recipe writer and cookbook author Emily Paster has an array of cookbooks under her belt including Food Swap, The Joys of Jewish Preserving, Epic Air Fryer, and her latest Super Easy and Delicious Air Fryer recipes. Emily Paster is a food writer and culinary instructor specializing in global Jewish cuisine. Emily lives outside Chicago, where she teaches culinary classes, with her husband and two children.