Annabel Karmel's rice balls are the perfect snack to have on hand for hungry kids.
Arancini rice balls were first made by thrifty Italians as a way to use up leftover risotto, but these days there's so popular that people make the specially. It's actually worth making more risotto than you need so you have some leftovers to rustle up into these. You don't need to deep-fry them - just shallow fry in a little oil in a frying pan and you'll get crispy outsides and soft, melty centres. This recipe makes up to 28 balls (we like them quite small, so that they cook evenly). You can freeze the un-fried balls at the chilling stage if you don't want to cook the whole batch.
Ingredients
10g (½oz) butter
1 small shallot, finely chopped
½ small garlic clove, crushed
110g (4oz) risotto rice
500ml (17 fl oz) hot vegetable or chicken stock
30g (1oz) grated mozzarella
30g (1oz) mature Cheddar, grated
3 tbsp freshly grated Parmesan
50g (2oz) dried breadcrumbs
Pinch of paprika (optional)
2 tbsp flour
1 egg, beaten
Sunflower oil, for frying
Salt and pepper, to season
Method
Melt the butter in a large pan and sauté the shallot for 2-3 mins, until translucent. Add the garlic and rice, and cook, stirring constantly, for a further 2 mins.
Add 400ml (14 fl oz) of the stock and bring to the boil, then reduce the heat to a simmer. Cook the rice for 20-25 mins until just tender. Stir every 4-5 mins and add a little extra stock if it becomes too dry.
Remove the pan from the heat and stir in the cheeses. Season to taste with a little pepper (you are unlikely to need extra salt). Spread the risotto out on a large plate and leave to cool, then cover and chill as quickly as possible.
Take slightly rounded teaspoonfuls of cold risotto and roll into balls. Season the breadcrumbs with salt and pepper and a little paprika (if using). Put the flour on a plate and the egg in a small bowl. Dust the risotto balls with flour, dip in egg and coat in breadcrumbs then place on a baking sheet lined with cling film.
Put enough oil into a large frying pan to give a depth of 1 cm (½ in) and put over a medium heat. When the oil is shimmering add the arancini and fry for 6-8 mins, turning frequently, until golden brown. Drain on a plate lined with kitchen paper. Serve with tomato sauce (ideally homemade) for dipping.
Top tip for making Annabel Karmel's rice balls
Annabel suggests using ordinary grated mozzarella as it's a bit drier than normal mozzarella and helps to make the base mixture stickier.
You might also like...
Parenting advice, hot topics, best buys and family finance tips delivered straight to your inbox.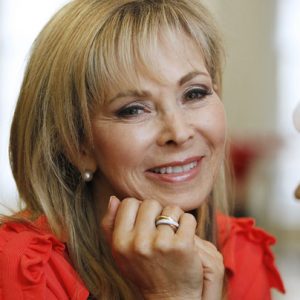 Annabel Karmel MBE is a chef and author of over 40 cookbooks based on nutrition, and cooking for babies, children and families. With her career spanning over 25 years she has pioneered the way families feed their babies and children all the world over.