Gordon Ramsay's Brussels sprouts with pancetta can be blanched the night before and finished in just 10 minutes on the day.
Although sprouts are an obvious accompaniment to your Christmas dinner, they also work as an excellent side dish to pie and mash, grilled meat or fish or even tossed through some cheesy pasta. We have used pancetta but you can use finely diced bacon. To make them meat-free but with the same smokey flavour, season with a generous pinch of smoked sea salt before serving.
Ingredients
1kg (2lb 4oz) Brussels sprouts, outer leaves removed
1–2 tsp olive oil
200g (7oz) pancetta, cut into lardons
200g (7oz) vacuum-packed chestnuts
Zest of 2 lemons, plus a little juice
Method
Trim the base of the Brussels sprouts and cut them in half lengthways. Bring a pan of salted water to the boil. Add the sprouts and blanch for 2–3 minutes, then drain well.
Heat the olive oil in a wide frying pan and fry the pancetta for a few minutes until golden and crisp. Toss in the sprouts and cook for 2–3 minutes, tossing occasionally.
Roughly chop the chestnuts and add them to the pan. Sprinkle the lemon zest over the sprouts and chestnuts and squeeze over a little juice. Check the seasoning and adjust with salt and pepper to your liking. Transfer to a warmed serving dish.
Top tips for making Gordon Ramsay's Brussels sprouts with pancetta
Don't add the chestnuts too early or they will break down too much and become mushy. You want them to warm through completely but keep their crumbly texture. It also helps to not cut them too finely.
Do I need to add oil when frying pancetta?
Yes, although you can skip adding oil to the pan when cooking bacon, it really is essential to add when cooking pancetta. Pancetta takes a moment to heat up in the pan so it doesn't cook in its own fat as quickly as bacon does. You only need a scrap, but a teaspoon of oil helps the meat to not burn, so don't skip it in this recipe.
What's the best thing to do with leftover sprouts?
If you're making these sprouts on Christmas Day make sure you make too many so you have cold leftovers for Boxing Day. Mash them up with an egg or two and fry on an oiled pan for Brussels with pancetta bubble and squeak.
Can I cook sprouts the day before?
Sprouts will not be at their best if you cook them the day before. They will lose some of their vibrant green colour and soften too much, so for best results cook these on the day you are eating them. It only takes 30 minutes, and you can was and prep them the night before so they are ready to blanch before lunch.
Is it better to parboil sprouts before roasting?
Blanching the sprouts for a couple of minutes can help lessen the amount of time they need to cook through in the oven. Parboiled sprouts should be tossed in a little oil and seasoning and cooked in a hot oven for around 15 minutes until lightly charred. We'd recommend around 200C (180C fan, Gas 6).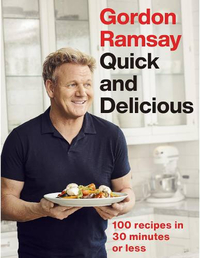 Gordon Ramsay Quick & Delicious: 100 recipes in 30 minutes or less by Gordon Ramsay (Hodder & Stoughton, £13.58) - View at Amazon
When you're done with Christmas the book has lots of qu