Cadbury Creme egg flapjacks are an easy bake to make with children and you only need six main ingredients
Upgrade our traditional flapjack recipe with an iconic Easter treat for an easy but delicious bake the whole family will love. These Cadbury creme egg flapjacks take 15 minutes to prepare and are almost foolproof as they don't need to rise in the oven and there are no complex steps. Kids can help measure the ingredients, mix everything together and decorate the finished Easter flapjacks. It's a great activity for over the long Easter weekend and perfect for using up leftover chocolate once Easter has passed too.
Ingredients
200g butter
175g golden syrup
100g light brown sugar
250g jumbo oats
100g plain flour
2 Creme Eggs
For the topping:
60g white chocolate
Yellow food colouring
Method
Heat the oven to 170C (150C fan, Gas 3). Grease and line a 20cm x 30cm shallow baking tin with baking parchment.
Heat the butter, golden syrup and sugar in pan over a gentle heat and stir until melted.
Put the oats and flour in a mixing bowl, pour over the melted butter mix, stir well to combine and spoon into the prepared baking tin. Cut the Creme Eggs into small pieces and dot over the surface of the flapjack pushing into the oats slightly.
Bake in the oven for 25-30 minutes until golden and set. Remove from the oven and leave to cool in the tin.
Melt the white chocolate in the microwave on a medium heat, or set over a pan of gently simmering water, drizzle half over the flapjack, then colour the other half with a little yellow food colouring and drizzle again, criss-crossing the white drizzle.
Leave the chocolate to set before cutting the flapjacks into squares.
Top tips for making Creme Egg Easter flapjacks
These Easter flapjacks are made with two whole Cadbury creme eggs which are cut into small pieces but for other Easter chocolate inspiration, read our tips below. We also have tips for how to get children involved in the baking method.
Are Creme eggs vegan?
Unfortunately, classic Cadbury Creme Eggs are not suitable for vegans because they contain milk and egg in the ingredients. However, if you want to make vegan Easter flapjacks simply swap the butter for a plant-based alternative and use vegan chocolate to decorate. Mummy Meegz Chuckie Egg is a similar product to Cadbury's Creme Eggs but they are made from oat milk chocolate.
Easter flapjack topping ideas
If you don't have enough Creme eggs to make this recipe but have other Easter chocolate such mini crunchy-coated chocolate eggs or Maltesers bunnies, use them in the recipe too. Instead of mixing the Easter chocolate into the flapjack batter, you could wait until the flapjacks are completely cool. Cut into squares then melt some chocolate and secure a different Easter treat on top of each portion.
For example one square could have some mini chocolate eggs on top, another could have a mini Creme egg on top and another portion could have a mini Maltesers bunny. The food colouring is completely optional in this recipe and you could use a combination of milk and dark chocolate to drizzle on top if you'd still like to achieve some variation in colour.
How can kids help make Easter flapjacks?
Let your little ones take responsibility for measuring the ingredients. They can help pour the ingredients into a large mixing bowl and use a wooden spoon to combine everything. You may need to give the mix one final stir to ensure everything is fully coated. Kids can help transfer the mixture to the prepared tin and press it down into all the corners.
Once the flapjacks are baked and cooled, kids can also help with the decorating process. This is a great opportunity to let their creativity and individuality shine through.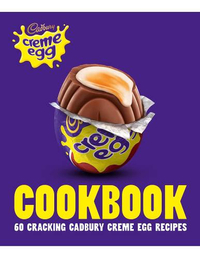 The Cadbury Creme Egg Cookbook by Cadbury - View at Amazon
From millionaire shortbread and Chelsea buns to banana bread and cheesecake, this book is packed with 60 of the wackiest, tastiest creme egg recipes you will ever need. The book is split into four chapters so you can easily flick through and find the recipe for you.
We have lots more Easter recipes including plenty of Creme egg recipes for those of you who finished Easter with a glut of eggs you need to get through! For a less seasonal bake, try our chocolate flapjacks which can be enjoyed all year round.