These chocolate raspberry cupcakes have a gooey raspberry centre and a rich chocolatey buttercream topping.
We have taken a classic cupcake recipe and added chocolate and raspberries to boost the indulgence factor. The cakes take 20 minutes to bake and can be enjoyed with or without the buttercream icing.
Ingredients
For the cupcakes:
115g caster sugar
115g unsalted butter, softened
85g self raising flour
30g cocoa powder
2 eggs
1tsp baking powder
Pinch of salt
For the filling:
50g - 70g raspberry compote or raspberry jam
For the icing:
270g unsalted butter, softened
270g icing sugar
100g melted dark chocolate, cooled to room temperature
4tbsp cocoa powder
Raspberries, to decorate (optional)
Method
Heat the oven at 170C (150C fan, Gas 3). Line a muffin tin with 12 paper cases.
Cream the sugar and butter together until pale and fluffy, before beating in the eggs until well combined. Sift in the flour, cocoa powder and baking powder and fold in until smooth. Spoon into cupcake cases and bake for 20 minutes. Allow to cool completely on a wire rack.
To fill the cupcakes: Spoon the raspberry compote into an icing bag with a long round nozzle attachment.
Insert a kebab stick into the centre of the cupcake and wiggle around to make a little channel for the filling. Pipe in the raspberry compote until you feel it's about to overflow. Repeat with all the cakes.
For the icing: Beat the butter until pale and fluffy, sift the icing sugar in a little at a time and finally mix through the cooled melted chocolate. If the icing becomes too thin, add sifted cocoa powder to thicken it up.
Spread or pipe the chocolate icing onto the cupcakes. Top with fresh raspberries if liked.
Top tips for making chocolate raspberry cupcakes
You can add fresh raspberries to the filling if you like. Simply pipe in the coulis then push in a fresh raspberry on top to seal the hole. You can also add a raspberry or two to the cake batter before baking if you like. If you'd like more helpful tips and tricks, continue reading below.
How long do you let cupcakes cool before icing them?
You need to cool the cupcakes completely before you add any icing. If the cakes are still warm the icing will melt. You can bake the cupcakes the day before if you like, then add the icing just before serving.
How do you know when cupcakes are done?
Cupcakes are cooked when they are risen and smell like cake and not like raw ingredients. It's harder to tell with chocolate cupcakes but plain cupcakes will have an even golden colour.
Another way to check is to insert a thin skewer or toothpick. It should come out clean with just a few cake crumbs but no raw cake batter. The cakes will continue to cook a little in the hot tin so if you can, you want to take the cakes out of the oven when they are just cooked and leave in the tin for 5-10 minutes to fully set.
Then cool completely on a wire rack. This also stops the cooking process.
Why use dark chocolate for cake making?
It's important to use a good quality, high cocoa content chocolate when baking if you want a rich chocolate flavour. Food writer Jessica Ransom recommends using a bar that is at least 70 per cent. Her preferred percentage for baking is 85 per cent.
If you've invited friends or family over for tea and cake, give your cupcakes the professional presentation they deserve and serve them on a beautiful cake stand like this Mango Wood one from H&M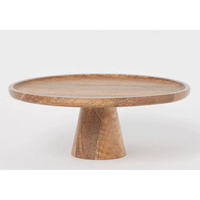 Mango Wood Cake Stand - View at H&M
This cake stand will look chic in any kitchen as it has a timeless design. When you're not using it to serve cakes it can double up as a cheeseboard but is also an attractive way to store your fruit on the kitchen counter.
If you would like something less indulgent, our vanilla cupcake recipe is a great choice. Alternatively our rainbow cupcakes are a great bright and colourful bake and these mini cupcakes make a wonderful afternoon sweet treat.