Si and Dave's chicken and tarragon pie is hearty and comforting, yet it's under 600 calories.
Joe Wicks chicken pie is excellent, but Si and Dave are known as the kings of pies and with this recipe it's easy to understand why. The filling uses cooked chicken, creme fraiche and a generous sprinkling of tarragon for a flavourful pie filling that ticks all the boxes.
Ingredients
Small knob of butter
1 tbsp sunflower oil
1 medium onion, finely chopped
2 garlic cloves, crushed
150ml white wine
1 chicken stock cube
1kg whole cooked chicken (you can buy a ready-roasted one from your butcher or use 550g cooked chicken meat instead)
400ml crème fraiche
2 tbsp fresh tarragon leaves, roughly chopped
2 tbsp plain flour
Flaked sea salt
Freshly ground black pepper
1.5 litre pie dish
For the filo topping:
40g butter, melted
4 filo pastry sheets (each about 32 x 38cm), thawed if frozen
Method
Melt the butter with the oil in a large frying pan over a low heat, then add the onion and the crushed garlic. Fry gently for 5–6 minutes until the onion is softened, but not coloured, stirring occasionally.
Pour in the white wine, then crumble the stock cube into the pan and stir well until it dissolves. Simmer over a high heat, stirring constantly, until the liquid has reduced by half and thickened. Remove from the heat.
Take the skin off the chicken, then strip the meat from the bones and tear it into bite-sized pieces. Place these in a large bowl. Add the onion and garlic mixture and spoon the crème fraiche on top. Scatter over the tarragon, sprinkle the flour on top and season with a good pinch of sea salt and plenty of freshly ground black pepper. Toss everything together until just combined, then spoon into your pie dish.
Heat the oven to 210C (190C fan, Gas 6 1/2 ) and prepare the topping.
Brush a sheet of filo pastry with melted butter and cut it into 6. Scrunch up each portion with your hands and place it on top of the filling. Repeat with the remaining sheets of filo until the filling is completely covered.
Bake the pie in the centre of the oven for 30 minutes or until the filo pastry topping is crisp and golden brown and the filling is bubbling beautifully.
Top tips for making chicken and tarragon pie
Si and Dave say: 'Weigh all the ingredients carefully and use proper tablespoons and a measuring jug. Try to choose a dish or tin as close as possible to the one recommended in the recipe for best results.'
They add: 'We've made cooking times and oven temperatures as accurate as we possibly can, but all ovens are different. Keep an eye on your pie and be prepared to cook for a longer or shorter time if necessary.'
For more tips and tricks about pie making, continue reading below.
What do you serve with chicken and tarragon pie?
Mashed potatoes are a classic accompaniment for pie but chips are another great option. For something lighter opt for a side dish of steamed or roasted green vegetables. Cabbage and broccoli or buttered peas and leeks are a lovely combination.
What can I add to my chicken and tarragon pie?
If you have a couple of rashers of smoked bacon that need using up, the flavours pair beautifully with chicken and tarragon. Try off before cooking the onion and garlic and then mix everything together as per the recipe. You could add a little mustard if you like the flavour and use a cider instead of wine if you prefer.
Can you freeze chicken and tarragon pie?
Yes you can freeze the fully assembled pie. We recommend allowing the sauce to cool down completely before mixing in the cooked chicken. Transfer to your pie dish and top with the filo once cool. Wrap tightly in clingfilm then freeze. Cook from frozen adding 10-15 minutes to the time. The pie is cooked with the filling is piping hot and the pastry is golden and crisp.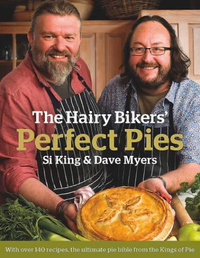 The Hairy Bikers' Perfect Pies: The Ultimate Pie Bible from the Kings of Pies by Si King and Dave Myers (Weidenfeld & Nicolson, £20) - View at Amazon
For more hearty pie recipes you need this cookbook from the Kings of pies! They cover every type of pie you can think of including some delicious sweet options.
You might also like our chicken and mushroom pie or this chicken and leek pie is a popular option. For something a little different, you might like the Hairy Bikers steak and ale pie which has a delicious rich sauce.