Our chicken and mushroom pie is topped with puff pastry but you could use shortcrust if you prefer.
If you love Joe Wicks chicken pie but are craving something more indulgent this recipe is perfect for you. Instead of using milk to make a creamy sauce we combine wine, double cream and stock for a rich and decadent pie filling.
Ingredients
55g (2oz) butter
1 onion, peeled and sliced
300g (10½ oz) mushrooms, halved
2 garlic cloves, peeled and chopped
2tbsp chopped fresh thyme
40g (1½ oz) plain flour
150ml (5fl oz) dry white wine
300ml (10fl oz) chicken stock
4 ready-roasted chicken breasts, cubed
142ml pot double cream
250g packet ready-rolled puff pastry
1 egg, beaten
Sprigs of thyme, to garnish
Method
Heat the oven to 200C (180C fan, Gas 6). Heat the butter in a large saucepan, add the onion and cook over a medium heat for 5 minutes.
Add the mushrooms and cook for a further 5 minutes. Add the garlic and thyme and fry for 3 mins then stir in the flour and cook, stirring, for a further 5 minutes.
Add the white wine and the chicken stock, bring to the boil and simmer until thickened.
Stir in the chicken, simmer for 5 minutes, add the cream and season.
Spoon into four ovenproof dishes and set aside while you prepare the pie lids. Roll the pastry out until it's about 0.5cm thick or if you're using a sheet, unroll it and roll a little wider. Cut four circles out which are big enough to cover each pie then place on top of the filling with a small overhang. Use a fork to seal the edges, trim any excess pastry, then brush each pie with beaten egg.
Top each pie with a sprig of thyme and use a sharp knife to create a hole for steam to escape. Bake for 15 minutes until golden and risen.
Serve your chicken and mushroom pies, still warm from the open, with a big spoon of creamy mash and minted peas, if liked.
Watch how to make chicken and mushroom pie
Next time you're craving pie why not try our chicken and leek pie? You might also like this chicken casserole pot pie or this turkey and mushroom pie is ideal for festive leftovers.
Top tips for making chicken and mushroom pie
You can make the pie using raw chicken if you don't have leftovers. Simply brown the chicken breast or thigh chunks in a little oil then set aside on a plate while you make the filling as instructed.
The chicken won't be cooked through at this point. Allow it to simmer in the sauce for 5-10 minutes and then it will cook through once in the oven. For more tips, including how to thicken your pie sauce, continue reading below.
How do I thicken my chicken and mushroom pie filling?
If your pie filling is too runny, you could add a spoonful more of flour. Stir until combined and add until happy. You can also use cornstarch as a thickener. Mix 2tbsp of cornstarch with around 60ml of water. Whisk and add gradually to the pie mixture to thicken.
Also, when you add the mushrooms make sure you cook them until they release water and this evaporates off before adding the garlic and thyme.
Can you use puff pastry for the base of a pie?
If you want to make this pie even more indulgent you could use puff pastry as a base for the pie. Score a rectangle on your puff pastry sheet, leaving a border that is 2-3cm thick on all sides. Transfer it to a baking sheet lined with parchment paper.
Once the filling is combined and cooked, pile it over the puff pastry sheet, ensuring nothing spills onto the border. Brush the border with egg then bake in the oven until the sides are puffed up and golden.
Cooking the pie this way will mean the base is not crispy as the filling prevents this. It's a nice technique for smaller individual pies but it also works as a whole pie.
How can I add more flavour to my chicken and mushroom pie?
Food writer Jessica Ransom says: 'I like to add a generous teaspoon of wholegrain or dijon mustard to my pie filling and season generously with black pepper. You can also add some extra herbs, tarragon and rosemary are especially good.'
For a classic presentation, we recommend assembling your pies in these adorable oblong enamel pie dishes.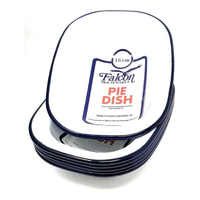 6 X Enamel Falcon Housewares 16cm Oblong Pie Dish - View at Amazon
Perfect for taking from oven to table, these individual pie dishes will make you look very professional. They are freezer and oven-safe and can be used for lots of other recipes including crumbles or roasted vegetables when you're not making pie!
For more chicken pie recipe ideas, have a look at our classic chicken pot pie with puff pastry as well as our mouthwatering chicken pie with puff pastry and our chicken leek and bacon pie - certainly a crowd pleaser.